A Beginner's Guide to Exploring Manhattan
For most first-time New York City visitors, the borough of Manhattan is synonymous with New York City as a whole. And who can blame them? With most of the city's iconic landmarks and attractions all on one island, Manhattan is a great destination for first-time visitors looking to hit the city's highlights.
The only drawback? With most of the city's iconic landmarks and attractions all on one island, it's easy for NYC beginners to get overwhelmed when crafting their itinerary.
Luckily, we at New York Charter Bus Company know a thing or two about traveling through the Big Apple. We've put together this list of things every first-time visitor should know while exploring Manhattan. Read through this guide before you start planning your itinerary, and once your group has an idea of where and when you want to go, give our 24/7 reservation team at 917-388-9602 to lock in your private bus rental in NYC.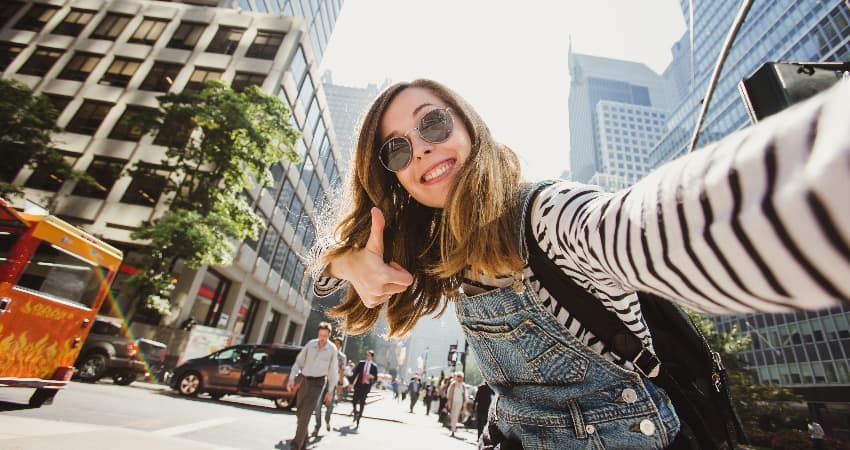 Plan well in advance.
Most first-time visitors prioritize the city's main landmarks—the Statue of Liberty, Time Square, etc. And those are great places to start your NYC adventure! Unfortunately, though, tours of the city's most popular attractions fill up fast, so plan to reserve ferry tickets, museum admission, and tickets to your must-see tours at least 3 months before your trip.
Likewise, if you're traveling with a group, you should plan to book your transportation a few months out as well. Charter bus reservations in major cities like New York City may be harder to come by during peak tourism seasons. So if you want to ensure you have the perfect ride to accommodate everyone, the sooner you call to book your bus, the better!
If mobility accessibility is a concern, plan very well in advance.
Manhattan is an old borough. And like many old places that are full of old buildings, getting in and out of certain spaces can be challenging if you use a mobility device. Most NYC attractions are wheelchair-friendly at this point, but lesser-known attractions and some restaurants may only be accessed by a step-up or step-down entrance. And despite New York City's attempts to be more ADA-compliant in city planning and to reduce fare for travelers with disabilities, only 25% of subway stations have elevator access—so groups traveling with wheelchair users should be especially strategic if you opt to take the subway throughout Manhattan.
All that's to say: if anyone in your group has mobility concerns, consider booking an ADA-accessible charter bus from New York Charter Bus Company. As long as you give our team 48 hours' notice that you need a motorcoach with a lift, wider aisles, extra handrails, and places to secure mobility devices, we can provide one for you at no additional cost!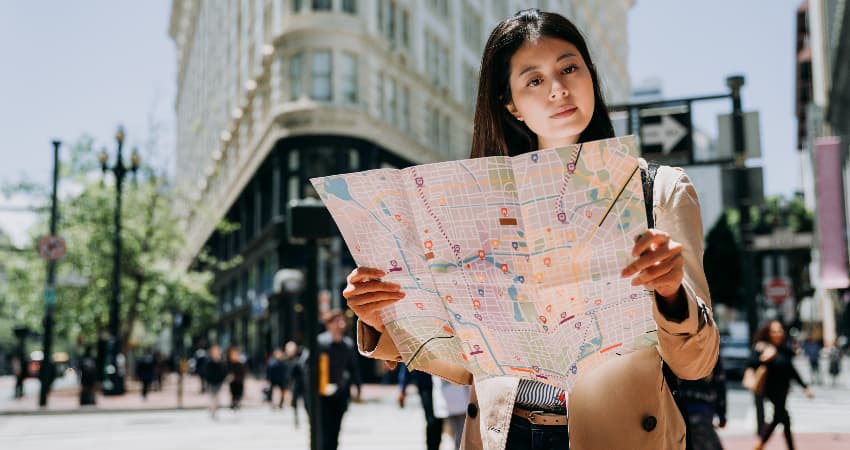 Consider the best time to visit.
Most veteran Manhattan visitors recommend planning your trip to the borough either in the spring or fall, and to avoid normal vacation seasons. Summer vacations and the magic of the holiday season bring big crowds, making navigating popular NYC destinations a hassle. Not to mention that the city is known for harsh winters and sweltering summers—so visiting in the spring or fall will give your group some breathing room and nice weather to enjoy.
Don't expect to see everything in one trip.
Manhattan may only take up 23 square miles, but with all the things there are to see and do on this island, it feels bigger. You can live in Manhattan all your life and still discover new shops, attractions, and corners of the city. So don't overstuff your days or plan activities in different neighborhoods on the same day, because just getting from one place to another can take some time in NYC traffic.
Instead, your group may want to plan a deep-dive in a specific neighborhood (for example, a walking tour of Little Italy) or arrange tours of attractions that are close together on the same day (like visiting the American Natural History Museum right before your picnic lunch in Central Park).
And while the overwhelming variety of destinations may drive you to pack as much as you can into your group's itinerary, consider leaving room for the unexpected. That way, larger tour groups can divide and conquer based on individuals' interests, and everyone leaves feeling satisfied from their first-time Manhattan trip.
Start your Manhattan trip with a bird's eye view.
We recommend scheduling stops like the Empire State Building and the Top of The Rock early during your trip to help your group orient themselves to the city. Plus, seeing the city sprawl beneath you will really drive home the feeling of "Wow, we're in New York City!"
Keep your eyes up.
Part of NYC's charm is its density, diverse population, and niche storefronts around every corner, so there's always something to see—even between destinations. If your eyes are glued to your map, phone, or feet, you may miss your new favorite bakery, a local street performance, or local legends like the Naked Cowboy (yes, it's exactly what it sounds like).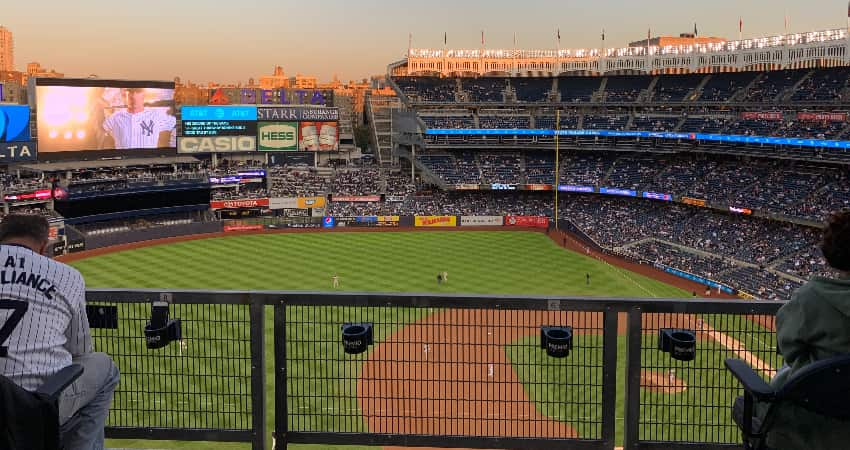 Go to a game.
—even if you're not traveling with a bunch of sports fans. Sports are a big deal in NYC, so seeing the action first-hand and feeling the fans' energy is sure to be a memorable experience you won't regret. Also, telling your friends back home that you've seen a Knicks or Rangers game in Madison Square Garden or ventured up to the Bronx to see the Yankees play is definitely worth the bragging rights!
Comfortable shoes are a must.
With so many sights to see across Manhattan, your first trip to NYC will likely feel more like an urban hike than a day out with Carrie Bradshaw and the girls. So even if you opt for a MetroCard subway pass or a private shuttle to transport your group between stops, walking around the Met's expansive galleries, exploring the greens of Battery Park, and hoofing it around Chinatown is sure to put a toll on your feet unless you pack comfy footwear.
In the same vein, consider bringing a nondescript backpack, daypack, or purse to hold a water bottle, a phone charger, and whatever else you think you might need. If you buy souvenirs, you won't want to carry them around all day. And while your bus driver will be happy to watch over any personal belongings you leave on your bus rental, it's better to keep your essentials within reach when you're out and about in the city.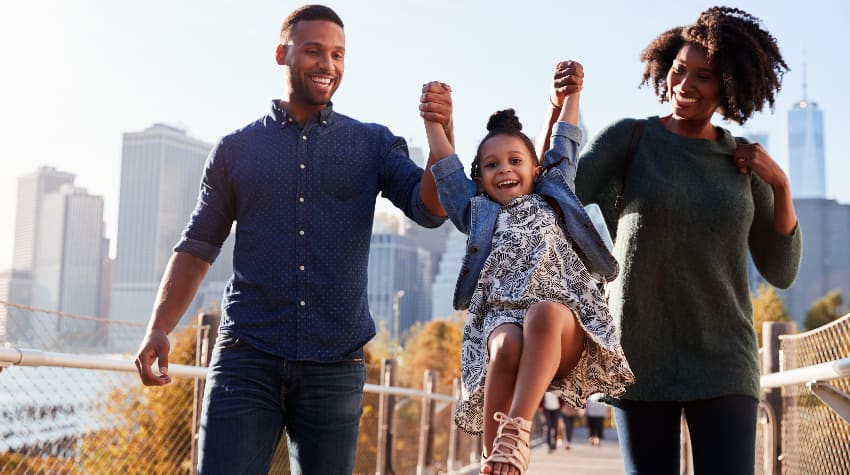 Tipping is expected for all services in NYC.
One aspect of NYC's (and the United States') culture that catches international visitors off guard is tips and gratuity. The amount your group decides to tip depends on how good the service is, of course. But a tip of at least 15 or 20% is considered obligatory for most services like at restaurants, bars, salons, tours, and taxis, and consider tipping your hotel's housekeepers $2 – 5 per night for their services.
Getting Around Manhattan
When it comes to how your group will navigate the borough once you're here, you have a few transportation options:
Walking
Manhattan is more or less laid out like a grid, which means navigating it on foot is relatively easy compared to other cities. That being said, there are some things you should keep in mind before taking to the streets:
Broadway is the only exception to the grid system. Broadway runs diagonally across the entire island, from northwest to southeast.
Most of the horizontal streets are numbered. The lower the number, the farther south the street is located in Manhattan (for example, 4th Street is Downtown and 96th Street is Uptown). The only exception? The horizontal streets south of 1st Street, where you'll find roads like Houston Street and Prince Street throughout Lower Manhattan and SoHo.
Most vertical streets are called avenues, starting with 1st Avenue on the east side of Manhattan. Again, Lower Manhattan is the exception here, since the peninsula narrows in and streets begin to merge into streets like Mercer Street and Mulberry Street.
5th Avenue divides Manhattan into east and west. If your group ever gets turned around, look for a numbered street sign that says either W or E. So, for example, if you're on W29th Street, you know it's on 29th Street, somewhere west of 5th Avenue.
Subway
On one hand, there's a reason why so many locals depend on the NYC subway system. For one thing, it's affordable—the standard fare is $2.75 for most destinations in the city. Also, all subway lines but one run through Manhattan, and depending on traffic, it should only take half an hour to reach most places in the borough—making this form of public transit one of the simplest ways for small groups and solo travelers to bop around NYC.
On the other hand, Manhattan's subway lines may not be the best transportation option for large groups—especially if you're new to the city. For tourists who are unfamiliar with the system, hopping on and off at the right stations can be a hassle. And it's all too easy for part of your group to miss a transfer or get lost, costing valuable time and a lot of stress in a fast-paced city like NYC.
Private Shuttle Rental
We at New York Charter Bus Company may be biased, but for most large groups, a motorcoach is the best way to traverse Manhattan. For one thing, a private NYC bus rental includes the services of a professional driver and a state-of-the-art minibus or charter bus. That means no one in your group needs to worry about getting anywhere in the city, and they'll have a comfortable ride to every destination—no matter what. All your passengers will need to do is hop aboard their private coach rental, enjoy onboard amenities like free WiFi, power outlets, and TV screens with a DVD player, and relax between destinations!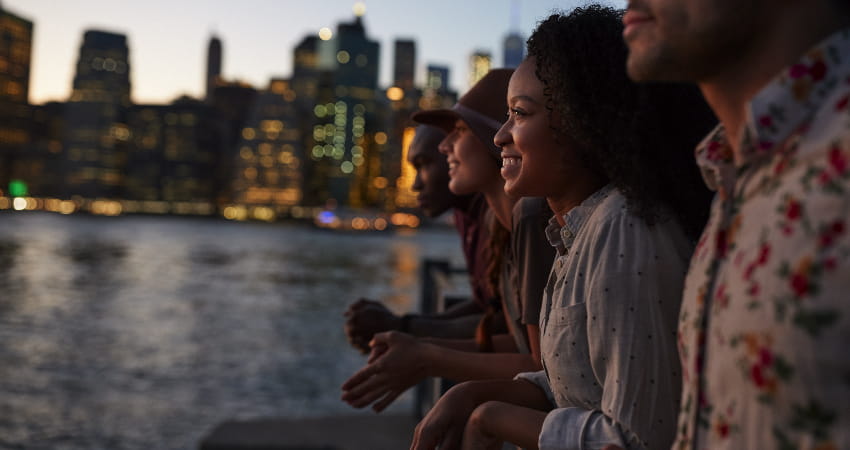 Get a Jump Start on Your NYC Transportation
Now that your first-time Manhattan visitors have an idea of what to expect and how to make the most of this entertaining borough, all that's left is to get planning! Let New York Charter Bus Company make your group's ride around Manhattan easy and effortless with a personalized bus rental service, so your NYC visitors can focus on the sights and attractions of Manhattan—not how they're going to get from Point A to Point B.
Give us a call at 917-388-9602 to receive a free, no-obligation quote for your first-time Manhattan tour!
Do you need to rent a charter bus?