A Group Guide to Manhattan's Best Breweries and Craft Beer Spots
Just because Brooklyn is NYC's hipster haven, doesn't mean it's the only borough with a strong craft beer scene. Manhattan has quite a few popular breweries and pubs with a wide selection of brews for any type of beer lover. Whether you're looking to add a brewery hop to your private group tour of the city or you're locals looking for a place to host a company happy hour or even a bachelor party—Manhattan has plenty of locations to choose from.
Rather than navigating NYC public transport after a few brews or having to hail multiple taxis, consider booking a private shuttle bus from brewery to brewery. New York Charter Bus Company can provide private minibus rentals to groups, as well as shuttles for breweries that may want to offer safe transportation for guests. Out-of-towners may not be comfortable with navigating the subway and large groups will need to hail several taxis or rideshares for everyone. Rent a charter bus or minibus around NYC with a professional driver to serve as your DD all day or night! Travel safely in a spacious charter bus rental to some of Manhattan's best breweries. If you want to hop over to Brooklyn or Bronx breweries, New York Charter Bus Company can handle that too. Rent your NYC charter bus anytime by calling 917-388-9602.
Keep on reading to learn more about Manhattan's top breweries!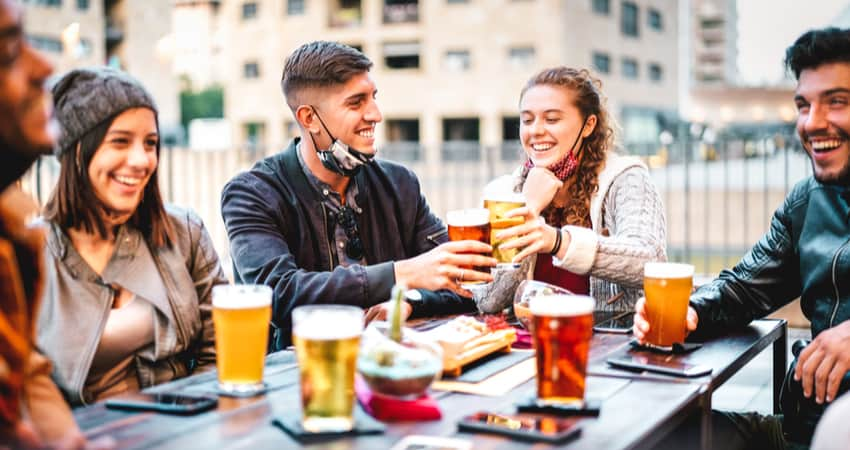 Parking a Charter Bus for Your Manhattan Brewery Tour
If you're planning to travel via charter bus or minibus to Manhattan breweries, you'll need to ensure you have parking squared away. Parking around most parts of Manhattan can be a chore on any given day, and some neighborhoods restrict oversized vehicles on certain roads. Before embarking on your brewery journey, review our blog post about renting a charter bus in New York City. You'll learn about pickup and dropoff options, as well as oversized parking restrictions in Manhattan. Okay, now let's get into the beer!
A Quick Note on Safety Guidelines
Many breweries remain temporarily closed or are exclusively offering to-go services. Others are offering outdoor services to keep visitors and employees safe. Establishments that are offering indoor services may require all guests to be partially or fully vaccinated for Covid-19. Each member of your group may need to provide a valid ID and a hard copy of vaccination proof upon arrival.  Before you plan your group tour of Manhattan's breweries, you'll want to review hours and safety guidelines for each establishment.
Torch and Crown Brewing Company
South Village
Address: 12 Vandam St, New York, NY 10013
Phone:  212-228-7005
Torch and Crown is a laid-back brewery and restaurant located in the hip South Village neighborhood of Manhattan. Although the beer offering is small, the brews are good and the food is even better. Pair the fruity Almost Famous hazy IPA with bites like homemade double cheeseburgers or grab a house-cured salmon plate with the easy-drinking Tenement pilsner.
The brewery has indoor and outdoor seating options for groups, as well as reservations and private event space rentals. Torch and Crown does not generally offer formal tours of the brewery.
McSorley's Old Ale House
East Village
Address: 15 E 7th St, New York, NY 10003
Phone: 212-473-9148
This famous East Village ale house has been a local watering hole and gathering spot for over a century. The historic Irish ale house got its start in 1854 serving up one beer, and one beer only—McSorley's Ale. McSorley's has seen many famous guests through its years, including Abraham Lincoln, E. E. Cummings, and LeRoi Jones.
Today, McSorley's stands as the city's oldest operating Irish bar and is a popular location for NYC creatives to chat and work. You'll also find that McSorley's expanded their beer offerings. Now you can find two types of ale on tap! You can take a self-guided tour of the ale house's historic walls. Keep in mind that McSorley's is cash-only and does not take reservations.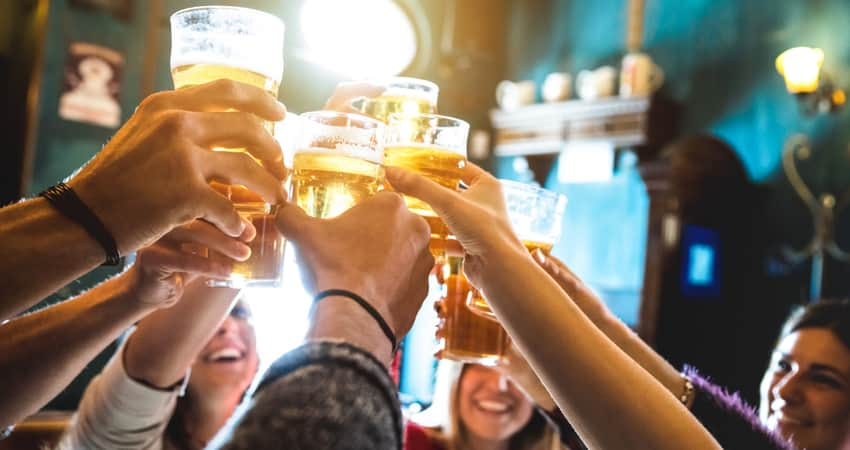 The Porterhouse Brewing Co.
Financial District
Address: 36 Water St, New York, NY 10004
Phone:  212-425-7171
Porterhouse is the perfect cozy pub to sit down after a long day at work in the Financial District. The brewery is actually based in Dublin, Ireland and this NYC spot is one of four bars. The FiDi location has an adjoining restaurant and gin bar called The Lovelace that gives groups with different tastes a diverse selection of food and drinks. The brewery offers its own selection of craft beer like the bestselling Oyster Stout and Porterhouse Red ale, but also has a wide selection of guest beers from around the world.
The bar has intimate indoor seating and outdoor space in their sidewalk beer garden. During normal circumstances, Porterhouse also offers live music nights on the weekend. Since Porterhouse doesn't brew on-site, no brewery tours are available.
The Jeffrey Craft Beer & Bites NYC
Upper East Side
Address: 311 E 60th St, New York, NY 10022
Phone:  212-355-2337
Although The Jeffrey doesn't brew their own beer, this beloved spot takes food and drinks to the next level with its amazing selection of handcrafted beer, coffee, cocktails, and bites. It's a popular neighborhood spot for happy hour and casual meals. The Jeffrey has a variety of tasty sandwiches, salads, tacos, and bar snacks like pretzels with homemade sauces and bacon-wrapped dates. On any given day, The Jeffrey has over two dozen beers on tap from breweries around the country. Grab a brew from local New York breweries or try options from Connecticut, Florida, California, and even across the border from Canada.
You'll find a long bar and a few small tables inside that may not be too comfortable for large groups. Sitting out in the beer garden is a great option for groups, just keep in mind that the space is under construction at the time of this writing.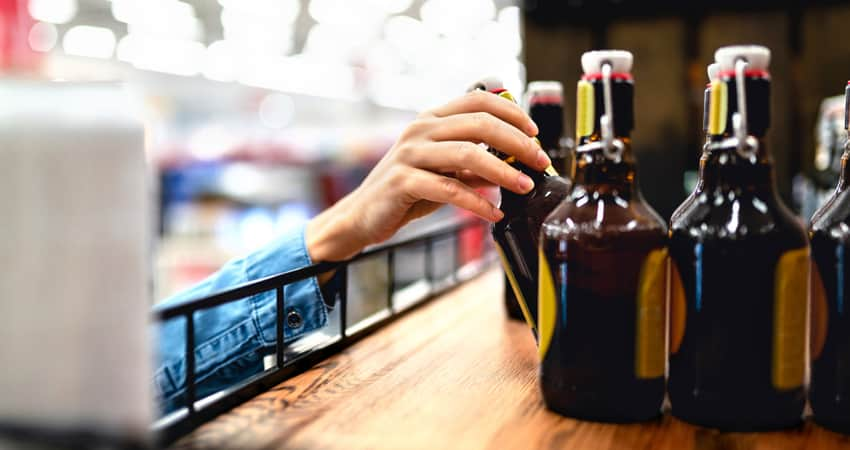 Alphabet City Beer Company
East Village
Address: 96 Loisaida Ave, New York, NY 10009
Phone: 646-422-7103
Alphabet City Beer Company has a bar, beer store, and small grocery counter that sells quality meats and cheeses. On top of having a  selection of guest beer, wine, and even sake, Alphanet City brews its own beer in Elmhurst and serves them on tap at the East Village taproom, as well as in cans for to-go services. Their most popular mainstay beers include the light 7th Street blond ale and the hoppy Village IPA.
Harlem Hops
Address: 2268 Adam Clayton Powell Jr Blvd, New York, NY 10030
Phone: 646-998-3444
Although Harlem Hops isn't a brewery, this beer hall is a hidden gem that highlights brews crafted by locally-operated, woman-owned, and BIPOC-owned breweries. In fact, Harlem Hops is Manhattan's first beer bar that is 100% Black-owned. You'll find a diverse list of fresh and creative brews from Brooklyn, the Bronx, upstate New York, and nearby out-of-state areas like New Jersey and New Hampshire.
Harlem Hops has a quaint indoor taproom and outdoor patio with the perfect atmosphere to unwind on the weekend. One highlight that visits often love is the unique mix of music influenced by Harlem's hip hop roots.
Drink, Be Merry, and Travel Safely in Manhattan
New York Charter Bus Company wants to keep your group of beer lovers traveling safely throughout Manhattan. Pick a few breweries or bars to visit and leave the group transportation up to your charter bus rental driver. Whenever you're ready to relax and ride with a built-in DD, just call 917-388-9602 to reserve your Manhattan charter bus or minibus rental.
Do you need to rent a charter bus?