A Quick Arts and Culture Guide to Brooklyn
New York City as a whole is one of the biggest arts and culture hubs in the country. Brooklyn is arguably the artist of all the boroughs, so this makes planning an arts-centric group tour, field trip, or other outings in Brooklyn relatively easy. The only difficult part of planning an arts and culture group trip in Brooklyn is narrowing down what to see or do.
Keep on reading to learn about a few of Brooklyn's popular arts and culture destinations!
How to Get Around
No matter where your travels take you in Brooklyn, New York Charter Bus Company can ensure your group travels between performance venues, museums, and special arts events with ease. Renting a charter bus is one of the easiest ways for large groups to travel from stop to stop in Brooklyn. From a minibus rental for your small tour group to a full-size charter bus rental for your school field trip. A New York Charter Bus Company rental expert can help you book a charter bus when you call 917-388-9602.
Performing Arts
Brooklyn is home to countless performing arts venues, ranging from small community spaces to historic theaters. Here are just a few of Brooklyn's amazing performance spaces where you can grab tickets for a show or even take a tour.
Brooklyn Academy of Music
Address: 30 Lafayette Ave, Brooklyn, NY 11217
Phone: 718-636-4100
The Brooklyn Academy of Music was founded as an arts cultural institution in 1861. The historic performance venue is made up of multiple buildings, including the Renaissance Revival-style Peter Jay Sharp Building, the BAM Fisher building, and the BAM Strong building. The multi-arts venue hosts performances in the Harvey Theater, film screenings in the BAM Rose Cinemas, opera shows in Howard Gilman Opera House, and a variety of other progressive showings in additional spaces. Check out the BAM's schedule of events to grab tickets for a film screening, performance, workshop, or artists' talk.
Charter bus rental tip: Most parking in the area is located in privately operated garages and finding street parking in the area can be tough. If you're traveling with a group, you'll want to inquire about oversized parking options before your visit.
The Billie Holiday Theatre
Address: 1368 Fulton St, Brooklyn, NY 11216
Phone:  718-636-0918
The Billie Holiday Theatre was established in 1972 as an arts space to serve Brooklyn's African American community. This Bed-Stuy theater is considered the cultural heartbeat of the neighborhood's Black community and hosts a variety of performances by African American creatives. The 199-seat space offers an intimate performance atmosphere for plays, dance shows, and cultural discussions. Educational groups can also take advantage of courses through the theater's Youth Arts Academy programs with prior registration.
Charter bus rental tip: As with the BAM, parking at The Billie does not have a private lot. Parking garages can be found throughout the area and street parking can be found on Fulton, Herkimer, and surrounding streets.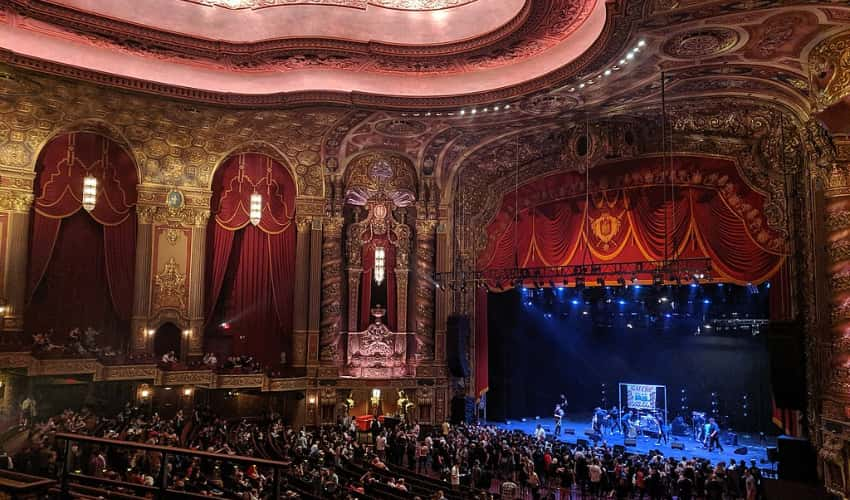 Kings Theatre
Address: 1027 Flatbush Ave, Brooklyn, NY 11226
Phone: 800-745-3000
This opulent movie palace opened in Brooklyn's Flatbush neighborhood in 1929 as a part of the Loew's Theatres chain. As the era of movie palaces ended, the theater closed in 1977 but reopened in 2015 as a renovated performance venue. Kinga Theater has comedy shows, musical performances, and community events throughout the year. Check out the theater's calendar to grab tickets or make a reservation to take a historic tour of the breathtaking building.
Charter bus rental tip: A large public parking lot can be found directly behind the theater but oversized vehicles may not be able to park here. Additional street parking can be found on Bedford Avenue.
Museums and Art Learning Centers
Manhattan may have famous art museums like The Met, MoMA, and Guggenheim but Brooklyn is home to several lesser-known museums and art centers for groups to explore.

Brooklyn Museum
Address: 200 Eastern Pkwy, Brooklyn, NY 11238
Phone:  718-638-5000
The Brooklyn Museum is located right next door to sprawling Prospect Park and is NYC's third-largest museum. The museum's collection includes around 1.5 million objects, including art from Ancient Egypt, sculptures from European masters like Rodin, modern American work, and a center for feminist art. Along with having a large permanent collection, the museum has special ticketed exhibitions like Christian Dior: Designer of Dreams and The Obama Portraits Tour. Group tours of the permanent collection and special exhibitions can be booked for adult and K-12 groups online.
Charter bus rental tip: An hourly paid public lot is available right behind the museum. Oversized vehicles will need to pay an extra fee when parking in this lot.
Building 77 & 92 at Brooklyn Navy Yard
Address: 63 Flushing Ave, Brooklyn, NY 11205
Phone: 718-907-5932
Founded in 1801, the Brooklyn Navy Yard began as an industrial complex for manufacturing and housing US Navy vessels. The shipyard closed in 1966 and has since been redeveloped into a mixed-use space that includes creative offices, restaurants, contracting and construction businesses, and art spaces. The two largest art exhibition spaces in the Yard are Building 77 and Building 92. You'll find public art installations from local creatives, as well as exhibitions that explore the history of the Navy Yard. Art tours and programs in the Yard can be booked for visitors of all ages.
Charter bus rental tip: Parking is limited inside of the Yard but metered street parking can be found on Flushing Avenue and surrounding roads.
The Center for Fiction
Address: 15 Lafayette Ave, Brooklyn, NY 11217
Phone: 212-755-6710
The Center for Fiction is a unique non-profit literature space dedicated to storytelling in all forms. The Center offers more than just a library and bookstore. It also provides community groups with access to writing workshops and reading events for local schools. It's a wonderful place to relax at large reading tables, explore a massive selection of literature, and grab tasty drinks at the in-house cafe. Groups interested in a workshop or educational program should check out the Center's calendar of events before visiting.
Charter bus rental tip: The Center is located in busy Downtown Brooklyn and parking is generally difficult to find. Some street parking can be found on some roads around the Center.
Cultural Events
From live music festivals to events exploring the rich and diverse cultures of Brooklyn, you'll find a variety of things to do in the warm NYC months. (Once winter rolls around, outdoor festivals are a bit more difficult to come by.)

Cherry Blossom Festival
March-April
The Brooklyn Botanic Garden has the highest concentration of cherry blossom trees in the borough. Every year during peak bloom, the garden hosts a traditional Japanese Hanami and Sakura Matsuri festival. The garden has about 25 varieties of cherry trees to appreciate as they blossom for around one week in spring. During the Cherry Blossom Festival, the garden also hosts two days of traditional and contemporary Japanese cultural experiences like taiko drumming and tea ceremonies.
Charter bus rental parking: Paid parking is available at 900 Washington Avenue and is $60 for up to 12 hours. Bus parking is only available when space permits.
BRIC Celebrate Brooklyn! Festival
July-August
Hosted by community arts organization BRIC, the Celebrate Brooklyn! Festival is the borough's longest-running free cultural festival. The festival started in 1979 as a project to revitalize Brooklyn, attract locals back to Prospect Park, and bring the community together. Celebrate Brooklyn! lasts all summer with daily concerts, spoken word performances, and art exhibitions.
Charter bus rental tip: Since Celebrate Brooklyn! spans an entire month, parking options will vary between days. Street parking can be found around the perimeter of Prospect Park and privately-operated lots can be found in the neighborhood.
Afropunk Festival
November
Afropunk kicked off in Brooklyn in 2005 as an event for Black punks to reclaim a space in the rock music scene. Today, Afropunk is held in multiple cities with its biggest event still being held in Brooklyn's Commodore Barry Park. On top of live music from artists like Lenny Kravitz and Solange Knowles, Afropunk Festival also has art exhibitions and installations, film and tv screenings, and events focused on activism and social change.
Charter bus rental tip: Afropunk Festival usually recommends that visitors reserve parking at nearby garages in advance. Most garages have size constraints for oversize vehicles and charter buses or minibuses will be required to park on nearby streets.
Experience Brooklyn's Art and Culture Scene
New York City is filled with an endless number of art and culture destinations for your group to explore. Spend some time exploring the arts scene in Brooklyn, Manhattan, Queens, the Bronx, or even Staten Island. Craft your itinerary of art museums and cultural centers or attend a special performance with wheels provided by New York Charter Bus Company. Rent a charter bus in NYC for your arts event by calling 917-388-9602!
Do you need to rent a charter bus?