A Group Guide to Visiting the Empire State Building
There are few things in New York City as recognizable as the Empire State Building. It adorns not just the skyline, but the t-shirts, keychains, snow globes, and postcards of nearly every street-level souvenir vendor in the city.
If your group decides to make a pilgrimage to the "world's most famous building," you're going to need reliable transportation there. Let New York City Charter Bus Company take the wheel, and your class field trip or sightseeing group can arrive all together and in total comfort. Our 24/7 team will be glad to connect your group with the perfect minibus or charter bus rental to suit your size and amenity needs. From TVs with a DVD player for screening educational films about the city to plush reclining seats and crisp AC so everyone can rest their feet between popular NYC destinations, we'll go the extra mile for you.
Call 917-388-9602 whenever you're ready to rent your NYC charter bus, and we'll offer a free quote tailored to your rental plan! In the meantime, though, check out this guide to everything your group needs to know before you visit the Empire State Building.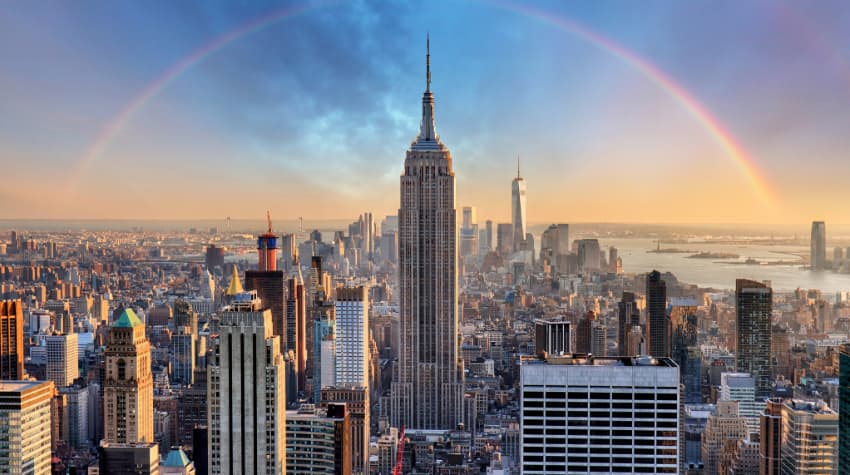 Address: 20 W 34th St, New York, NY 10001
Phone: (212) 736-3100
What can I do at the Empire State Building?
Most people who visit the Empire State Building are here for two reasons: to learn more about NYC's most iconic building and to take in the stellar views of the city from the top. That's why the ESB provides experiences that offer a little of both!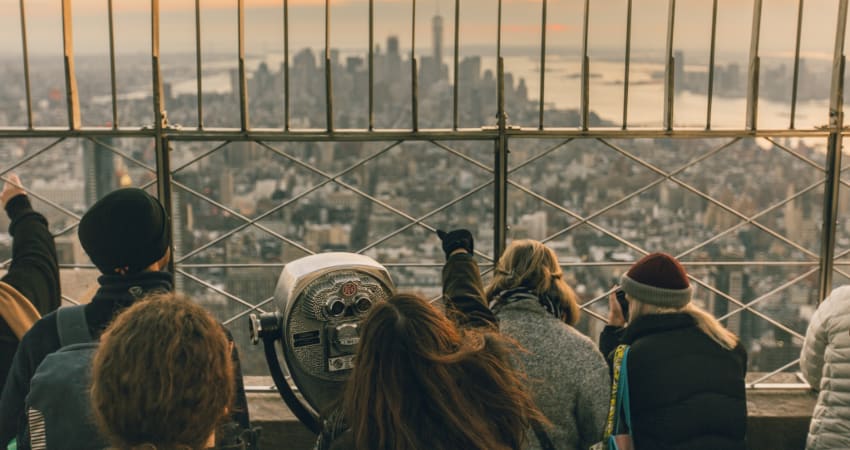 The Observatories
The Empire State Building has not one, but two observation decks. The main one, on the 86th floor, is accessible with a general admission ticket to the building's attractions. It offers 360-degree views of Manhattan and multiple stationary binoculars for visitors to get a closer look at the surrounding sites. The one downside? It's an open-air deck, which means your group might be subjected to wind, cold, and rain as you take in the city below.
The second observation deck is located on the 102nd floor and is serviced by a futuristic glass elevator. From the floor-to-ceiling windows up here, visitors can see the surrounding 80 miles of cities, suburbs, and ocean in all directions on a clear day. Just keep in mind that the extra views come at a premium—tickets to this floor cost an additional admission fee.
Regardless of which observation deck you visit, veteran NYC visitors recommend adding the ESB observatories to the early part of your New York City itinerary, because from here you'll get a bird's eye preview of your coming attractions—Central Park, the Statue of Liberty, the Brooklyn Bridge, Rockefeller Center, and more!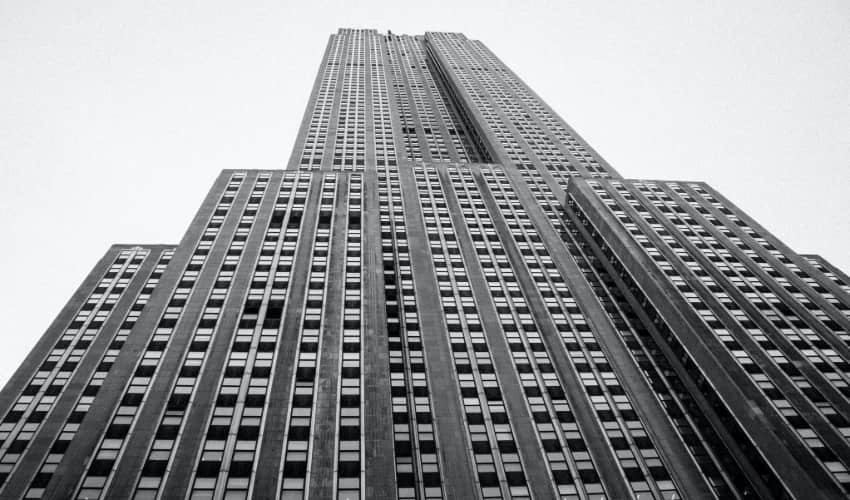 The Exhibits
Visit either of the observatories during NYC's peak tourist seasons (generally the summer or the week between Christmas and New Year's Day), and your group will likely have a long wait ahead of you. Luckily, the waiting areas between the elevators offer a range of exhibits dedicated to the Empire State Building and its legacy.
Take some time during your ascent to brush up on the building's construction, historic tenants, and relevance in pop culture—including a King Kong art installation and a photo wall of celebrities who have stopped for a selfie at the top, like Mariah Carey and Mickey Mouse. These exhibits update with relative regularity, so even if you visited ESB a few years ago, there's a chance you'll learn something new on your way up this time around.
Getting to the Empire State Building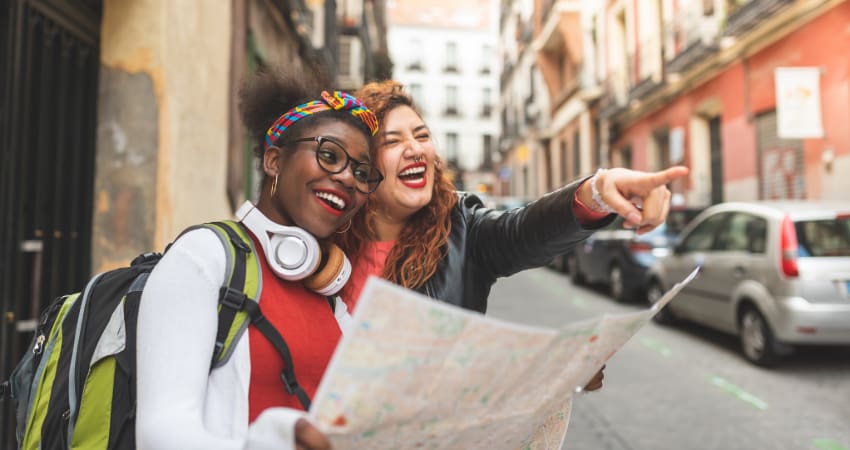 …By Foot
When you're in central Manhattan, the ESB is relatively easy to spot if you know what the building looks like—just look up and you should be able to see it. So if you're staying in Midtown Manhattan (that is to say, between 14th Street and Central Park) and you're able to, your group may just want to walk there from your hotel.
The Empire State Building lobby is located on the 5th Avenue side of the building. There are usually signs directing you to the right place, or, if you happen to stop by on a busy day, a line of sightseers waiting to enter. In either case, locating the visitor entrance should not be an issue.
…By Subway
One of the best ways for most people to get around Manhattan is the subway. It's cheaper per person than hailing a cab, and if you know where you're going, it can be easy to navigate.
The closest stations to the Empire State Building are:
34nd Street – Penn Station: a 5-minute walk
34th Street – Herald Square Station: a 5-minute walk
Grand Central Terminal: a 10-minute walk
However, this mode of transport is not a great choice if you're traveling with wheelchair users—only 25% of the NYC subway system is ADA-accessible. Also, many first-time visitors can find navigating the subway confusing, and there's a risk someone could get lost or miss their train at a transfer. If losing your sightseers between point A and point B is a concern for your group, you might want to consider a different, more personalized route.
…By Charter Bus Rental
NYC first-timers may be intimidated by the subway, and not everyone can walk everywhere (especially if you've got a full day of sightseeing ahead of you). For the ease of large tour groups, groups with small children, and folks with mobility concerns, we recommend reserving a New York City bus rental to get your sightseers where they need to be. That way, you'll have a reliable ride that operates on your own schedule—not someone else's—and your passengers can enjoy amenities like onboard WiFi, full climate control, and comfy seats between stops.
There are designated bus lanes along 34th Street that offer dropoff and pickup locations across the street from the Empire State Building. These lanes are primarily used by the MTA public bus system, but other buses like school buses and charter buses may also use them when needed.
For more information about where your charter bus rental can and can't go, check out our ultimate guide to charter buses in NYC.
Accessibility
While many aspects of New York City are not ADA-compliant, the Empire State Building definitely is! All ESB exhibits have accompanying, downloadable audio tours available for both iOS and Android devices. The free audio tours are available in English, Spanish, French, German, Italian, Mandarin, Portuguese, Japanese and Korean, and they can be paused, rewound, and fast-forwarded as you need.
Service animals are welcome, all entrances to the building include ramps, and the 86th observatory deck features low viewing walls and stationary binoculars so everyone can take in the view. And if you need an ADA-compliant vehicle to get your group to the Empire State Building, just let the New York Charter Bus Company team know—we'll find you a ride with lifts and wider aisles for no additional cost.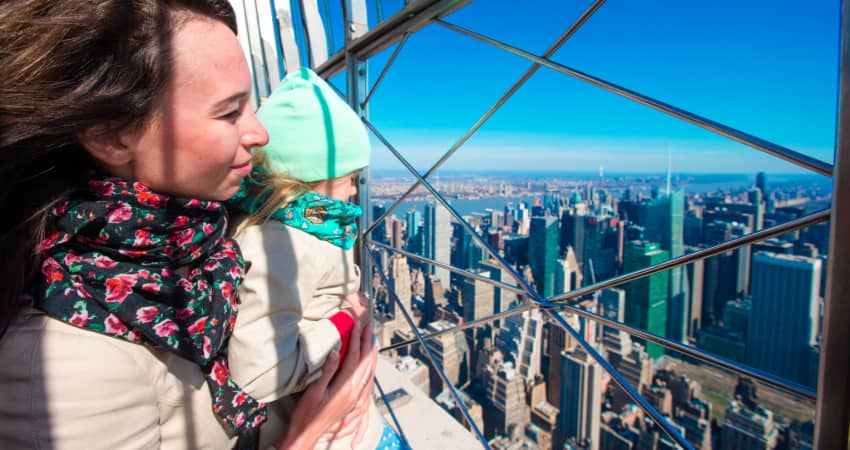 Tickets and Admission
Good news! Groups of 20 or more visitors receive discounted admission—just submit your group tour inquiry to make a reservation, and the ESB staff will ensure everyone can tour the building together.
Additionally, one of the perks of visiting the Empire State Building is the variety of ticket options your sightseers can choose from. Here are some of the more popular options and their benefits:
The Main Deck—between $36-$42 per person before the group discount; includes access to the 86th-floor observatory and all permanent exhibits
The Top Deck—between $66-$72 per person before the group discount; allows visitors to explore the 86th-floor deck, the 102nd-floor observatory, and the exhibits
Premium Experience—$161.55 per person before the group discount; includes a guided, 90-minute behind-the-scenes tour of both decks and all exhibits
Express Passes—$78 for the 86th floor, $108 for the 102nd floor; allows guests to bypass the lines for a streamlined ride up to the top
Sunrise Pass—$114.81 per person before the group discount; catch the sunrise over the East River from the 86th-floor observation deck
Make the Most of Your Empire State Building Visit
Ready to start planning? New York City Charter Bus Company is here to help! Our team is always available to answer any transportation-related questions, help you find the perfect bus rental for your group, and make any changes to your reservation as you need them. Just have your headcount, an itinerary, and a list of amenities (hello WiFi, power outlets, and extra legroom!) when you call 917-388-9602, and we'll offer you a free and transparent quote with no obligation to book.
Do you need to rent a charter bus?