A Sports Fan's Guide to NYC
If you're traveling to NYC with a group of sports fans or a youth sports team, you might want to catch a game while you're there. New York City Charter Bus Company is here to help. We've compiled a list of NY's most popular sports teams, and we can help you get to where they play on a spacious, relaxing charter bus. Just give us a call at 917-388-9602 and reserve a bus to cheer on your favorite team at one of these destinations.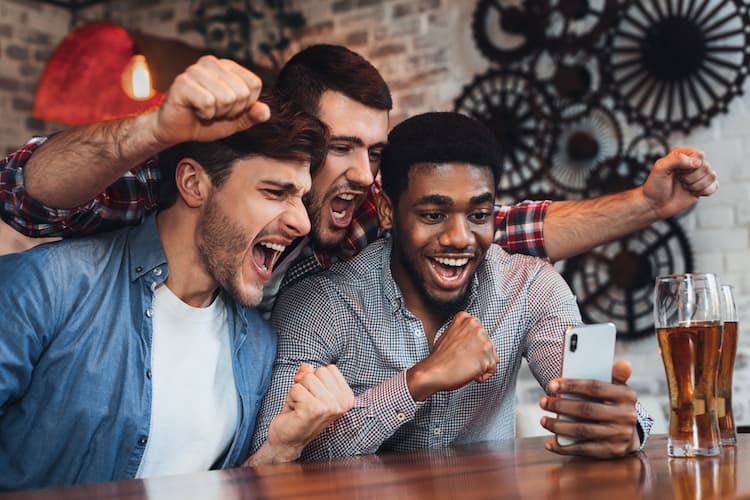 The Yankees and NYCFC at Yankee Stadium
If you're talking about New York sports teams, you have to talk about the much-loved (and much-hated) Yankees. These 27-time World Series Champions play at Yankee Stadium in The Bronx, and they share their space with the New York City Football Club, who have a much shorter history but are beginning to build their fanbase.
Your group can purchase tickets online to see Yankees and NYCFC games once the teams begin welcoming fans again. But if you're visiting when no one is playing, you can still take a tour of the beautiful stadium and snap photos of its distinctive white frieze. Stadium tours are led by knowledgeable guides and typically include visits to the New York Yankees Museum, the Press Box and/or the Dugout, and Monument Park.
One of Yankee Stadium's most famous locations, Monument Park holds more than three dozen plaques, 21 retired numbers, and seven monuments honoring the Yankees' greatest players. You can pay your respects to legends like Lou Gehrig, Babe Ruth, and Mickey Mantle or to more recent icons like Derek Jeter, Mariano Rivera, Andy Pettitte, and Jorge Posada.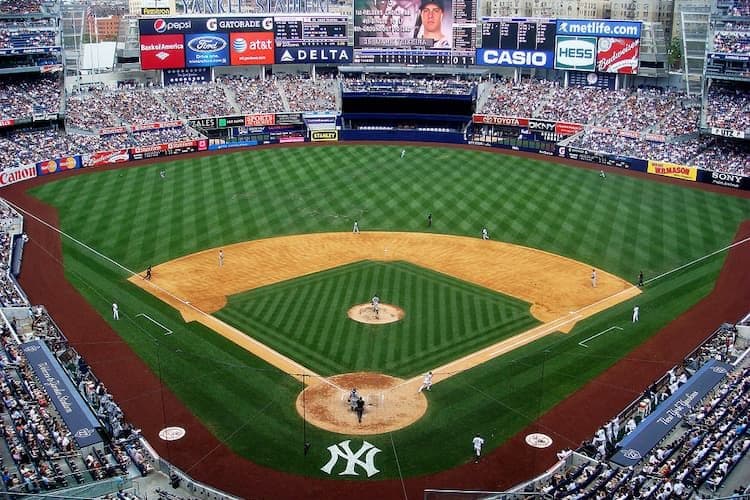 Image credit: Wikimedia Commons
Stadium tours run most days from 11:00 a.m. to 1:40 p.m. and depart every 20 minutes. Tours last one hour, and bilingual (Spanish/English) tours take place at 1:00 p.m. You can also book a group tour at a discounted rate if you have 20 or more people by calling 646-977-TOUR (8687) or emailing tours@yankees.com. The tour is wheelchair-accessible, though it's a good idea to let the stadium know if members of your group have mobility concerns so they can better accommodate you. New York City Charter Bus Company can also provide an ADA-accessible bus if you request one!
Address: 1 E 161 St, The Bronx, NY 10451
Charter bus parking: The lots and garages around Yankee Stadium are managed by City Parking. You can reserve spots for your bus online in advance.
The Mets at Citi Field
The Mets may not have as many World Series championships as the Yankees, but they do have a devoted fanbase, delicious food options, and a beautiful stadium in Queens. Take pictures with the distinctive giant apple sculpture before attending a game, or schedule a stadium tour for a more in-depth exploration of Citi Field.
When you book a guided tour online, your group will get to explore the clubhouse, the field, the dugout, the production area (which includes the scoreboard control room), the press box, the Sterling and Porsche suite levels, and the Mets Hall of Fame & Museum. The 3,700-square-foot Hall of Fame contains the 1969 and 1986 World Series trophies, interactive kiosks packed with photographs and highlight videos, and plaques honoring Mets legends like Keith Hernandez, Mike Piazza, and Darryl Strawberry.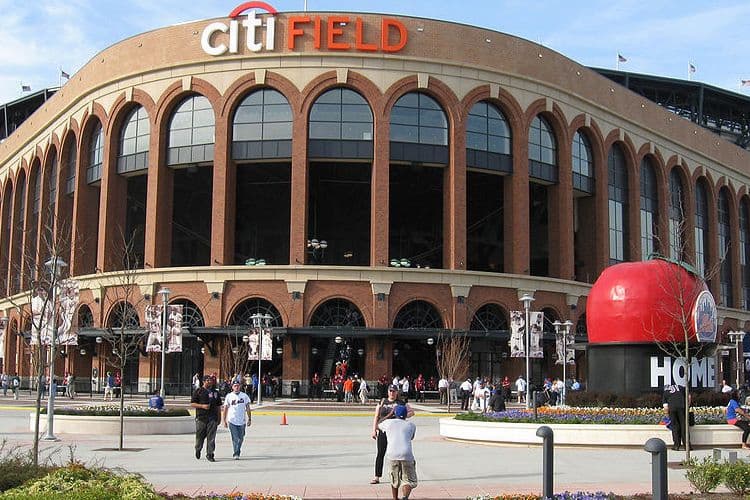 Image credit: Wikimedia Commons
Citi Field is also home to the Jackie Robinson Rotunda, which is adorned with pictures of the groundbreaking baseball player. (Robinson played for the Brooklyn Dodgers, not the Mets, but since the Dodgers moved to LA, the Mets are often treated as the Brooklyn Dodgers' unofficial successors.) Make sure your group stops to take pictures and pay tribute to Robinson during your tour.
If you're lucky enough to visit Citi Field on a game day, you'll definitely want to grab a bite to eat. Citi Field is known for having some of the best food options among all NY sports venues. No need to munch on mediocre hot dogs: instead, you can indulge in Arancini Bros. risotto balls stuffed with Taleggio, Gruyère, parmesan, and mozzarella. Then head to Fuku for David Chang's chicken sandwiches, Marty's V Burger for Beyond Burgers loaded with vegan toppings, or Wowfulls for Hong Kong street waffles filled with ice cream. Just remember to take a break from eating long enough to watch the game!
Address: 41 Seaver Way, Queens, NY 11368
Charter bus parking: Citi Field has plenty of parking lots, and charter buses can park for $50 during regular season games and tours and $90 during postseason games.
The Knicks and the Rangers at Madison Square Garden
The New York Knicks and Rangers are the only two professional sports teams that play in Manhattan. Their home, Madison Square Garden, first opened in 1879, and the current building was constructed in 1968. This landmark destination hosted the Knicks' NBA Championship in 1970, the Rangers' Stanley Cup Championship in 1994, and the "Fight of the Century" between Muhammad Ali and Joe Frazier in 1971. It's also an iconic concert venue that has featured performances by artists as diverse as Elvis Presley, Stevie Wonder, Elton John, and Katy Perry.
Knicks and Rangers games are always worth a visit, but if you're craving a more in-depth exploration of the stadium, you can buy tickets for the MSG All Access Tour. This 75-minute guided tour features an expert guide who will teach your group all about the 150-year history of "The World's Most Famous Arena." You can see the backstage areas, a luxury suite, and views of the concave ceiling from the Chase Bridge, and kids will love interactive exhibits about Billy Joel lyrics, basketball players, and professional boxers.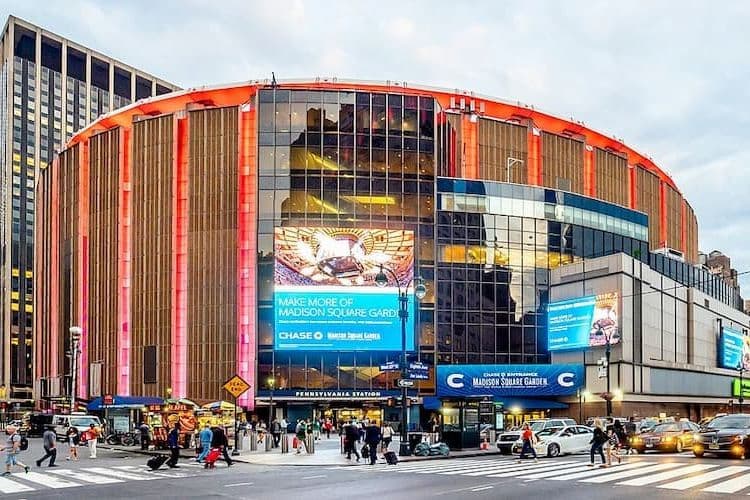 Image credit: Wikimedia Commons
Tours run from 9:30 a.m. to 3 p.m. on non-game days and from 12:15 to 3 p.m. on Knicks game days. English guided tours depart every 30 minutes, while Spanish tours depart at 10:15, 12:15, and 2:15. Groups of 15 or more receive discounted tickets when they book their tours by calling 212-465-6225 or emailing group.sales@msg.com.
Like Citi Field, Madison Square Garden is also a great destination for food if you visit during a game or concert. Try Mike's Hot Honey Fried Chicken, pulled pork and brisket from Mighty Quinn's Barbeque, and soft-serve cones from Big Gay Ice Cream while you cheer on the Knicks or Rangers.
Address: 4 Pennsylvania Plaza, New York, NY 10001
Charter bus parking: Because it's in Midtown Manhattan, Madison Square Garden has no designated parking. Your bus driver may be able to find a metered spot along 35th, 36th or 37th St. after 6 or 7 p.m., but if they can't, you will need to pay for a spot in a garage that accepts buses.
The Brooklyn Nets and NY Liberty at Barclays Center
One of the newest sports venues in NYC, the Barclays Center was built in 2012 and is the home of the Brooklyn Nets NBA team and the NY Liberty WNBA team. That makes it the only venue in New York where you can see professional women's basketball as well as men's. Since Barclays Center was built so recently, it also features a modern court in great condition and excellent audiovisual equipment for concerts. Justin Bieber, The Weekend, and Panic! At The Disco have all played to packed crowds here.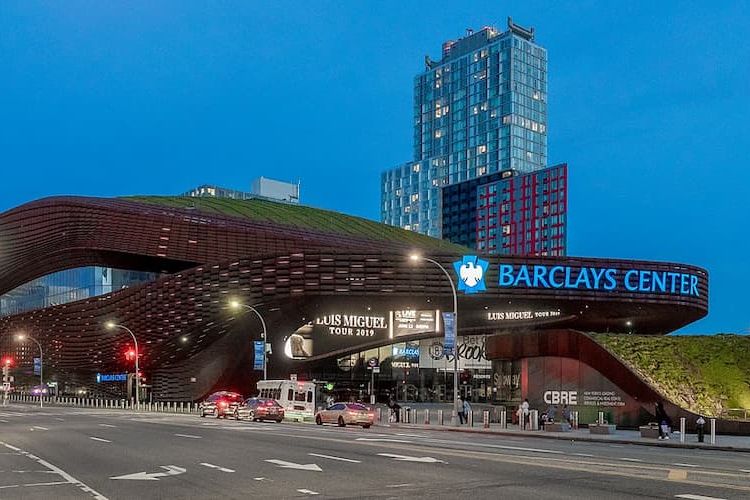 Image credit: Wikimedia Commons
Because the Barclays Center doesn't have the storied history of Yankee Stadium or Madison Square Garden, it doesn't typically offer tours, but you can buy tickets to a game or concert if you want to get inside. The center also boasts an array of great food vendors. Sure, you'll find burgers and popcorn here—but you'll also find authentic Cuban sandwiches from Habana, savory chicken parmesan from Parm, and one-of-a-kind Brooklyn pizza from Table 87.
Address: 620 Atlantic Ave, Brooklyn, NY 11217
Charter bus parking: The Barclays Center doesn't offer designated parking, but your charter bus driver can drop you off in front of the arena and then park in a nearby garage or lot that allows buses.
The Giants and the Jets at MetLife Stadium
Don't worry, we haven't forgotten about football: though, if you want to get technical, no NFL team plays in New York City. Both the NY Giants and NY Jets actually play in East Rutherford, New Jersey. That means if you don't have a car, you may have to spend over an hour on NJ Transit or a public bus to reach the stadium. A charter bus offers a great alternative. Rather than rushing to catch a crowded train or bus, your group can travel on your schedule in a private bus with plush, reclining seats.
MetLife Stadium not only hosts games for two different NFL teams, but also soccer exhibitions from international teams and concerts from artists like Lady Gaga, Guns N' Roses, and Taylor Swift. During halftime or your least favorite song, you can treat yourself to loaded tater tots from Mr. Tot or a spicy chicken sandwich from Fat Rooster.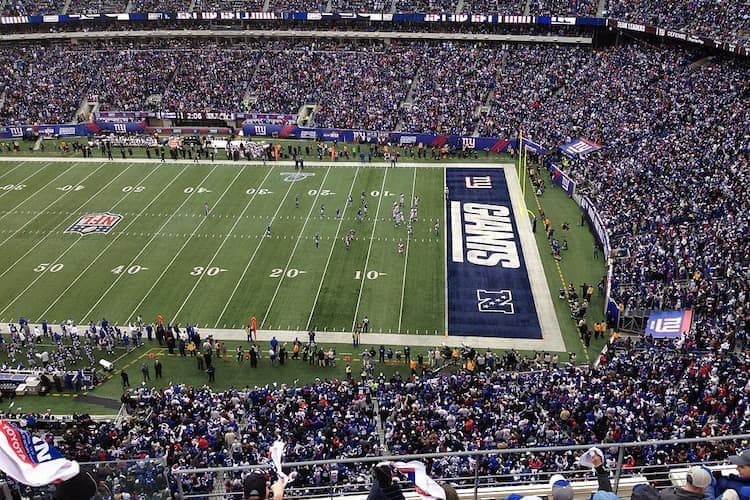 Image credit: Wikimedia Commons
If you'd like to take a stadium tour, they're offered Monday through Friday at 10 a.m, 1 p.m. and 4 p.m. and must be reserved online a week in advance. You need at least 10 people to book a private group tour, and tickets cost $17 per adult and $12 per child. During your 90-minute tour, you'll visit the Legacy Room, the Commissioners Club, the suites, the mezzanine-level clubs, and the press box and lounge. The highlight for most fans, though, is stepping foot on the field where the Jets and Giants play.
Address: 1 MetLife Stadium Dr, East Rutherford, NJ 07073
Charter bus parking: Charter buses can park in Lot L for a $160 parking fee.
Tour NYC with Your Group of Sports Lovers
Whether you're planning to cheer on the Yankees or to learn about Muhammad Ali's time at Madison Square Garden, you'll find plenty to do in NY with a group of sports fans. New York City Charter Bus Company would love to help you explore the city's stadiums and arenas in a comfortable bus with a professional driver. Just give us a call at 917-388-9602 to book your sports trip today.
Do you need to rent a charter bus?