Beginner's Guide to Visiting Staten Island
Staten Island is oftentimes New York's most underappreciated borough. Yes, there are a variety of things to do in Staten Island beyond just riding throughout the borough from the Newark airport to Brooklyn. If you're planning a private group trip around NYC you may want to stop in Staten Island for a well-founded view of all the boroughs.
Keep on reading to learn more about the top things to do in Staten Island, where to eat, and how to travel around the island with a group!
Getting Around Staten Island with a Group
Although New York is known for having the best public transportation in the country, that doesn't fully extend into Staten Island. Staten Island is not served by the New York Subway System but does have the Staten Island Railway, bus routes, and a ferry.
Navigating Staten Island's public transport can be relatively simple and affordable for solo travelers or small groups. Large groups of travelers or people traveling on a tight schedule likely won't have the best travel experience with Staten Island public transport. Instead, book a minibus or charter bus rental to have a personalized, private transportation opinion to any location in Staten Island or New York's other boroughs. New York Charter Bus Company offers full-service group transportation services throughout all 5 boroughs and other major cities in New York State. Groups can leave driving, parking, and navigation up to professionals. Relax in a comfortable bus with plush seats and entertainment amenities like WiFi as the pros take care of traffic to or around Staten Island. Call 917-388-9602 to learn more about bus rental pricing in New York and to get a free, personalized rental quote!
Top Things to Do and See in Staten Island
Here are just a few of the best ways to spend your time on Staten Island during your group trip: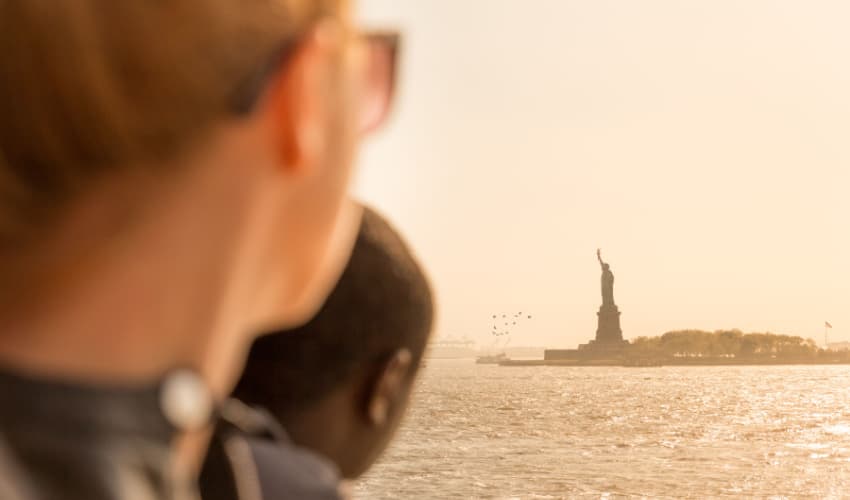 View the Statue of Liberty for free from the Staten Island Ferry.
Taking the ferry between Staten Island and Manhattan is free, runs 24/7, and comes with views of the Statue of Liberty and Ellis Island. The St. George Ferry Terminal is located on the northern tip of Staten Island and it takes about 25 minutes to make it to Whitehall Terminal in Lower Manhattan. During the 25-minute ride, you'll get one of the best views of Lady Liberty (and for free!)
Charter bus rental tip: There are two on-site parking lots on Staten Island at the St. George Ferry Terminal. These lots tend to fill quickly and may not have accommodations for oversized vehicles. You can find alternative parking next door at the Richmond County Bank Ballpark. This is a private parking lot and may have parking fees for minibus and charter bus rentals.
Visit the Snug Harbor Cultural Center & Botanical Garden.
Snug Harbor is considered by some as Staten Island's "crown jewel" and is a top tourist destination in the area. Formally called Sailors' Snug Harbor, this historic landmark was founded in 1801 as a retirement home for sailors. The retirement home included several buildings, cottages, shops, and gardens. Today, the buildings are housed in an 83-acre park and have been converted into museums and art institutions. Spend a sunny afternoon exploring the  Staten Island Museum at Building A, the New York Chinese Scholar's Garden near Cottage E,  the Noble Maritime Collection at Building D, and tour contemporary art collections in Buildings C and G. Keep in mind that the Snug Harbor Discovery Pass only offers access to certain buildings, as some spaces are occupied by private organizations. Separate admission may also be charged for special performances and events in Snug Harbor venues.
Charter bus rental tip: There are multiple parking lots across the Snug Harbor campus. If you're visiting for a guided group tour, workshop, or field trip, just be sure to ask about charter bus parking when you request your visit.

Snap postcard-worthy photos at the Fort Wadsworth – Gateway National Recreation Area.
Located on the northeastern shore of Staten Island, Fort Wadsworth is a former military unit dating back to 1663. Fort Wadsworth served as a mobilization center during the Civil War era and played a major role in defending New York during World War I. Today, the unit is a public park that includes historic fortifications like Fort Tompkins and Battery Weed and remnants of other batteries. Fort Wadsworth is one of the places on Staten Island to get some exercise, explore bike trails, and snap photos of the Verrazano-Narrows Bridge stretching across the New York Harbor. You'll also find beautiful distant skyline views of Manhattan across the water at sunset or sunrise!
Charter bus rental tip: Fort Wadsworth has several parking lots but the largest is located at the Visitor Center located near the Bay Street entrance.
Where to Eat with a Group in Staten Island
Every New York borough has a rich dining culture and selection of food, including Staten Island. Here are a couple of restaurants to consider for a tasty meal during your group visit:
Enoteca Maria
Address: 27 Hyatt St, Staten Island, NY 10301
Phone:  718-447-2777
Enoteca Maria is one of a handful of Staten Island restaurants that have been awarded the ranking of Bib Gourmand, which indicates an excellent value for the money. The restaurant's concept is a special one, focusing on the continuous passing down of culinary knowledge from generations and between cultures. Each night, a different "nonna" runs the kitchen, bringing a unique cultural flair to the dishes. So on any given night, you'll have delicious meals made by nonnas from places like Italy, Argentina, Palestine, Sri Lanka, or Greece. Enoteca Maria is located near the St, George Terminal and offers group reservations. It's the perfect place to get friends or family together to have a group meal and feel like you're at home.
Charter bus rental tip: Roads in this area can be a bit tight and may not be suitable for full-size charter bus rentals. If you're traveling in a minibus, your driver will likely need to drop your group off near the restaurant before parking on the street along Richmond Terrace or at Richmond County Bank Ballpark.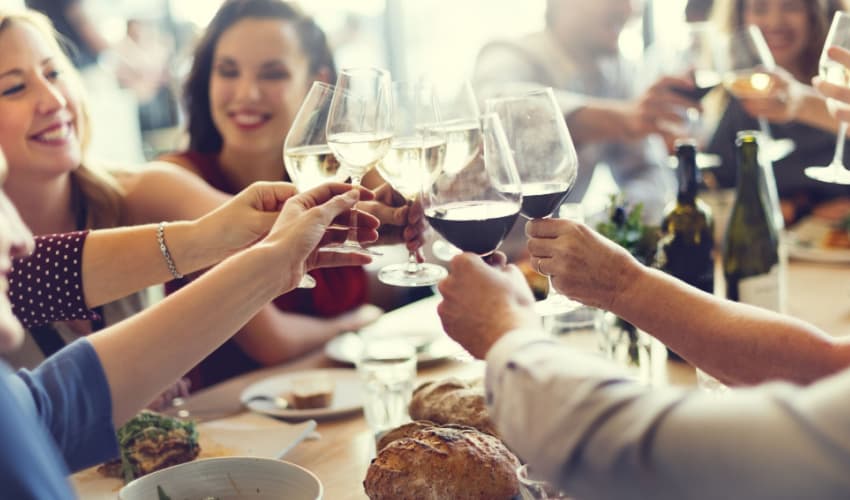 Patrizia's Of Staten Island
​​Address: 4255 Amboy Rd, Staten Island, NY 10308
Phone: (718) 317-6600
Large groups looking for cozy, authentic Italian fare should make a stop at locally-loved spot Patrizia's. With its spacious dining area and Family Style Tasting Menu, Patrizia's is a great place for a large group meal or special occasion like a birthday dinner. Chow down on seafood dishes like baked clams and calamari, classic pasta like spaghetti with meatballs and eggplant parm, or choose from a variety of wood-burning brick-oven pizzas. Reservations are highly recommended and can be made over the phone. If you're interested in group dining, ask about the private dining room availability.
Charter bus rental tip: A shared parking lot is available in front of the restaurant. Additional street parking can be found on Old Amboy Rd if the lot is full.
Lakruwana Restaurant
Address: 668 Bay St, Staten Island, NY 10304
Phone: 347-857-6619
Groups for foodies with big appetites should make Lakruwana Restaurant a top spot to visit during a weekend trip. Lakruwana serves up authentic Sri Lankan fare in an intricately-decorated space in Staten Island's Stapleton neighborhood. Lakruwana has also earned a nod from Michelin in its 2022 Best-of Guide for Staten Island. Enjoy savory, flavorful fare like fish lamprais and lamb biryanis.  If you're exceptionally hungry, you'll want to take advantage of the all-you-can-eat buffet Friday through Sunday. Reservations are available for groups of 5 or more and outdoor seating is available by request.
Charter bus rental tip: Parking around Lakruwana is limited to street parking. Finding parking directly in front of the restaurant may be difficult, so your driver may need to drop everyone off before circling the area to find suitable parking.
Travel Around Staten Island with a Group
As you plan your group trip around New York, pencil in some time to visit Staten Island. Whether you're spending a few hours or a few days on Staten Island, New York Charter Bus Company can help groups travel with ease. Call 917-388-9602 to learn more about group transportation services around Staten Island and available charter bus rentals in New York City.
Do you need to rent a charter bus?