Group Guide to Visiting NYC's SoHo Neighborhood
If you're looking for high-end boutiques and posh nightlife spots, you'll want to hit up SoHo during your next New York City group trip. It's one of the chicest destinations in Manhattan and is overflowing with things to see and do. As you plan a trip around the city, pencil in a few stops in SoHo to enjoy shopping, dining, or even a few cocktails at a nightlife hotspot.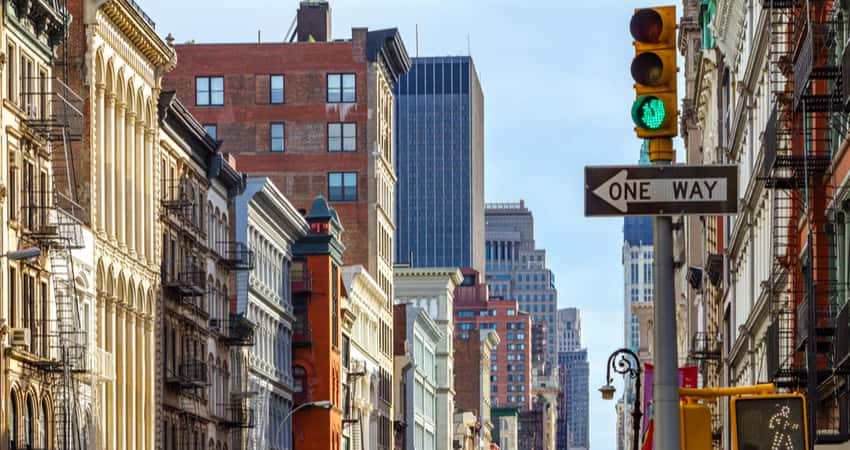 How to Travel Around SoHo with a Group
Whether you're planning a bachelor or bachelorette party in SoHo, a business outing with coworkers, or just a private group tour of NYC — you'll want to make sure you're traveling as efficiently as possible. Hopping in a taxi or on public transport to SoHo is usually quick and pretty easy, but if you have a large group, it may be a hassle. Groups of out-of-towners may not feel comfortable navigating the public transport system and travelers considering a taxi or rideshare will have to hail several vehicles.
To keep your SoHo travel simple, consider a private charter bus rental. New York Charter Bus Company offers minibus and charter bus rentals in NYC for groups of all sizes traveling for any occasion. Just call 917-388-9602 to get a charter bus rental quote in NYC. You can travel in complete comfort throughout SoHo in a charter bus rental with a pro driver and plenty of space for your whole group!
Shops in SoHo
You'll find famous high-end designer stores like Saint Laurent, Rick Owens, Céline, and Prada throughout SoHo. Shopping at these luxury stores is certainly a must if your budget permits, but you'll also find more affordable options like Muji, Madewell, and UNIQLO. You can store your SoHo treasure hunting finds on your charter bus as you explore the rest of the neighborhood. Here are just a few must-shop spots in SoHo:
What Goes Around Comes Around
This renowned vintage store has a wide selection of designer pieces that you likely won't find anywhere else. From luxury silk scarves and coveted designer bags to flashy jewelry and timeless clothing pieces, What Goes Around Comes Around is a must for fashion lovers.
Address: 351 West Broadway Between Broome and Grand St, New York, NY 10013
Phone: (212) 343-1225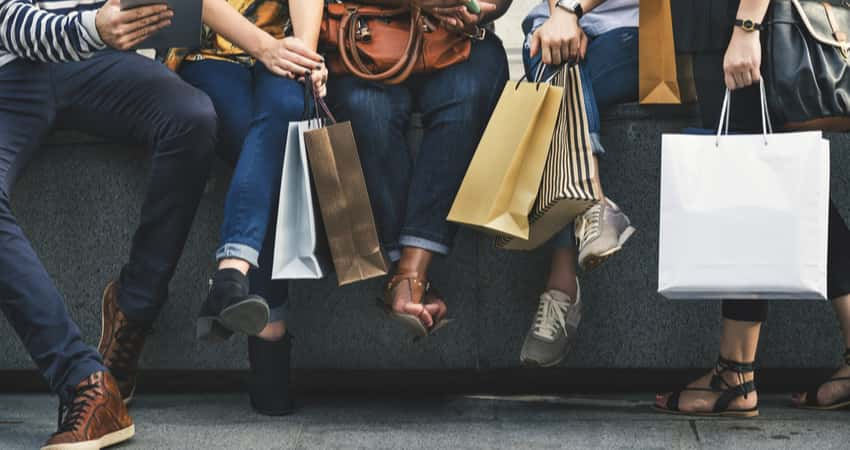 MUJI SoHo
This Japanese retailer offers affordable clothing, home goods, and decor. You'll find unisex staples like comfy shirts, coats, and pants, as well as any homeware you can think of like stationary, bedding, and kitchen appliances. If you're a group of out-of-town, be sure to stock up on high-quality affordable pieces since MUJI only has a handful of locations in the USA.
Address: 455 Broadway, New York, NY 10013
Phone: (212) 334-2002
MoMA Design Store
Although the Museum of Modern Art is located in Midtown Manhattan, the MoMA has two designer stores in other NYC neighborhoods. The SoHo design store offers modern art decor, gifts, homewares, books, and tech gadgets like headphones.
Address: 81 Spring St A, New York, NY 10012
Phone: (646) 613-1367
Museums and Art Spaces in SoHo
Not only is SoHo great for fashion lovers, but it's also a wonderful location for an artsy bunch. You'll see a variety of art galleries, theaters, and museums throughout the area. Spend some time learning about local artists or screening indie films at these local art spaces:
Leslie-Lohman Museum of Art
The Leslie-Lohman Museum of Art preserves, exhibits, and educates visitors about art from LGBTQ+ artists or works surrounding LGBTQ+ issues. The museum's permanent collection includes more than 30,000 objects, including works from queer artists like Berenice Abbott and Andy Warhol. Admission to the museum is free but donations are welcomed.
Address: 26 Wooster St, New York, NY 10013
Phone: (212) 431-2609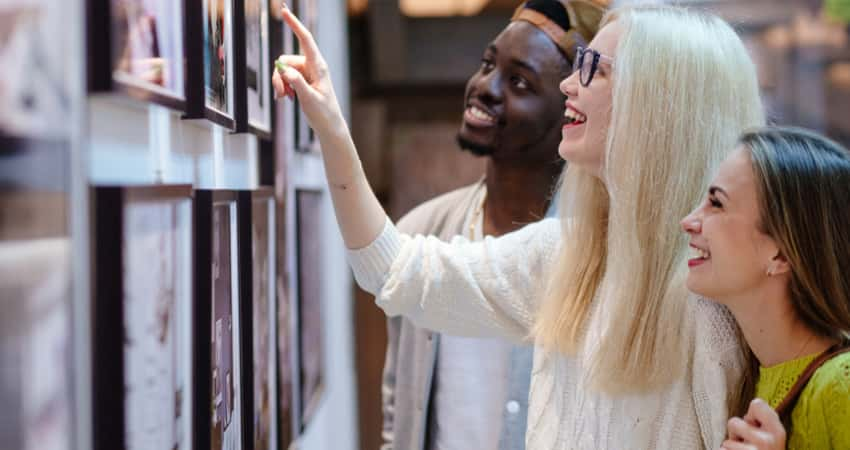 Soho Photo Gallery
This modern gallery space showcases the photography work of notable artists from around the world. The gallery offers rotating themed exhibitions, as well as speaker series events, workshops, and competitions.
Address: 15 White St, New York, NY 10013
Phone: (212) 226-8571
Film Forum
Film Forum opened in 1970 as a screening space for independent and alternative films. Today, the nonprofit theater is still doing just that—screening independent films! The theater sits between Greenwich Village and SoHo, offering visitors access to screenings of classic films, independent works, and international documentaries. Groups are highly encouraged to buy tickets online in advance.
Address: 209 W Houston St, New York, NY 10014
Phone:  (212) 727-8110
Group-friendly Restaurants in SoHo
SoHo has plenty of trendy upscale restaurants for special occasions like bridal showers, birthday parties, or just a fancy brunch with friends. If you're more into laidback dining, don't worry—SoHo has a few affordable dining spots too! You can enjoy a boozy brunch or a few glasses of wine at dinner without having to worry about how you'll get home—New York Charter Bus Driver Company will do the driving and keep you safe.
Just keep in mind that restaurants in SoHo tend to get very busy, don't always take reservations, and are often quite small. This means that group dining can be difficult at times. Here are some restaurants that are best suited for group dining in SoHo: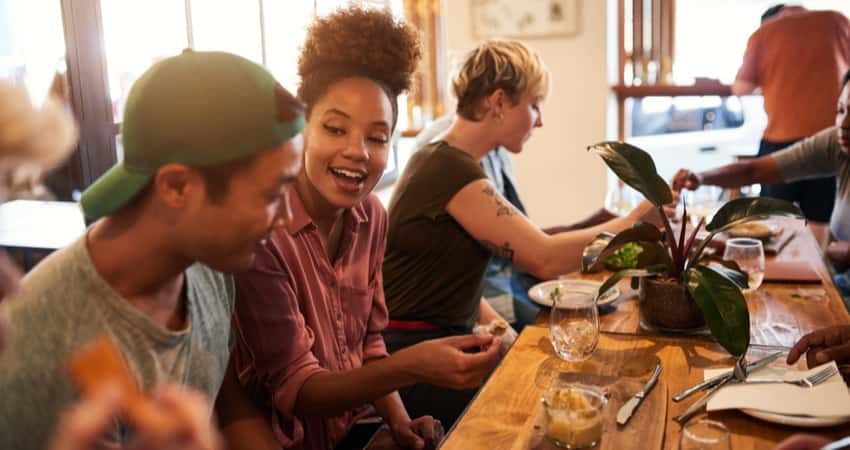 Galli
Galli is a go-to for relatively affordable Italian fare in SoHo. This trendy Italian restaurant serves up tasty dishes like calamari, chicken parmesan, and penne alla vodka. If you're looking for a spot to enjoy a few cocktails, Galli has a popular happy hour Monday through Friday. Along with a cozy brick-wall-lined dining room, Galli also has a covered outdoor dining area on certain nights. You can make a group reservation through Gall's website or over the phone.
Address: 45 Mercer St, New York, NY 10013
Phone: (212) 966-9288
Blue Ribbon Brasserie
Blue Ribbon is the place to dine on elevated New American food like oysters, fried chicken, bone marrow, and New York strip steak. The restaurant is only open for dinner, so if you're looking for lunch or brunch, you'll need to dine elsewhere. Dining room reservations can be made online or by phone in advance.
Address: 97 Sullivan St, New York, NY 10012
Phone: (212) 274-0404
Shuka
Shuka serves up authentic Meditterean food that's perfect for group dining. The cuisine brings together Tunisian, Moroccan, and Italian cuisine to offer groups dishes like fried halloumi, shakshuka, meat kebabs, and a variety of dips to accompany your meal. Shuka also offers a feast option for the whole table, featuring a selection of a little bit of everything from the menu. The restaurant offers online reservations and also can accommodate private events.
Address: 38 MacDougal St, New York, NY 10012
Phone: (212) 475-7500
Nightlife Spots in SoHo
SoHo is filled with upscale cocktail bars, relaxed lounges, and some unlikely dives. Whether you want to have a luxurious night or a laid-back evening, you'll find something to suit your group's nightlife needs in SoHo. If you're planning a bar hop, leave the transportation up to New York Charter Bus Company all night. Enjoy a few pregame drinks onboard your bus rental and leave the safe designated driving up to us.
Check out these SoHo nightlife locations during your group trip:
Baby Grand
Are drinks and karaoke on your nightlife agenda? Baby Grand is where you go to sing your hearts out, no matter how good or bad you may be. Singing in front of a bar full of strangers may be frightening, but Baby Grand is known for having a supportive audience and intimate space. Pick your favorite song and hop on the small stage to sing the night away.
Address: 161 Lafayette St, New York, NY 10013
Phone: (212) 219-8110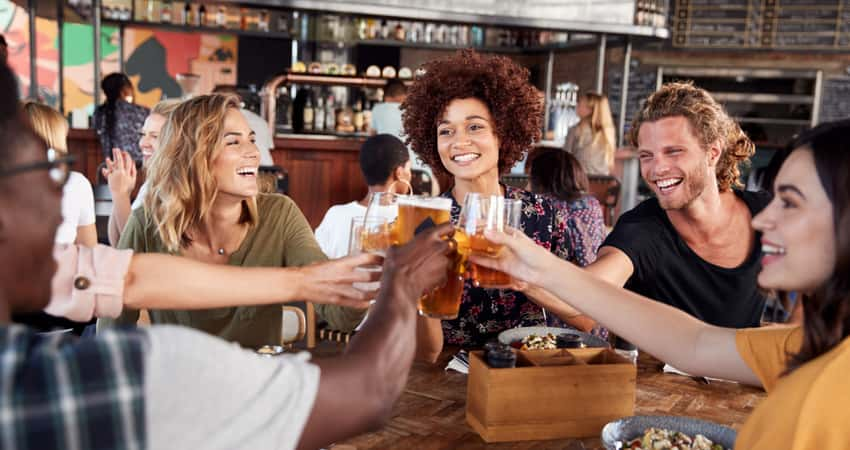 Houston Hall
This locally loved craft beer spot is located between SoHo and Greenwich Village. Houston Hall is a spacious area with community tables that are suited for bis groups. The hall has a full craft beer and food menu with bar food from local Greenpoint Beer Works. Houston Hall is also a popular event space for weddings, company parties, and watching sports games.
Address: 222 W Houston St, New York, NY 10014
Phone: (212) 675-9323
Mother's Ruin
Mother's Ruin is technically in Nolita, but since it's still right next door to SoHo, it's worth a stop if you're in the area. Besides, where else are you going to find wine on tap and alcoholic slushies? Mother's Ruin is a great place to relax, grab a few casual drinks, and chat with your group. If you get hungry, the bar also has a full-service kitchen with dips, burgers, and sandwiches.
Address: 18 Spring St, New York, NY 10012
Phone: (212) 219-0942
Explore SoHo in a Private NYC Charter Bus Rental
Traveling with a group in SoHo and surrounding neighborhoods is easy when you book a spacious NYC charter bus rental. Leave all of your transportation needs up to New York Charter Bus Company and enjoy your time in SoHo. Call 917-388-9602 to get a free, personalized bus rental quote at any time!
Do you need to rent a charter bus?