A Group Guide to Arts & Culture in Queens
Considering Queens is one of the most diverse boroughs in New York City, it should come as no surprise that this lowkey corner of the city is home to so many NYC arts and culture mainstays!
Whether it's a night out at the theatre with your class, a group tour of the area's finest museums, or a picnic in an art-adorned park, this guide should help you decide which Queens arts and culture destinations should be on your NYC itinerary. Just hop aboard your New York City charter bus rental and let the professionals ease your transportation to these must-see institutions.
Getting Around Queens' Art Scene
Before we get to the fun part (exploring Queens' top art and culture stops), here's some advice that can make or break your day out: plan your transportation ahead of time. Nothing puts a damper on a day of gallery-hopping like waiting around for multiple cabs or rideshares, or even getting lost on the subway with a large group of out-of-town kids. Luckily, New York Charter Bus Company is here to help! We have plenty of experience transporting groups in and around NYC's boroughs, from Brooklyn to the Bronx and beyond. We service all sorts of group trips in NYC (not just art tours!) so we will have no problem crafting the ideal bus rental plan for you.
And the best part about renting a bus in Queens? Most charter buses can park for free at the NY Waterway Ferry Terminal in Long Island City within the borough—so even if your group feels comfortable walking or taking the subway within Queens, your private bus rental will be close by and ready to whisk everyone back home or to their hotel at the end of the day. Get in touch with our 24/7 reservation team today by calling 917-722-2349 and see how easy it can be to rent a bus in NYC!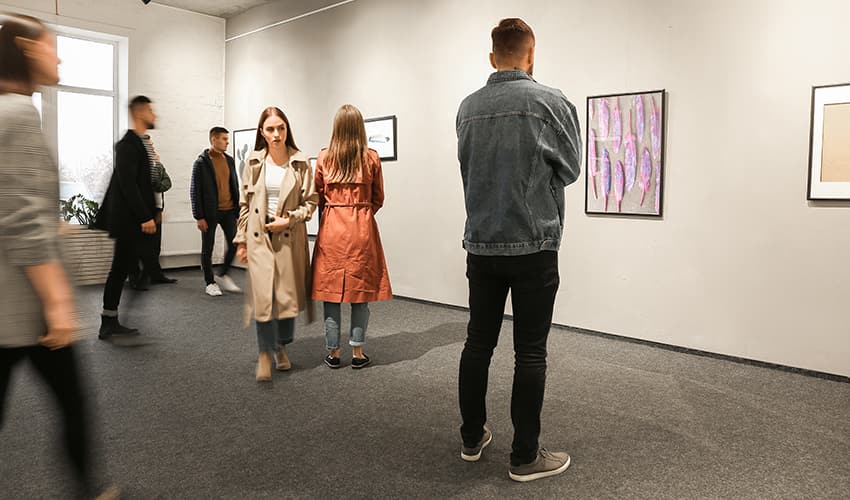 MoMA PS1 Contemporary Art Center
Address: 22-25 Jackson Avenue Long Island City Queens, NY 11101
Welcome to one of the country's largest organizations dedicated solely to contemporary art! Not to be confused with the Museum of Modern Art's primary museum in Manhattan, the Queens collection of MoMA galleries is intended to bring contemporary artists and the general public together in a more intimate and casual environment.
The collection here is always changing, but you can expect enough murals, graphic designs, photography showcases, and mixed-media exhibits to fill at least 2.5 hours of your day (at least 4 hours if you take your time). In comparison to the main museum, admission to MoMA PS1 is slightly cheaper: free for children under the age of 16, $5 for students, $5 for seniors, and $10 for other adults—though NYC residents get in free!
Museum of the Moving Image
Address: 36-01 35th Ave, Queens, NY 11106
Traveling with movie and TV buffs or video gurus? This center is the only of its kind in the United States, dedicated to the tech and history of films, television, and video recordings. It's headquartered near the historic Astoria Studio building—the premier East Coast studio for silent films and early movies with sound.
Come explore a range of exhibits covering news related to political elections, sets and props designed by Jim Henson, and a deep dive into stop-motion animation! In addition to the collection, the museum also hosts a variety of screenings throughout the year. So no matter what genre or medium your enthusiasts are into, they're bound to enjoy their time at this iconic Queens museum! The Museum of the Moving Image is open most Thursday-through-Sunday afternoons, and admission is free on Thursdays.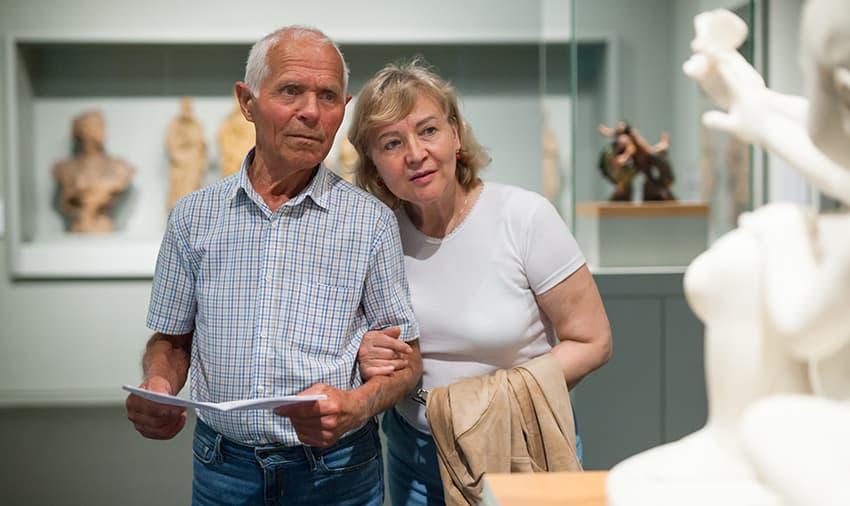 Queens Museum
Address: Flushing Meadows Corona Park, Building, Queens, NY 11368
You might have also heard this museum referred to as the Queens Museum of Arts in decades past—and while the museum has branched out from art exhibits into historical collections, it is still home to some stunning pieces you'll want to see for yourself. Here, your gallery-hoppers can take in the room-sized scale model of the New York City boroughs that was displayed at the 1964 World's Fair, in addition to a priceless collection of Tiffany glass and works from renowned artists Salvador Dalí, Mark Dion, and Andrew Moore.
This museum is open Wednesday through Sunday from noon to 5 pm. Groups who wish to tour the museum together must make a reservation in advance to ensure guide availability, and will be charged $6 per person for entry.
Kupferberg Center of the Arts
Address: 65-30 Kissena Blvd, Flushing, NY 11367
If you're going to see a big-name show, concert, or performance in Queens, odds are you'll end up here! This performing arts center is the largest multi-disciplinary arts complex in the borough and features three auditoriums of various sizes. The likes of David Bowie, Jerry Seinfeld, the Piano Guys, and Patti LaBelle have taken the stage here—and the center is almost always hosting performances for up-and-coming local acts as well!
While ticket pricing varies depending on the performance, groups of 10 or more patrons can save big when they book together! Get in touch with the Kupferberg box office well in advance to lock in your group admission rates before your anticipated performance.
Thalia Spanish Theatre
Address: 41-17 Greenpoint Ave, Sunnyside, NY 11104
Traveling with Spanish speakers and want to catch a show they won't forget? This theatre venue prides itself on being the only Hispanic theatre in Queens—staging performances in both English and Spanish that celebrate Spanish and Latin American culture. In almost 40 years on the theatre circuit, this venue has hosted hundreds of plays, zarzuelas, dance showcases, and more—including a free outdoor music and dance festival every June!
Welling Court Murals
Address: 11-98 Welling Ct, Queens, NY 11102
If all the previous arts attractions in this guide have left you saying "been there, done that," take a step outside and check out the borough's most beautiful street art! This collection of murals features the talent of 150 street artists from around New York and the world. There's no "correct" path to take if your group wants to check out the murals—just take a walk around the Welling Court neighborhood in Queens, and you're bound to see the vibrant paintings that cover many buildings in this residential area.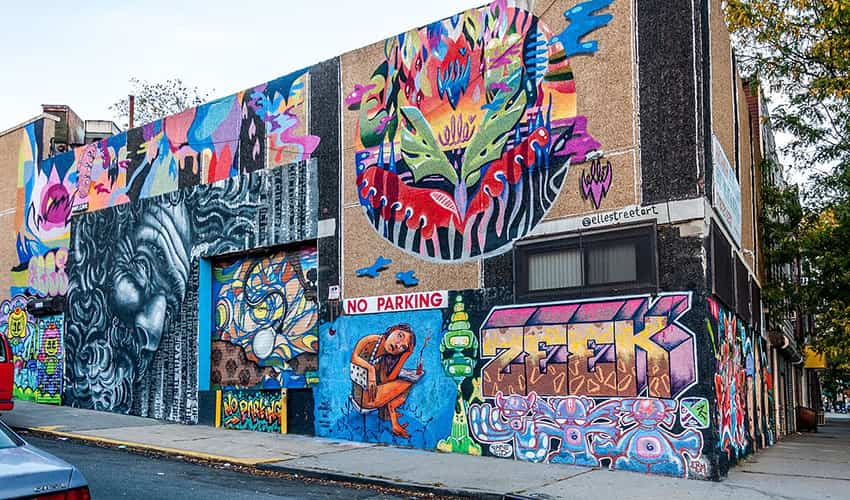 Start Your Queens Art and Culture Tour Today
Whenever you're ready to start mapping out your itinerary, just give New York Charter Bus Company a call at 917-722-2349. Our 24-hour reservation team is always standing by and will be happy to connect your group with the perfect minibus shuttle or full-size charter bus rental for your Queens tours. Get in touch today, and we'll even provide a fast and free bus rental quote with no obligation to book!
Do you need to rent a charter bus?