A Group Guide to Visiting Central Park
You can't take your sports team, coworkers, or school group to New York City without stopping in Central Park. But before you visit, there are a few things you need to know about the park:
It's big. Unless your group is super fit, you won't be able to walk through all of it.
Because it's big, where you get dropped off matters.
You want to get dropped off near what you want to see.
Notice we say "dropped off," because it's not practical to drive through Central Park. There are a few traverses that pass through the park, but the park is designed for walking/running/biking/wheeling, not driving. That's where a charter bus from New York Charter Bus Company comes in. Give us a call at 917-388-9602, and we'll drop your group off near Central Park and park the bus elsewhere so you can explore on foot.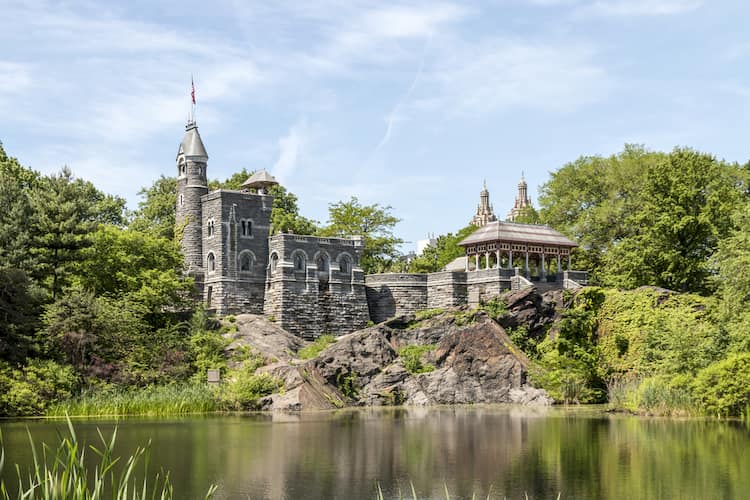 Driving, Parking and Unloading Around Central Park
Charter buses traveling in NY need to have a routing plan on hand and follow truck routes whenever possible. If they have to leave the truck route, they must return to it as soon as possible. They also must stick to designated loading and unloading areas.
Luckily, many of the streets outside of Central Park's main entrances do allow charter buses, and they include loading and unloading spots. Most of the large entrances where you're likely to find loading spots lie along Central Park South, the southern border of the park on 59th St. Look for the places where Central Park South intersects with Columbus Circle, Seventh Avenue, Sixth Avenue, and Grand Army Plaza (just west of Fifth Avenue).
Though these areas have loading and unloading spaces, they won't have many bus parking spaces—in fact, New York in general doesn't have many bus parking spaces. Have your bus driver drop you off and then return to a paid lot or metered space elsewhere in the city that you know accepts buses.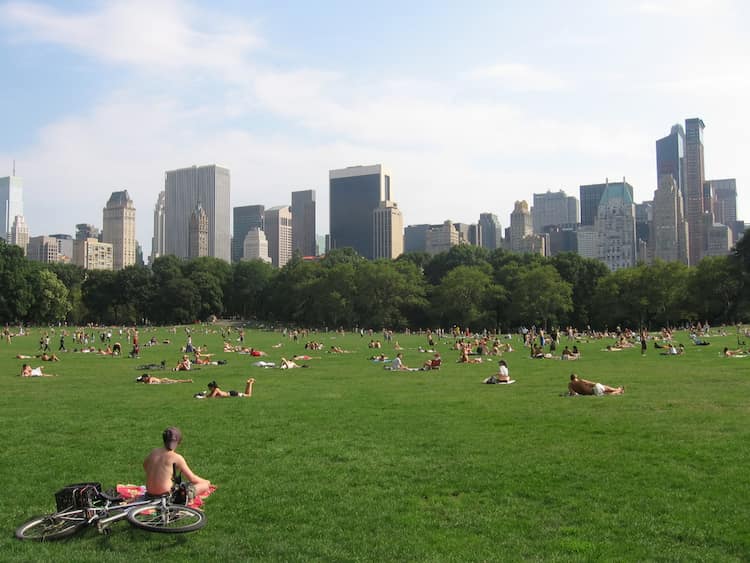 Building Your Loading and Unloading Strategy
You can decide which avenue to unload on based on where you want to go. If you want to visit Strawberry Fields, get dropped off on the west side of Central Park South. For the Central Park Zoo, opt for the east side, and for Bethesda Terrace, the Central Park Carousel, and the Sheep Meadow, head toward the middle.
But how do you know where you want to go within the park? We can help with that too. Here are some destinations we suggest for different types of groups.
For People Who Want to Sightsee
Central Park isn't just grass and trees. This huge park is packed with attractions for groups who want to take pictures of statues, memorials, and even castles. Here are a few can't-miss attractions for tour groups or wedding parties planning to sightsee:
Strawberry Fields
Beatles fans won't want to miss this memorial to John Lennon, located on the west side of the park, close to the apartment he once lived in. You can leave flowers on the mosaic, which reads "Imagine," or take pictures standing around it with your friends.
Your charter bus should drop you off: On the west side of Central Park South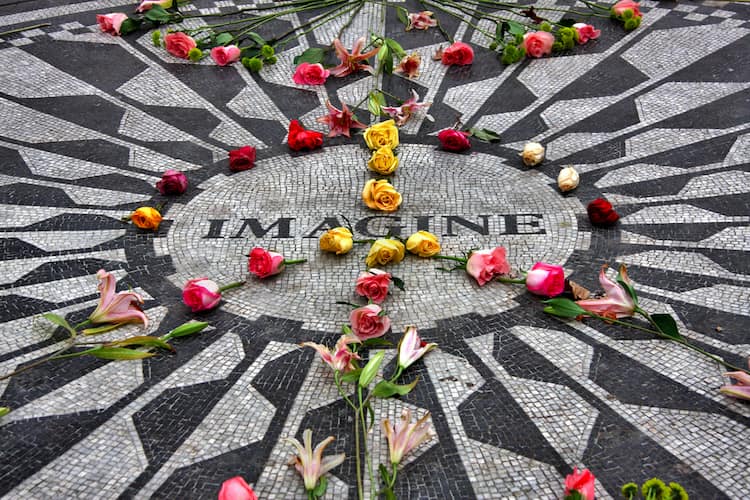 Belvedere Castle
Designed by Frederick Law Olmsted in 1867, this Gothic-style castle contains exhibit rooms and an observation deck that overlooks The Lake, one of the largest bodies of water in the Park and a great location for boating. Because of its Gothic architecture and its views, the castle has become a popular destination for weddings.
Your charter bus should drop you off: Near the Museum of Natural History, on the western side of the park
Bethesda Fountain
Discussed at the end of Angels in America and featured in many TV shows and movies, this fountain topped with a sculpture of an angel is one of Central Park's most iconic sights. While you're taking pictures at the fountain, you can also snap a few shots on the iconic Bow Bridge that crosses over The Lake.
Your charter bus should drop you off: In the middle of Central Park South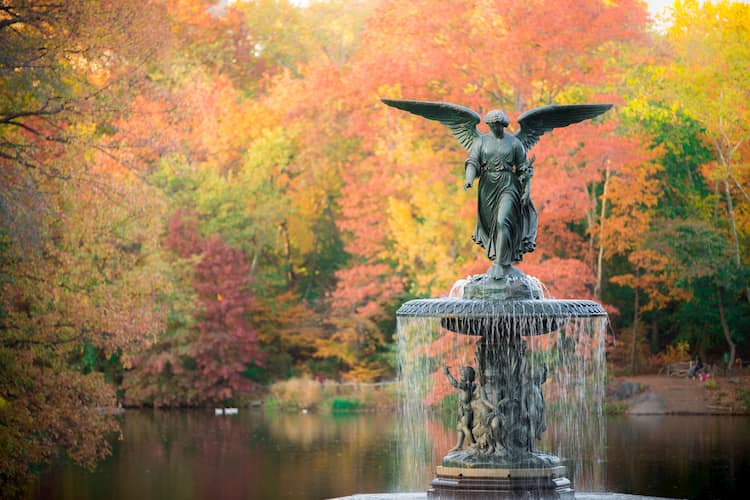 The Mall (Literary Walk)
Nicknamed "the only straight line in Central Park," this walking path lined with elm trees ends at Bethesda Terrace and the Bethesda Fountain in the north. In the south, it begins with four statues of prominent poets: William Shakespeare, Robert Burns, Sir Walter Scott, and Fitz-Greene Halleck (okay, so the last one's not that prominent anymore.) It's a beautiful place to go for a walk, especially if you're already headed to Bethesda Fountain.
Your charter bus should drop you off: In the middle of Central Park South
For Groups with Kids
Central Park has plenty of playgrounds where your sports team or group of schoolkids can unwind, but here are a few more involved attractions you can treat them to:
Central Park Zoo
Your kids can see red pandas, bears, penguins, and puffins at this small zoo on the southeast side of the park. Although the Zoo does charge admission, discounted group rates are available for 10+ people, and groups receive 1 complimentary ticket for every 20 tickets purchased. You can reserve group tickets by calling 800-433-4149 or emailing wcsgroupsales@wcs.org.
Your charter bus should drop you off: On the east side of Central Park South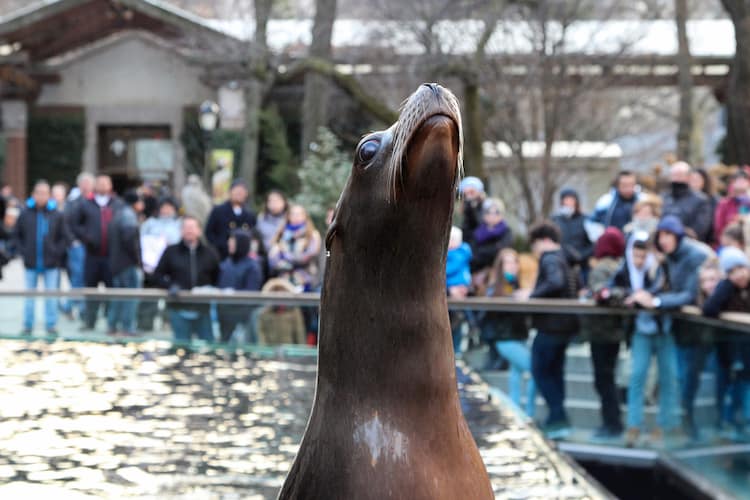 Central Park Carousel
Since 1871, Central Park has been home to a carousel. The one you can see today was constructed in 1908 and features 57 hand-carved horses for kids to ride. You can buy a ticket for $3.25 in cash, or you can simply stand to the side and take pictures of the colorful animals. If you're a Catcher in the Rye fan, you'll probably recognize this carousel as the one Phoebe rides in the book's final scene.
Your charter bus should drop you off: In the center of Central Park South
Conservatory Water
From April through October, children can race radio- or wind-powered model sailboats on this pond, the same one featured in the book and movie Stuart Little. The pond is also surrounded by statues that honor children's books and children's authors. Take your kids to see the famous Alice in Wonderland statue and the Hans Christian Andersen statue before or after they sail their boats.
Your charter bus should drop you off: On the east side of Central Park South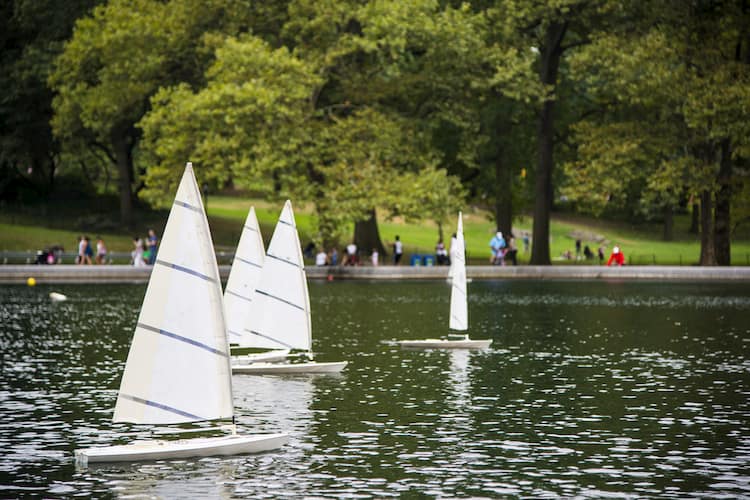 For Athletes
If you want to stay active, Central Park provides a great place to do it. You'll find joggers and cyclists here all year round, and your group can combine your sightseeing with an activity that will get your blood pumping.
Rowing on The Lake
In Central Park you'll regularly see people rowing boats around The Lake, the famous body of water near Bow Bridge and Bethesda Terrace. The nearby Loeb Boathouse rents rowboats that can hold 4 people and cost $15 for the first hour and $4 for every 15 minutes after that. If you're with a small group in a minibus, you can fit everyone in 5 or 6 boats.
Your charter bus should drop you off: In the center of Central Park South
Beach Volleyball at the Sheep Meadow
Located just to the left of the Mall and Literary Walk, the Sheep Meadow offers a great place to lounge or have a picnic with your group. You'll also find two sand volleyball courts on the right side of the meadow for people who want to get a little more active. The courts are available on a first-come, first-served basis and are free to use, though you'll need to bring your own volleyball.
Your charter bus should drop you off: In the center of Central Park South
Running Around the Reservoir
The Jacqueline Kennedy Onassis Reservoir is the largest body of water in Central Park. Located in the northern half of the park, it offers beautiful views of the city in the distance and is surrounded by a paved path that's ideal for walking or running. This is a great place to get in your daily workout while still seeing the city.
Your charter bus should drop you off: Near the Met (on the east side of the park) or the American Museum of Natural History (on the west side)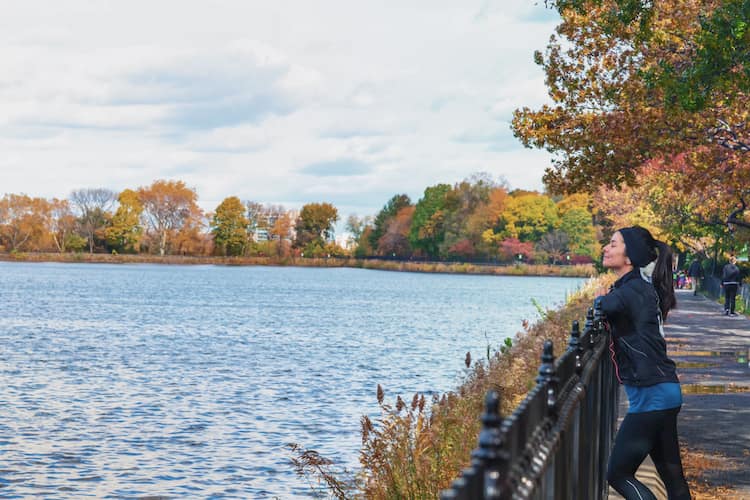 For Groups Who Just Want to Relax
New York is a very "go, go, go" type of place. If you've spent the past few days dashing between the Empire State Building, Times Square, and the Statue of Liberty, your group may want to sit down for a while and see some flowers or trees. And although Central Park has a lot to do, it also has several great places to relax.
The Conservatory Garden
Nestled in the northeast of Central Park, this garden consists of three different sections. The Italianate Center Garden is home to wisteria, crabapple trees, and yew hedges, while the French-style Garden includes tulips, Korean chrysanthemums, and Japanese holly. The South Garden is designed in an English style, with shrubs and roses surrounding a memorial fountain for author Frances Hodgson Burnett. The gardens are wheelchair-accessible, so they're a great choice for almost any group, and we can provide a wheelchair-accessible bus if your group needs a way to get there.
Your charter bus should drop you off: Along Central Park North, which has fewer loading and unloading spots than Central Park South but is much closer to the gardens
Picnics on the Great Lawn
You can load coolers full of sandwiches and drinks onto your bus and have a picnic almost anywhere in Central Park, but one of the most popular picnic spots is the Great Lawn. Offering a huge amount of grass for spreading out and lounging, this lawn is near the middle of the park, north of Belvedere Castle and just west of The Met. It's also where you can see seasonal free concerts by artists like Diana Ross, Garth Brooks, and the New York Philharmonic.
Your charter bus should drop you off: Near the Museum of Natural History (on the west side of the park) or The Met (on the east side)
Start Planning Your Group Trip to Central Park
Whether you want to treat a group of kids to a day at the Central Park Zoo, go for a boat ride, or relax in a beautiful garden, Central Park has you covered. And with a bus from New York Charter Bus Company, you won't have to worry about where to leave your car while you wander around. Just get dropped off, explore all the destinations you want to see, and have your bus pick you up so you can relax in a plush seat on the way home. Give us a call at 917-388-9602 to start planning your group trip to Central Park.
Do you need to rent a charter bus?