6 of the Best Group Restaurants in Brooklyn
Planning a group dinner or private party in Brooklyn, and want to impress your guests with the ultimate dining experience in town? Luckily, there are plenty of dining options in Brooklyn that comfortably seat large groups of people, and offer delicious and diverse menus that aim to please even the pickiest palettes. From barbecue to Brazilian, family-style Italian to shareable Caribbean bites, you'll find it all within the Brooklyn borough's boundaries. When you're good and hungry, gather your group, organize your group transportation, and head to any of these fantastic restaurants that everyone will enjoy.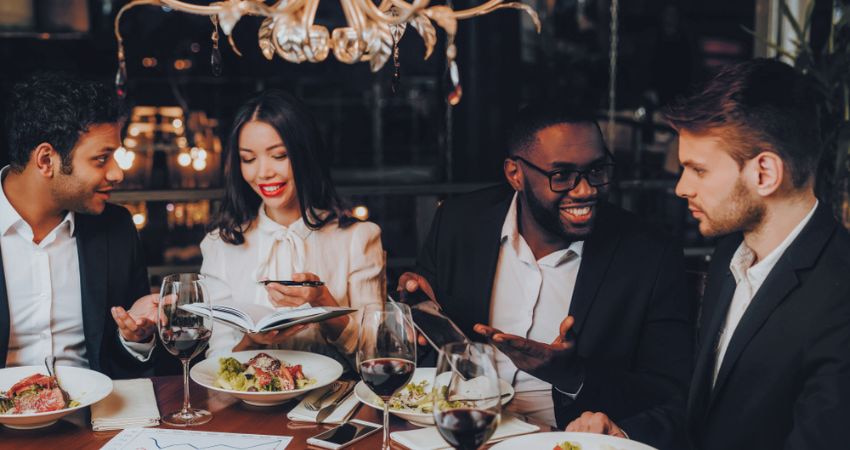 Kokomo
Address: 65 Kent Ave, Brooklyn, NY 11249
Phone: 347-799-1312
Want to be whisked away to the sunny Caribbean without leaving your home of Brooklyn? Make a reservation at Kokomo, a lively restaurant loved for its specialty cocktails and out-of-this-world Jamaican food. Go here with friends and order shareable appetizers like oxtail flatbread, jackfruit tacos, and coconut curry mussels—and don't leave your table without toasting with some tasty drinks, like the Frozen Special Good Guice Rum Punch. For large parties and private events, Kokomo offers gathering spaces and prix-fixe dining packages for groups of 10 or more.
Spritzenhaus33
Address: 33 Nassau Ave, Brooklyn, NY 11222
Phone: 347-987-4632
There's no better place to gather a group in Brooklyn than a spacious and relaxed beer hall and garden. Located conveniently on the border of Williamsburg and Greenpoint, Spritzenhaus33 does just the trick with 6,000-sq.-ft. of industrial indoor and outdoor seating areas where large groups can comfortably gather and mingle with no reservation needed. Please note that if you'd like to post up at a communal table with a group for the night, then you'll need to make a reservation. But it's worth it for German beers, craft brews (including from some of Brooklyn's best breweries), and a laidback menu of biergarten bar bites like sausages and brats with your choice of toppings, soft pretzels and dipping sauces, and crispy Belgian fries.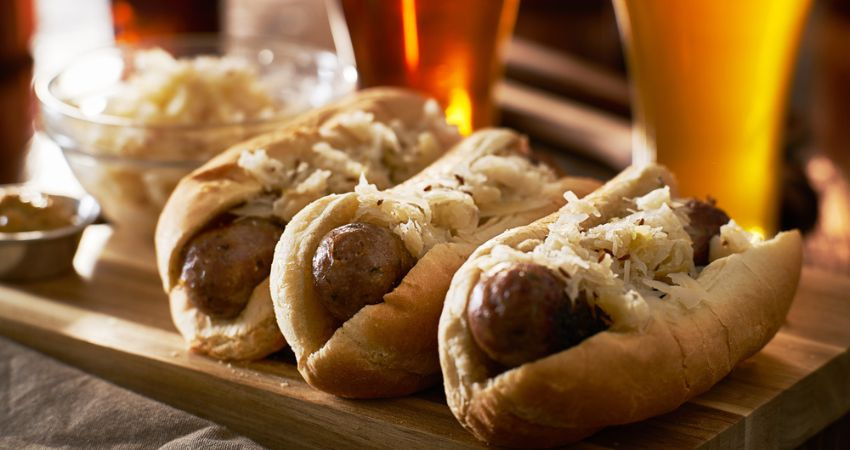 Scottadito Osteria Toscana
Address: 788A Union Street, Brooklyn, NY 11215
Phone: 718-636-4800
Perfect for wedding events like bridal showers, rehearsal dinners, and receptions, Scottadito Osteria Toscana is a rustic, romantic Italian restaurant found in Park Slope. Book the naturally-lit, brick-walled space for a cocktail party, luncheon, dinner celebration, or brunch event—each with its own special banquet menu designed by the establishment. Choose to serve hors d'oeuvres your guests will love, like bruschetta di pomodoro and goat cheese stuffed cremini mushrooms, or select a custom menu of tasty, Italian dishes like spaghetti al pesto and salmone bollito. Table arrangements here are long and communal, so everyone can easily enjoy each other's company while they dine.
Hometown Bar-B-Que
Address: 454 Van Brunt St, Brooklyn, NY 11231
Phone: (347) 294-4644
Have a large group and nowhere to go? Hometown Bar-B-Que it is! Arguably New York City's best barbecue restaurant, this Brooklyn establishment serves big flavor in an even bigger dining room. Here, there are no reservations and only walk-up counter service on a first-come, first-serve basis. When you and your group arrive, you can grab a few beers from the bar, wait in line while deciding your order, and snag one or two tables found indoors and out. Some menu favorites include Korean BBQ pork ribs, thick-slab pastrami bacon, Vietnamese hot wings, jerk rib tips, and brisket tacos. And don't worry—there are some leafy green dishes for the vegetarians in your group, like vegetable banh mi and smoked mushroom tacos.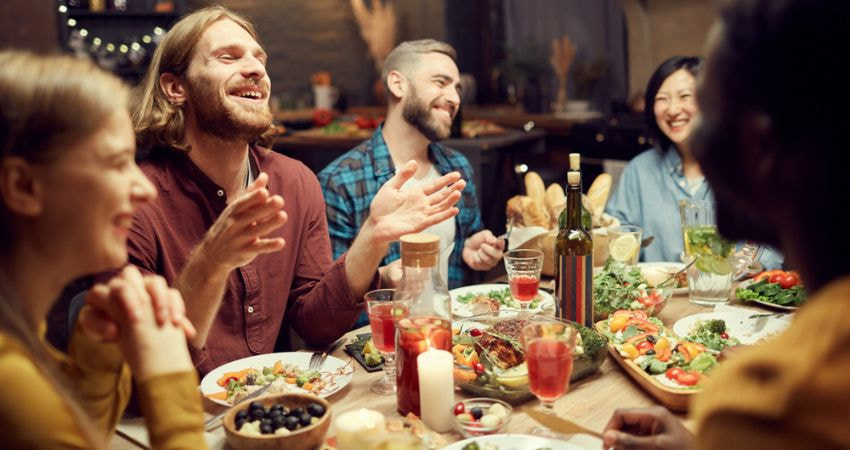 Santo Brúklin
Address: 548 Court St, Brooklyn, NY 11231
Phone: (917) 909-1231
Located in Carroll Gardens, this Brazilian restaurant is a local fan favorite for large groups looking for a flavorful meal in a bright and airy environment. Whether you make a reservation for brunch or dinner, you'll enjoy Brazilian-inspired dishes sure to please everyone at the table. Menu highlights include picanha steak, chipotle pork belly, traditional Brazilian corn chowder, and Brazilian coconut cake. For a more private affair, like a birthday party or corporate dinner, book the backyard or dining room for up to 60 guests, or make a reservation for a semi-private prix-fixe dinner with up to 20 guests.
Bamonte's
Address: 32 Withers St, Brooklyn, NY 11211
Phone: (718) 384-8831
Nothing beats a family-style Italian dinner when you're gathering a group together in Brooklyn. Great for birthday celebrations and communal dining, dinner at Bamonte's in Williamsburg is a classic affair. Originally opened in the 1900s, Bamonte's has a retro-style setting reminiscent of 1950s decor and a menu stocked with old-fashioned dishes "just like Mom used to make." It's well known that you can get some of the best Italian food in all of New York City here, so don't skip out on menu staples like long hot peppers, clams casino, housemade ravioli, and veal marsala. Pass around the plates and make sure everyone in your group leaves with a full and happy stomach!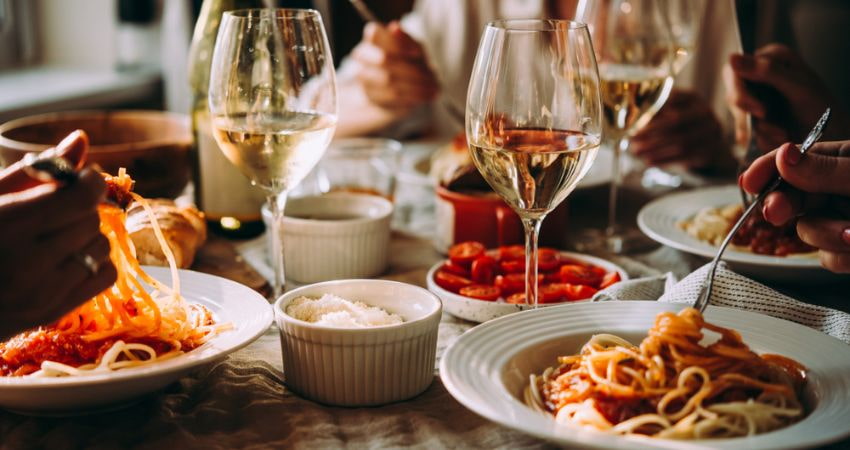 Plan a Private Event in Brooklyn
Group dinners in Brooklyn are no sweat when you've got your transportation logistics under control. That's where New York Charter Bus Company fits in. We can whisk you and your group away to any restaurant or dining destination in Brooklyn, safely and on time, with a dedicated driver at the wheel. Want to get out of the neighborhood next time? Consider booking a charter bus rental to easily travel with a group into Manhattan, out to Long Island, or to any other destination in NYC and New York State.
Do you need to rent a charter bus?