Guide to Visiting Rockefeller Center with a Group
Built by John D. Rockefeller Jr. in the 1930s, Rockefeller Center was designed as an all-in-one shopping and work complex. It still serves that purpose, but its Art Deco design has made it a National Historic Landmark, which means it now welcomes hundreds of tour groups too.
When you visit Rockefeller Center, your corporate or school group can see Raymond Hood's architecture on a guided tour, visit the Top of the Rock Observation Deck, and, if it's the holidays, go ice skating under the Center's famous tree. Worried about how you'll get there? New York Charter Bus Company offers comfortable charter buses to take you to Rockefeller Center and other iconic Manhattan destinations. Just give us a call at 917-388-9602 to book your bus, and keep reading to discover what you can do once you get to Rockefeller.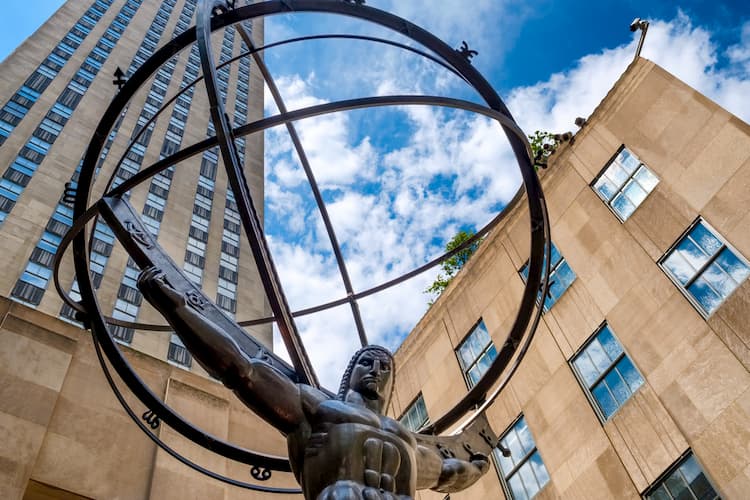 A Note About Safety
During the COVID-19 pandemic, many of Rockefeller Center's attractions are operating with reduced hours and limited capacity. You may be able to visit with a small group wearing masks, but if you're with a large group, you'll probably want to plan your trip for after the pandemic ends.
Top of the Rock Observation Deck
Rockefeller Center's most famous attraction, the Top of the Rock Observation Deck, lies 70 floors above the city. The outdoor platform offers panoramic views of Manhattan, Brooklyn and New Jersey that could take your breath away. Your group can book timed tickets online and visit between the hours of 11 a.m. and 7 p.m. (the last elevator goes up at 6:10 p.m.)
Tickets typically cost $32-38, but if you're part of a school group, you may be eligible for a discount. Educational groups of 10 or more people can call 212-698-2000 or 877-692-7625 or email groups@topoftherocknyc.com to book discounted tickets. Teachers can also request a Top of the Rock Teacher's Guide and Student Guides to use before the trip.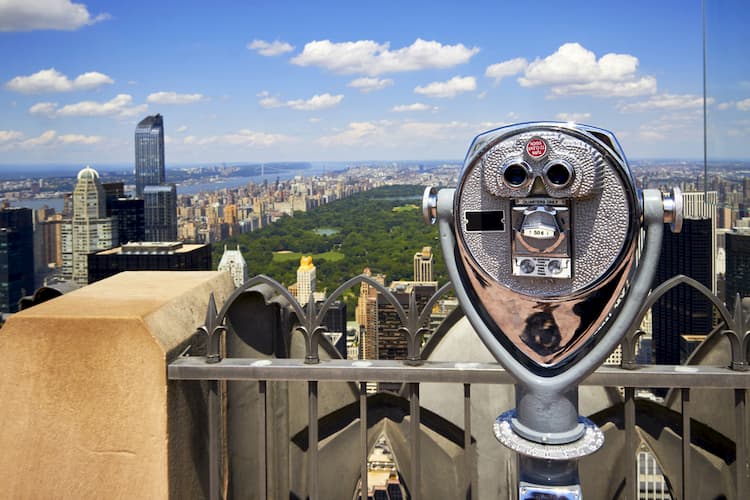 The Rink at Rockefeller Center
The Rink at Rockefeller Center has hosted ice skating in the winter since 1936. From mid-November to mid-January, you can book a 50-minute skating session for your group between 9 a.m. and midnight. Tickets range from $5 per person (for the first and last skates of the day) to $50 per person (for skating at peak times and on peak days.) Although you're welcome to bring your own skates, rental skates and lockers are available.
Skating during the public skates can be fun, since you'll get to see other people show off their moves (this will be especially fun once the COVID-19 pandemic ends!) But if you have the funds, you can also book the rink for a private session for your group. Either way, you'll get to glide along the ice beneath the glowing lights of Rockefeller Center's famous Christmas tree.
The Rockefeller Center parking garage on the north side of 48th St. between 5th and 6th Avenues offers easy access to the Rink and Top of the Rock. However, full-size charter buses probably won't be able to fit. You'll need to ask your driver to drop you off in a permitted charter bus unloading zone. They can then park in a paid charter bus lot.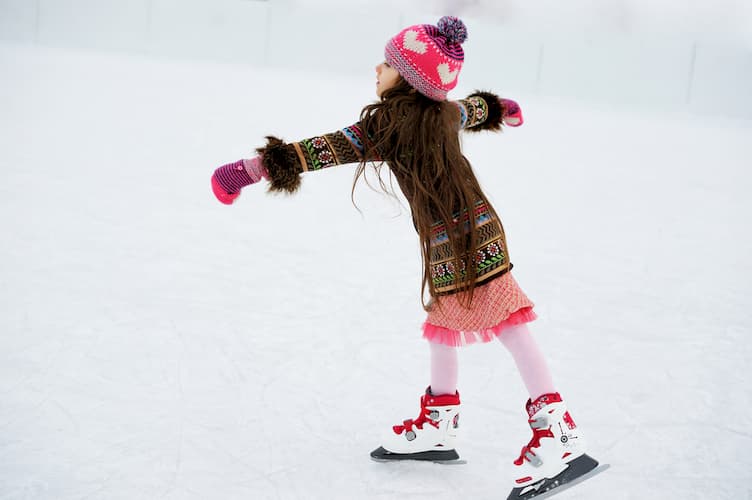 Rockefeller Center Tour
If your group wants to learn about the history, architecture and art of Rockefeller Center, you'll want to attend one of the Rock's historian-guided tours. Offered Thursday through Sunday at 12 p.m., 2 p.m. and 4 p.m., guided tours cost $25 per person and take you to some of Rockefeller Center's most notable locations, like the Associated Press Building (where The TODAY Show is filmed) and The Rainbow Room (where private events for Presidents and diplomats have been held.)
You'll also get to see Rockefeller Center's remarkable art. Abby Aldrich Rockefeller, John D. Rockefeller Jr.'s wife, was an art collector and patron who co-founded the Museum of Modern Art in 1929. She used her eye for art to add pieces to Rockefeller Center like Four Periods in Italian History, Atlas, Prometheus, and The Joy of Life. Your tour guides can help you learn the story of the art. Note, however, that tours are only given in English. If you have a large group, you may be able to request a translator by calling Group Sales at 212-698-2000.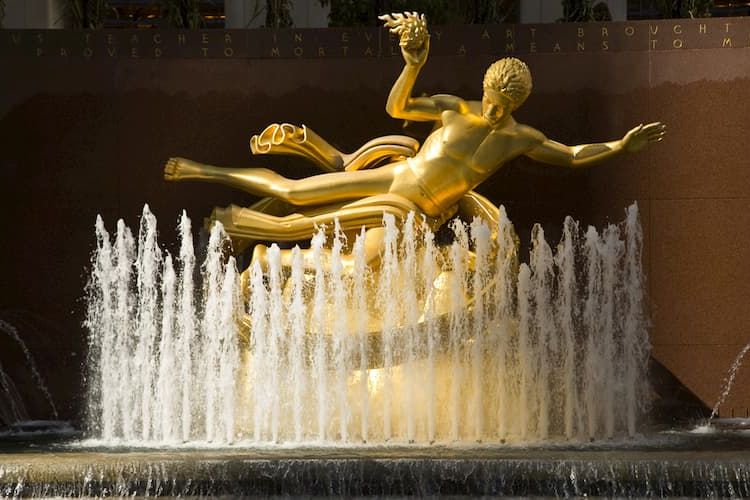 Private Events
Rockefeller Center isn't just a great place to tour—it's also a popular venue for events. Its most famous event space is the Rainbow Room, which can hold up to 350 people and regularly welcomes politicians and celebrities. The adjacent Gallery hosts cocktail hours and standing receptions before Rainbow Room events.
If you can't afford the Rainbow Room or just want a smaller space for your corporate event, you can check out the Private Dining Room, which lies 65 floors above the city and has expansive walls of windows. You can also rent out all of Bar Sixty Five, a rooftop bar with cocktails and American bistro dishes. No matter which venue you choose, Rockefeller Center offers in-house catering, and you can book your space online.
New York Charter Bus Company can ensure you don't have to worry about finding designated drivers after your event. We'll provide a shuttle with a professional driver to pick up and drop off your guests so they won't need to drive themselves or navigate the subway.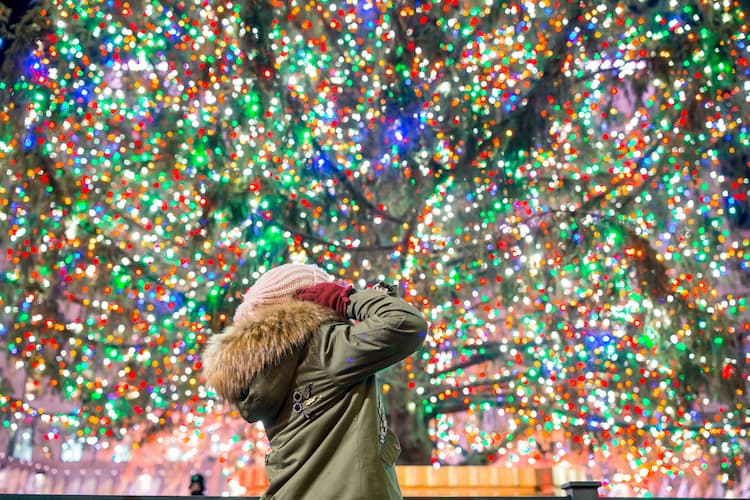 Shopping
Want to explore Rockefeller Center without spending a cent? The Center is packed with stores you can wander through, and souvenirs are optional. Check out high-end brands like Tiffany & Co, Michael Kors, and Free People, or buy gear at The Yankee Clubhouse. If you have kids with you, don't miss FAO Schwarz, home to oversized stuffed animals, and the LEGO Store, home to oversized LEGO displays.
Dining
You don't have to book the Rainbow Room to have a delicious meal at the Rock. Rockefeller Center features dozens of casual food options as well as more formal ones. Grab a cupcake from the famous Magnolia Bakery, or have a healthy salad and bowl of soup at Hale & Hearty. If you're planning a corporate gathering or rehearsal dinner, you can book an elegant venue like Del Frisco's Grille, which offers aged steaks and private dining spaces.
Make Plans to Explore Rockefeller Center
When you and your group are ready to head to Rockefeller Center or other Manhattan destinations, call New York Charter Bus Company. We can provide a climate-controlled motorcoach with plush seats to drop you off for a visit to the Rink or Top of the Rock. Just contact us at 917-388-9602 when you're ready for your next New York adventure.
Do you need to rent a charter bus?