Our New York City Partnerships
No matter where you're going or the size of your group, NYC Charter Bus Company is fully prepared to help make your group transportation easy and stress-free. With access to a wide range of bus rentals, from 18-passenger minibuses all the way to full-sized coaches that carry 56 passengers, we can always match you with the perfect bus at the best price. We're available 24/7 to help plan your trip in New York City!
Services we offer in New York
TOP 10
Things to see & do in New York City
New York City may be the City That Never Sleeps, but that doesn't mean that planning your next NYC getaway should make you toss and turn at night. Rest easy knowing that New York Charter Bus Company has your back.
Countless passengers consider us the top provider for sight-seeing transportation in and around the Big Apple, and for good reason. We'll set up your tour group with a professional and punctual driver, so you don't risk losing anyone to the hectic foot traffic, a complex subway system, or a sea of identical taxicabs.
Not sure where to start on your NYC expedition? Here are some of the most popular destinations we've frequented with our clients.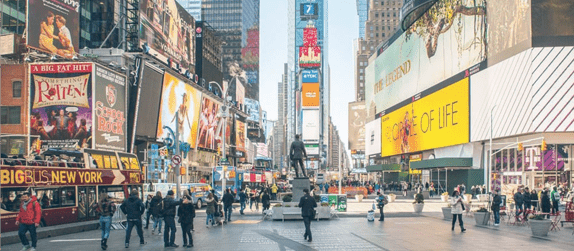 Whether you're here to peruse the blocks upon blocks of shops, receive a serenade and a selfie from the Naked Cowboy, or just take it all in, Time Square is infamous for entrancing visitors with its bright lights and bustling vibe. Understandably, traffic around this NYC hotspot is hectic, so consider having your driver drop off your group at the edges of Midtown or Hell's Kitchen to avoid the worst of it. Taking on the entirety of this district can take a toll on your feet, but trust us, the prime window-shopping and people-watching are worth experiencing on street level. Just be mindful of where to chill and where to book it. No one likes an inconsiderate pedestrian.
Address:
14 East 60th Street, New York, NY 10022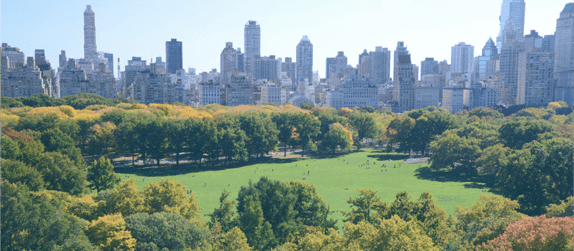 We know, we know. You've probably seen Central Park a million times in your favorite movies and TV shows, from 27 Dresses to Home Alone 2, from 30 Rock to Broad City. But trust us, you'll want to see all 840 acres of this NYC landmark in-person. From posing for photos in front of the Balto sculpture, to paying respects at Strawberry Fields, to soaking in the sun at the edge of the Bethesda fountain, this iconic park offers no shortage of activities for tour groups who are eager to stretch their legs.
Address:
W 44th St & 45th Street, New York, NY 10036
It takes about an hour to cross this mile-long walkway over the East River, especially if you stop to enjoy the view, so be sure to give your group plenty of time to take it all in. If you're coming in from Manhattan, your driver should drop you off at the northeastern corner of City Hall Park. Those crossing from the Brooklyn side should meet on the corner of Tillary and Adams. There's no tolls for the automobiles rumbling away underfoot, so save your group— and your feet— the trouble of the return trip by having your driver meet you on the other side, ready to whisk everyone to the next stop on your itinerary.
Address:
Brooklyn Bridge, New York, NY 10038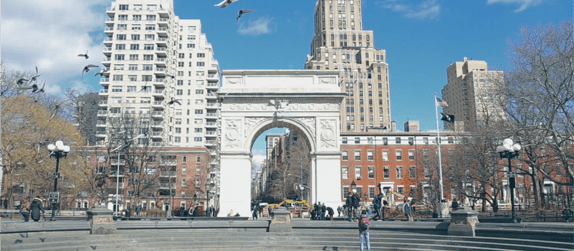 The ghost of a marsh and a cemetery. A chess master's battleground. The Grand Central Station for protestors, dog-walkers, and fountain-splashers. These are just some of the titles bestowed upon this beloved NYC landmark. Whether you're basking in the shadow of the Washington Square Arch or wandering through the trendy boutiques and restaurants along its perimeter, WSP is the perfect place to catch your breath before your group takes on the rest of Greenwich Village.
Address:
New York, NY 10012
Three floors. A collection of rare and out-of-circulation editions. Over 2.5 million—yes, million— titles. Need we say more? Come visit this oft-overlooked hidden gem of the Village: the last remaining shop from the district's historical Book Row. Whether you're in the market for a well-loved classic or a specific square-footage of beautifully bound tomes, this shop has enough charm to fill even the pickiest of book snobs with unabashed, child-like wonder.
Address:
828 Broadway, New York, NY 10003
Did you honestly think we'd bypass this New York City icon? Of course not, and neither should you! Making the most of the Empire State Building, however, is not for the faint of heart. For bold sight-seers willing to brave the 102-story climb to the building's peak, you'll be met with some of the most unforgettable, panoramic views of Manhattan and— on a clear day— the surrounding 80 miles of land and sea.
Address:
20 W 34th St, New York, NY 10001
For many first-time visitors, the culture shock here can be intimidating. Embrace it! Grab some street food— we recommend the fried noodle cart on Centre Street; it's authentic, delicious, and extremely cheap— and enjoy your meal in Columbus Park amid the waves of local checkers champions, Tai Chi savants, and other passersby that make up the life of this thriving neighborhood. If you're feeling especially adventurous, sit in on a service and pick up a fortune at Temple Mahayana, the east coast's oldest Buddhist temple, or wander through Chinatown's local-frequented open air markets, groceries, and butchers.
Address:
Mott Street, New York City, NY 10002
Explore all the culture and cuisine of traditional Italy without ever leaving lower Manhattan! Don't let its mere 3-block span fool you; this neighborhood is dense. So dense, in fact, we recommend spanning your experiences here over several days to avoid a stomach ache or cannoli overload. However, visitors itching for a concentrated dose of Italia via live music, parades, and carb-filled foods galore should not shy away from the Feast of San Gennaro— the locals sure don't.
Address:
Mulberry Street, New York City, NY 10013
Sure, with its seasonal ice rink and an annual Christmas tree nearly 10 times taller than any farm-bought fir, Rockefeller Center is a romantic must-see for tourists lucky enough to visit New York City in winter. However, visitors often forget the Center has year-round appeal, especially for city first-timers. Don't be a rookie. Check out Rockefeller's countless shops, jewelry vendors, and eateries between your NBC Studio Tour and taking in the cityscape from the "Top of the Rock."
Address:
45 Rockefeller Plaza, New York, NY 10111
No, a charter bus can't take you to the foot of this iconic NYC fixture quite like the Statue Cruise ferry. We can, however, get you to The Battery docks with plenty of time to organize your tickets, clear the security gate, and grab your audio tour materials before you board. Even better, your driver can look after whatever belongings you leave on the bus, so you can explore the statue and Ellis Island unencumbered.
Address:
Battery Park Underpass, New York, NY 10004
EXPLORE
The 5 boroughs
and beyond
Each borough in New York City has its own unique flair and roster of entertainment, attractions, and activities. New York City Charter Bus Company services every borough, as well as the surrounding areas. Easily travel throughout the boroughs in your own private charter bus or minibus.
MANHATTAN
When someone says "The Big Apple", they're usually referring to the borough of Manhattan. It is the most densely populated borough and is home to world-renowned museums and attractions like Times Square, Central Park, the Empire State Building, and the Met. Along with plenty of tourist hotspots, Manhattan is home to iconic neighborhoods like Chelsea, Greenwich Village, and Tribeca.
BROOKLYN
Located on Long Island across the East River and landmark Brooklyn Bridge, this diverse borough has the highest population among the five. Brooklyn is a major hub for independent arts and has become a haven for creatives in modern times. Well-known neighborhood Coney Island is located in Brooklyn, along with other popular areas like DUMBO, Bushwick, and Williamsburg.
QUEENS
Queens is located just east of Brooklyn on Long Island and is regarded as one of the most ethnically diverse neighborhoods in the country. Popular among families and a primarily residential borough, Queens may not have the hustle of Manhattan or the artistic atmosphere of Brooklyn, but it is loved among its residents. Grab delicious Greek food in Astoria or head over to Flushing to support the Mets at Citi Field.
THE BRONX
With its rich culture and several historic claims to fame, The Bronx is steadily becoming a rising borough. The Bronx is hailed as the "cradle of hip hop and rap," giving way to a 1970s cultural movement that's still being felt today. The famed New York Yankees also call The Bronx home, with Yankee Stadium being located in the Concourse neighborhood off of the Harlem River.
STATEN ISLAND
Although Staten Island is the biggest borough by land size, this area has the smallest population among the five. Staten Island is located across the New York Bay from Manhattan and is generally filled with residential neighborhoods, perfect for families and groups looking for a calm visit. Traveling from Staten Island offers views of the Statue of Liberty and historic Ellis Island.
Book Your New York Charter Bus Today
The most modern buses in New York
Charter Buses
Charter buses are the most spacious bus rentals available, perfect for larger groups traveling long distances. Charter buses can come fully-equipped with top-notch amenities such as reclining seats, on-board restrooms, WiFi, flat screen TVs, DVD players, and more. No matter where you're going, you can rest assured you'll have the most modern, reliable charter bus in NYC.
Minibuses
Minibuses come in a variety of sizes, making them ideal for smaller groups traveling within the city. Minibuses are the perfect, cost-effective alternative to public transportation and rideshare apps. They offer a wide variety of premium amenities, like flat screen TVs, WiFi, power outlets, overhead storage bins, and more to provide you with a secure and comfortable trip.
View Buses
Premium amenities on buses
Reclining Seats

LCD Monitors

Bathrooms

Power Outlets

Free WiFi
917-388-9602
Request a Quote Today
What our customers are saying
Reviews coming soon!
RECENT BLOG POSTS
Warmer weather, blooming flowers, and plenty of cultural events for everyone—there's nothing better than spring and summer in New York City. Ready to get out and feel the sunshine? Let New York Charter Bus Company join your adventure for endless possibilities full of adventure, delicious…
As the most densely populated place in the U.S., New York City can easily start to feel crowded. Between the millions of locals and annual tourists, a day trip outside of the city can be a much-needed break for those a little burned out from…
Given New York City's status as a major business hub, it's not surprising that the city hosts hundreds of business conferences each year. And New York's rich culture makes it an exciting place to attend a conference as well as a common one. Where else…