A Guide to Visiting the Statue of Liberty and Ellis Island
A few things come to mind when visiting New York: towering skyscrapers, yellow taxicabs, and Lady Liberty, all a huge part of the quintessential Big Apple experience. Whether you're in a group of eager students thrilled to escape the classroom for a day, on a corporate team-building trip, or on vacation with your loved ones, venturing out to Liberty and Ellis Islands is almost a given.
If you're one of the groups mentioned above, or in a unique category of your own, New York Charter Bus Company is happy to accompany you on your trip. We offer several charter bus and minibus rentals in a multitude of sizes to accommodate all group types. In addition, your group is allowed to request custom amenities on board to make your trip more enjoyable. If you're interested in taking advantage of the group travel experience, simply give us a call at 917-388-9602 and our 24/7 team will be glad to assist you.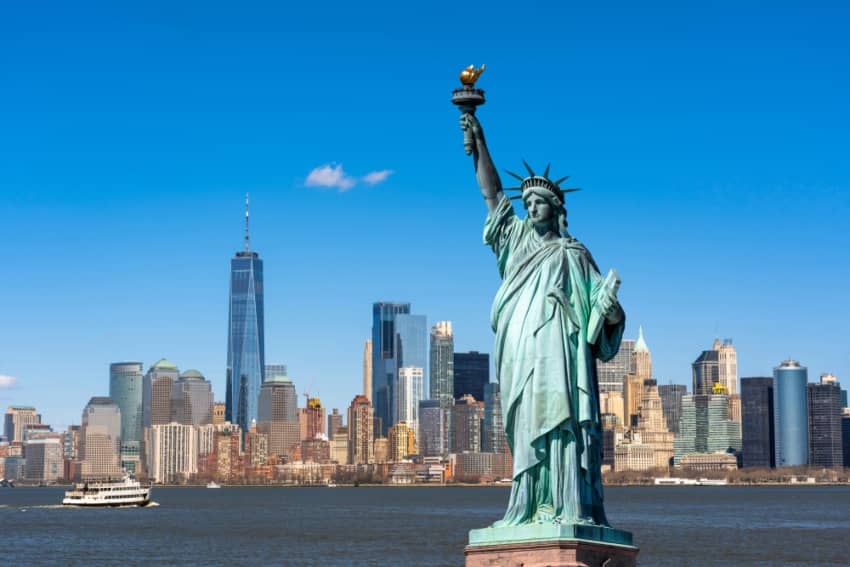 Plan A Group Trip with New York Charter Bus Company
Now that you've decided you want to visit the Statue of Liberty and Ellis Island, let us explain why traveling in a bus rental is the best option for your trip.
New York is known to be a congested and claustrophobic city with traffic jams usually being the norm. By opting for a bus rental, your group is choosing to travel in a more efficient and environmentally-friendly way.
The bus rentals we offer range from 18-passenger minibus rentals to 20-, 25- and 56-passenger charter bus rentals. This means that whether your group consists of 10 or 50 travelers, we can accommodate everyone on board in a safe and comfortable manner.
Did you know you can customize your bus rental? Some of the most popular features include free WiFi, cushioned reclining seats, electrical outlets, flat-screen TVs, AV entertainment, and onboard restrooms for longer trips. This ensures that passengers of all ages are satisfied during their journey.
If you're traveling with passengers with disabilities, we can pair you with an ADA-accessible bus rental as long as you inform us in advance, thereby minimizing the chances of hindrance during the trip.
Each bus driver has passed a rigorous background examination and is fully qualified to assist you on your journey to the Statue of Liberty and Ellis Island.
Last but not least, in times of national crisis, such as COVID-19, we offer bus rentals that are sanitized and thoroughly cleaned before and after each trip. In addition, every driver adheres to social distancing guidelines, which includes wearing a mask and using hand sanitizer. We can even accommodate other requests that will give your passengers peace-of-mind, like utilizing HEPA filters on the bus rental.
We at New York Charter Bus Company pride ourselves on great customer service and efficient bus rentals. If you have any qualms, questions, or concerns, feel free to contact us at 917-388-9602 and a customer service representative will assist you in any way possible.
Fun Facts About New York's National Treasures
Before delving into the trip, let's pause for a brief moment. The histories of the Statue of Liberty and Ellis Island are both lengthy in nature but are important to acknowledge before witnessing their magnificence in person. Despite being prominent symbols of freedom and hope, there's more to their backstory than meets the eye.
The Statue of Liberty
Lady Liberty commemorates the 100th anniversary of the Declaration of Independence and celebrates the camaraderie between France and America as well as the abolition of slavery in the U.S.
Each feature of the statue represents something meaningful. Her crown with its massive spikes signifies rays of light radiating towards the world, the tablet in her hand is etched with the date July 4th, 1776 in Roman numerals, the day of American Independence, and the broken shackle and chains located by her foot mark the end of slavery in the United States.
After the statue was completed in July 1884, it was shipped to New York in 350 pieces that were packed in 214 crates.
Ellis Island
In the mid to late 1800s, immigration in America was regulated by individual states rather than the Federal Government and operated from a location known as Castle Garden (it's Castle Clinton today). It is estimated that at that time, around 8 million immigrants crossed the borders into the United States.
The rapid increase of political and economic instability, followed by religious persecution, gave rise to the largest migration in history. Since Castle Garden was unable to handle such a large influx of numbers, the Federal Government decided to construct a new station on Ellis Island instead, which was completed on January 1st, 1892.
Due to evolving laws and regulations limiting ethnic immigration and the increase in embassies around the world after the First World War, Ellis Island was no longer used as an immigration station. Despite briefly serving as a detention center in the Second World War, it's now the site for the Ellis Island National Museum.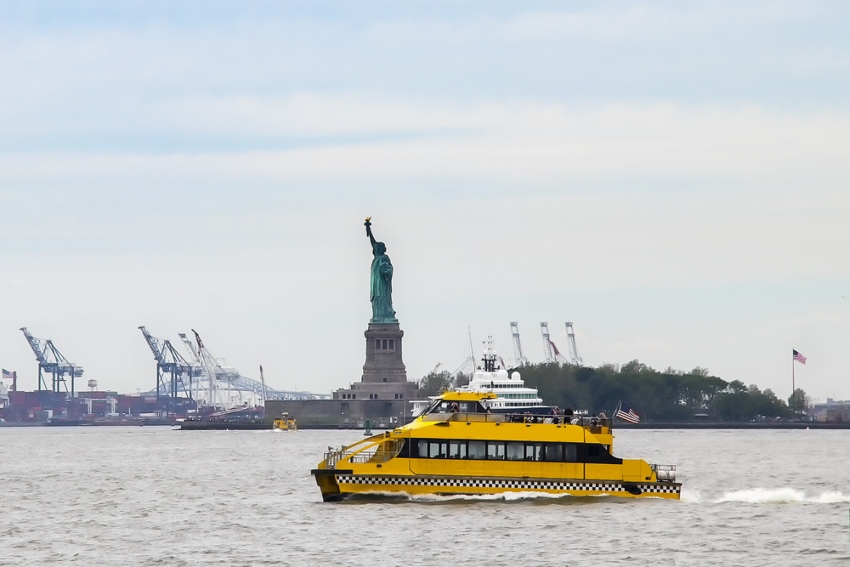 How to Travel to Liberty Island and Ellis Island
Now that we've covered the history of each landmark, it's time to walk through the actual trip logistics. The most popular way to travel to Liberty Island and Ellis Island, located in New York Harbor, is via ferry. Statue Cruises is the only authorized company that operates both ferry cruises. There are two main sites from which the ferries depart. The first is Battery Park, situated at the southernmost point of Manhattan, and the second is Liberty State Park, in Jersey City, New Jersey. These ferries depart every 25-30 minutes from 8 am until 5:00 pm, so if you're running late, no worries—just catch the next ferry.
Usually, visitors utilize public transportation to get to Battery Park and Liberty State Park. However, if you're traveling in a large group, it's more convenient to travel together in a private charter bus rental. Not only is it safer and more reliable during times of COVID-19 or during public transportation strikes, but it also minimizes the chances of losing sight of group members along the way.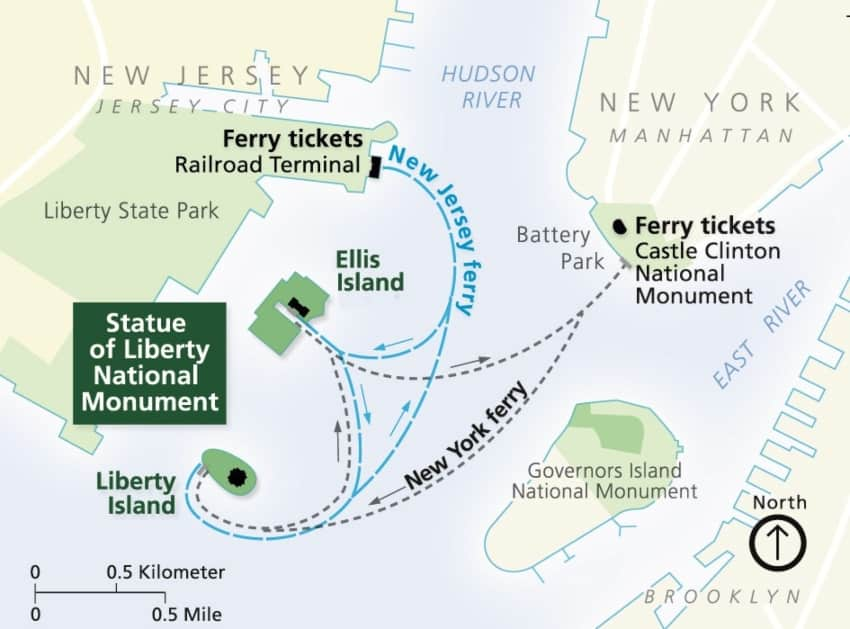 Loading, Unloading and Parking Procedures
Battery Park
Address: 1 Battery Place, New York, NY 10004
Located in Lower Manhattan, the ferries that depart from Battery Park follow a fixed route, or the 'black line'. They first stop at Liberty Island, then make a second stop at Ellis Island, before returning to the park.
Since Manhattan is known to be crowded, in order to avoid large masses of people and challenging traffic situations, it's often more convenient to depart from Liberty State Park. But if you decide to depart from Battery Park owing to its more central location, there are certain parking procedures to follow.
Battery Park is open every day from 8 am until 9 pm unless specified otherwise. In most cases, there are no designated parking spots available, especially for large charter bus rentals. The only option is to rely on third-party-owned parking lots that are situated along South and West Street, which have their own designated fees per hour. Other bus parking spots are at Battery Place, along South Street Seaport, or near Chinatown.
These spots are usually accompanied by parking meters that run from 7 am until 7 pm, except on Sundays. The maximum time limit for charter bus parking in Lower Manhattan is 3 hours, with rates starting at $20 per hour. If you're planning on leaving your bus parked for longer, then parking outside of Lower Manhattan is highly recommended. All parking meters accept major credit cards or NYC parking cards. You can even download the ParkNYC app to make this process easier for your group.
Liberty State Park
Address: 1 Audrey Zapp Drive, Jersey City, NJ 07305
Located in Jersey City, the ferries that depart from Liberty State Park also have their own route, known as the 'blue line'. They stop first at Ellis Island, then move on to Liberty Island, before returning to the park.
Liberty State Park operates every day from 6 am until 10 pm. As mentioned before, traveling to and parking around Liberty State Park is much easier and cheaper. Charter buses are allowed to park for an unlimited amount of time in the ferry parking lot for $10. Or, if you've purchased ferry tickets beforehand, your bus can park for free (!) at the NY Waterway Ferry Terminal at Port Imperial/Weehawken.
Other Hidden Fees
It's always important to be over-prepared rather than under-prepared. Keep in mind that private charter bus rentals may need a special permit to use parkways or the underpass. In order to verify whether you need one, contact the DOT's Permits & Customer Service Unit at 646-892-1429 or the Department of Finance Special Program Unit at 212-291-4072.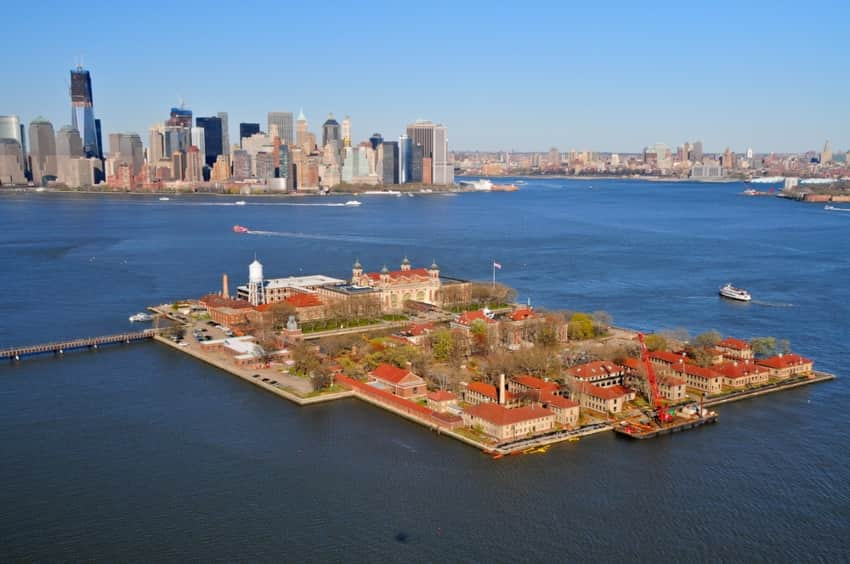 Pre-Travel Checklist for Liberty Island and Ellis Island
There are a few things to remember before embarking on your adventure. Since you're traveling in a group, it's important to make sure that everyone is on the same page.
Purchase your tickets in advance. Not only is this more convenient, but you won't have to wait in line or fumble around last minute to purchase tickets at the stand. Also, by being an early bird, you'll have guaranteed access to the Crown, the Pedestal, and the Statue of Liberty National Monument itself. There are 4 main ticket types that usually range from $19.25 – $22.25 for adults, $9 – $12 for children ages 4-12, and $14 – $17 for seniors that are 62+.
Utilize guided tours. If you're part of a large group, it's probably not a bad idea to participate in a guided tour. The National Park Service offers most tours led by the park rangers. You can even arrange for a guided tour for students by filling out this group reservation form, or you can fill out this form if you're part of a community group.
Stay up-to-date on COVID-19 rules and regulations. Given these unprecedented times, it's always good to play it safe. If certain attractions are closed or are only allowing a limited number of people, it's important to know beforehand so that you aren't wasting your time. COVID-19 information can be accessed through the Ellis Island Foundation, the National Park Service, or Statue Cruises.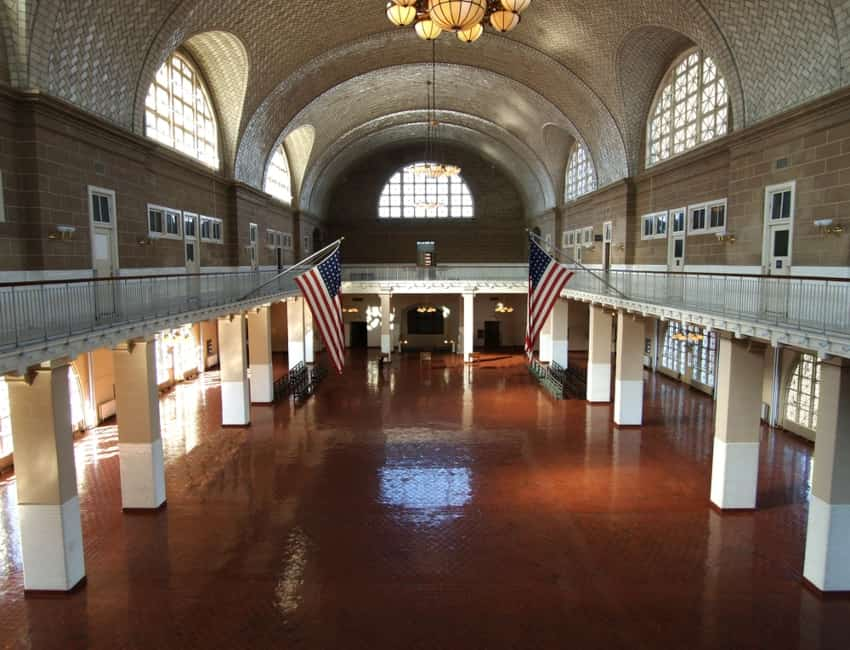 Group Activities at Liberty Island and Ellis Island
When you finally arrive at Liberty Island or Ellis Island, it can often be overwhelming to try and figure out what to see, do, or eat. We've compiled a list of group activities so that your trip is a breeze.
The Statue of Liberty
Let's be real, the only reason you've traveled across land and water is to see Lady Liberty in all her glory. You can walk around and admire the statue from every angle, snap pictures, and stroll around at your own pace. If you've purchased a Crown Reserve Ticket or the Pedestal Reserve Ticket, you'll have the opportunity to see the Head, Crown, and Pedestal while enjoying the breathtaking cityscape around you.
The Statue of Liberty Museum
Take in the cultural and historical background of the statue by paying a visit to the 26,000-square-foot museum on-site. You'll be able to see the original torch, visualize the idea behind the statue, participate in interactive exhibits and learn things you never knew before.
Exploring Liberty Island
Besides the statue, Liberty Island is also a pretty incredible place to see. The cost for the audio tour usually starts at $8 for adults and $7.25 for children. Other tours include the Promenade and Observatory tour, which takes you around New York Harbor and analyzes the intimate details and design of the statue. Check out the Visitor Information Center for an overview of all the tours offered on the island.
Exploring Ellis Island
Similar to its counterpart, Ellis Island is also steeped in history and wonder. Your group can explore the island on their own, or pay for an audio, ranger-led or ferry-building tour for additional insight. If you opt for the Hard Hat tour, you can discover the Ellis Island Hospital Complex or check out the Unframed-Ellis Island art exhibit on the south side.
The Ellis Island National Museum of Immigration
Learn about the island's challenging relationship with immigration at the Ellis Island Immigration Museum. It's located inside the restored immigration complex and has meticulously documented the timeline of the American people through photographs, records, and heirlooms. The American Family Immigration Center, located on the first floor of the museum, is an interesting way to track your own family tree for $8 through the online database.
Crown Café at Liberty Island or Ellis Café at Ellis Island
Feeling peckish after all that sightseeing? Stop by either cafe for a quick snack or a warm meal to get you going on your way. The Ellis Café menu even features the original immigration menu from 1904, with items such as roast beef, roasted chicken and filet of sole.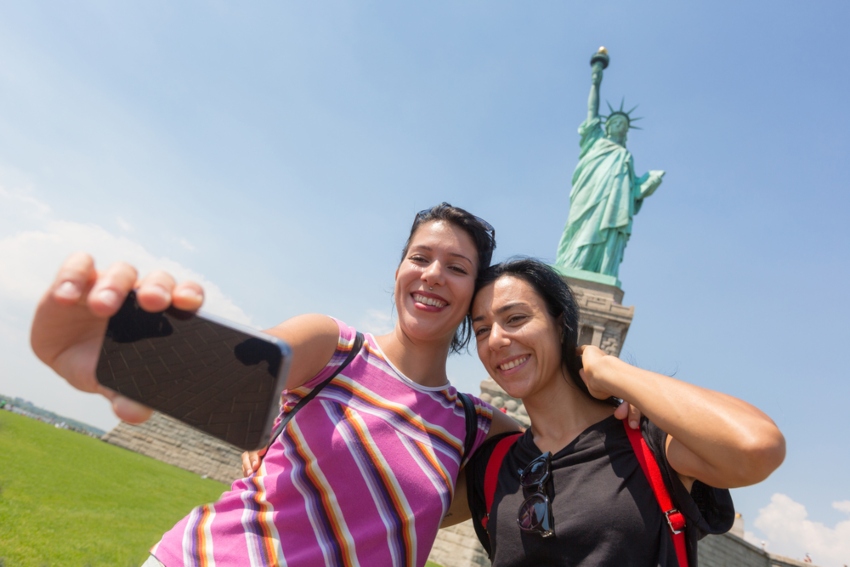 Visit the Statue of Liberty and Ellis Island Today
Whether you want to brush up on your history, art or cultural knowledge, the Statue of Liberty and Ellis Island are definitely a blast from the past. By relying on New York Charter Bus Company as your group transportation provider, you're not only sharing this journey with your closest friends, colleagues and loved ones, but you're also choosing a more sustainable mode of travel. Give us a call at 917-388-9602 and our team can assist you with your itinerary, provide you with price estimates or help you choose the best New York bus rental for your trip!
Do you need to rent a charter bus?