A Group Guide to Visiting Brooklyn's Best Breweries
As Manhattan's hipster sibling, it's no surprise that Brooklyn is home to dozens of local craft breweries. Brewery hopping is a great way to socialize with coworkers, celebrate a wedding, or round out a group tour.
Plan a day exploring Brooklyn's breweries with a private shuttle provided by New York Charter Bus Company. You won't have to hop on and off trains or worry about having a DD from brewery to brewery. With a private shuttle bus rental and pro driver, your ride around Brooklyn will be taken care of all day! Book your Brooklyn bus rental to your favorite local breweries by calling 917-388-9602 at any time.
Safety Precautions
During the COVID-19 pandemic, many NYC bars, breweries, and restaurants have limited or adjusted their services. Groups of visitors should visit each brewery's website and check out their COVID-19 guidelines before visiting. Some breweries are exclusively offering delivery and to-go services, while others are limiting guest capacity and serving brews in open-air spaces. At this time, a handful of breweries are also requiring guests to be partially or fully vaccinated if planning to drink inside tasting rooms. A hard copy proof of vaccination may be required for each member of your group.
Our Favorite Brooklyn Breweries
Brooklyn Brewery
Williamsburg
Address: 79 N 11th St, Brooklyn, NY 11249
Phone: (718) 486-7422
Brooklyn Brewery is one of the oldest active breweries in the city and has been a local favorite since it opened in 1988. The brewery is nestled between McCarren Park and Marsha P. Johnson State Park, just a short walk from the East River. Popular year-round brews include the Brooklyn Lager and Sorachi Ace Saison, while limited faves include their famous Black Chocolate Stout. During normal business functions, Brooklyn Brewery offers guided tours behind the scenes of their operation.
Charter bus parking: Most parking surrounding Brooklyn Brewery is along the street or in nearby garages. Have your driver drop your group off near the entrance on Brewers Row before finding street parking nearby.
Other Half Brewing
Carroll Gardens
Address: 191 Centre St, Brooklyn, NY 11231
Phone: (917) 765-6107
Other Half was established by 3 friends in 2014 and quickly became popular for their many IPAs. Located in a repurposed warehouse near the Gowanus Expressway, this multi-room brewery offers a group-friendly drinking experience in a hip atmosphere. The tasting rooms are spacious and regularly attract large crowds looking to try popular hoppy beers like their All Green Everything imperial IPA and Mosaic Dream IPA. Today, you can grab Other Half's beers to-go or get brews delivered. Once their taproom is safely reopened for in-person service, Other Half is a must-visit location for groups.
Charter bus parking: Other Half does not have a private lot, and few public lots are available nearby. Street parking can be found along Court Street, just a short walk from the brewery.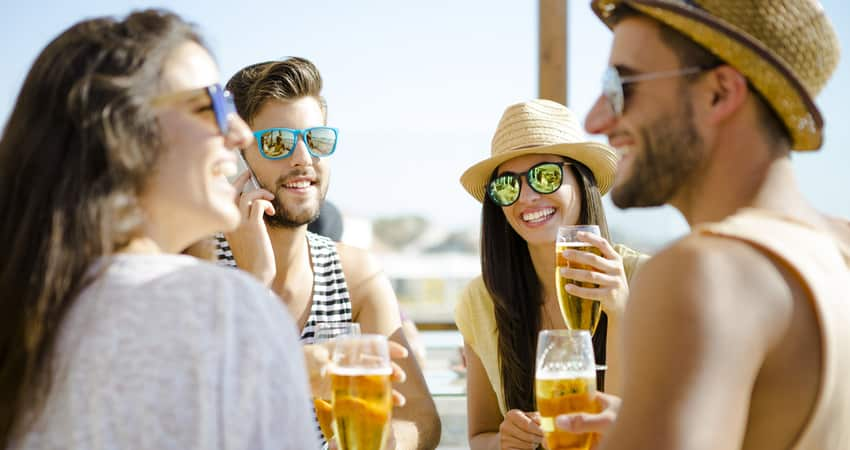 Coney Island Brewing Company
Coney Island
Address: 1904 Surf Ave, Brooklyn, NY 11224
Phone: (718) 996-0019
Inspired by the area's long history, Coney Island Brewing Company has beach- and carnival-themed beers. Try their Mermaid Pilsner and Merman NY IPA, or grab their appropriately-named Beach Beer summer ale if you're having fun in the sun. Coney Island Brewing Company is located in MCU Park and is the perfect place to stop after a sports game or a special event at the ballpark.
Charter bus parking: The brewery shares a general public parking lot with MCU Park and Coney Island beachside attractions. The main lot is located at Surf Ave and W 19th St. Additional parking can be found at private lots on Surf Ave or along streets like W 17th St.
Grimm Artisanal Ales
East Williamsburg
Address: 990 Metropolitan Ave, Brooklyn, NY 11211
Phone: (718) 564-9767
Are sours your favorite type of beer? Grimm Artisanal Ales should be at the top of your list! They do run other popular beers like their Lambo Door double IPA and Double Negative imperial stout, but their selection of sours is hard to beat. Try the Pineapple Cherry Pop! Kettle sour, Super Going gose, or the Black Forest dark sour. The taproom's small indoor tables may not be great for large groups, but the patio is equipped with an outdoor seating area with plenty of space.
Charter bus parking: You're probably noticing a theme here. Most breweries in Brooklyn don't have their own parking lot. Street parking can be found on Catherine St, Morgan Ave, and Metropolitan Ave.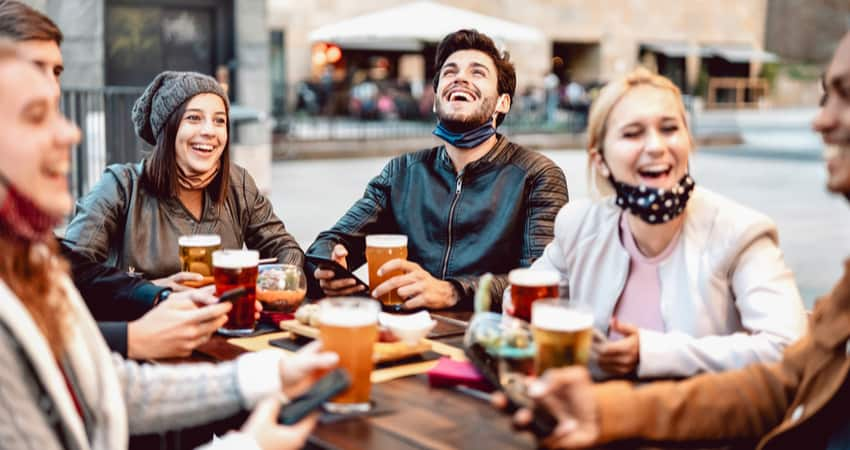 Five Boroughs Brewing Co.
Sunset Park
Address: 215 47th St, Brooklyn, NY 11220
Phone: (718) 355-8575
Five Boroughs Brewing Co. is the place to sip beers, play board games, and enjoy time with friends. This Sunset Park brewery has a small but tasty selection of beers, including local favorites like the Tiny Juicy IPA, a Czech-style pilsner, and seasonal saisons. The taproom is spacious and has garage-style windows so you can enjoy the weather with refreshing brews. Currently, the brewery is open for indoor/outdoor service and to-go orders.
Charter bus parking: There's plenty of free street parking along 47th St right outside of the brewery. Additional parking can be found on nearby streets as well.
Kings County Brewers Collective
Bushwick
Address: 381 Troutman St, Brooklyn, NY 11237
Phone: (929) 234-6557
Kings County Brewers Collective was established by 3 experienced brewers and focuses on bringing the community together with a variety of high-quality beer. Many of their beers boast fun, themed names and comic book-inspired can art. Try interesting varieties like the Superhero Sidekicks IPA, The Fellowship Of The Bling barleywine, or the Marble of Doom sour. Spend a day exploring Buschwick's many art galleries and local shops and then end your day with beer and board games at this local brewery.  Kings County Brewers Collective is open for indoor/outdoor service, to-go service, and delivery in Manhattan, Brooklyn, and Queens. 
Charter bus parking: Troutman St is a part of NYC's "Open Streets" program to create walking spaces for pedestrians. Driving and parking along this road are often limited to unauthorized vehicles. If Troutman St is closed, have your bus driver look for street parking along Jefferson St, Wyckoff Ave, or Starr St. Privately-operated parking lots can also be found nearby along Dekalb Ave.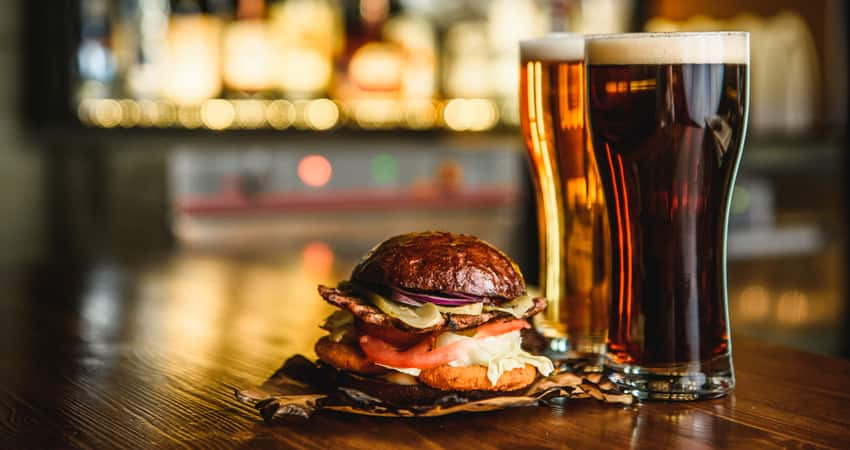 Keg & Lantern Brewing Company
Greenpoint
Address: 97 Nassau Ave, Brooklyn, NY 11222
Phone: (718) 389-5050
If you're looking for a spot with a variety of delicious bar bites and tasty beer, Keg & Lantern has you covered. This Greenpoint brewpub serves up classic bar foods like chicken wings, burgers, and mac n' cheese alongside handcrafted ales and lagers. The Greeneyes IPA, Gastronomical IPA, and Transatlantic Lager are just a few of Keg & Lantern's top brews you should consider trying. Keg & Lantern has a spacious covered patio out back for dine-in services. They're also offering canned beers and growlers for to-go services.
Charter bus parking: Limited street parking is available on Nassau Ave and Leonard St.
Brewery Hop Through Brooklyn with NY Charter Bus Company
Once you've got your brewery list created and an itinerary for your day, give New York Charter Bus Company a call! A private minibus rental will not only keep your group safe between breweries, but it will also keep you comfortable. Sit back in plush seats and leave the transportation up to the pros. Call 917-388-9602 at any time for a free quote.
Do you need to rent a charter bus?