A Group Guide to Bronx Breweries
If you're looking for ways to relax in the Bronx, kicking back with some friends and craft beers is always a good idea. Whether you're brewery hopping with your wedding party, toasting to the end of a workweek with your coworkers, or rounding out a sightseeing tour with a few drinks, this no-nonsense borough has plenty to offer for beer enthusiasts.
Need a lift to your favorite breweries? Don't worry about hopping on and off trains or rideshares, and let New York Charter Bus Company be your DD for the day. We'll connect you with a comfortable motorcoach and a pro driver, so everyone can stay together in-transit and no one has to miss out on all the fun! Call 917-388-9602 at any time to reserve your own Bronx charter bus rental or to learn more about our group transport services throughout New York.
COVID-19 Restrictions
While the pandemic is still ongoing in NYC, many bars, taprooms, and beer gardens are limiting their services. What's more: breweries in and around the city are usually small and intimate, which means patrons usually sit in close proximity to each other. Large groups should consider waiting until social distancing guidelines have been lifted to pay their favorite brewhouses a visit. Some breweries are limiting visitor capacities or exclusively offering delivery and to-go services, so smaller groups should review each destination's guidelines before planning a brewery tour in the Bronx.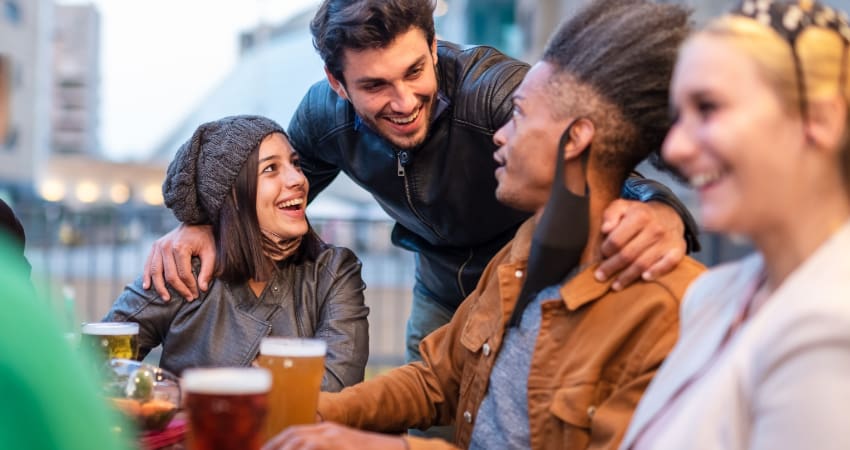 Breweries in the Bronx
Despite the Bronx's dense and growing culture and restaurant scenes, there are only two breweries operating within the borough:
Gun Hill Brewing Company
Gun Hill Brewing Co. touts revolutionary flavor combinations and a strong sense of fighting spirit—fitting, given it's named after a Revolutionary War battle that took place on this very street. When it first opened its doors, this establishment was the Bronx's first microbrewery and one of the first breweries the borough had seen since the 1960s. Nowadays, this local favorite has become the darling of the borough, bringing home awards from the Great American Beer Festival for its Void of Light Stout.
While most returning patrons recommend this brewery's award-winning ales, your group shouldn't shy away from its other options. Summertime brings refreshing sours like the Hessian Weisse, after-work crowds love the easy-to-drink Soft Serve IPA series, and even the pickiest of drinkers are sure to enjoy crowd-pleasers like the Spirit 76 Pilsner.
Address: 3227 Laconia Ave, The Bronx, NY 10469
Charter Bus Parking: This brewery is just a few blocks away from the New York Botanical Garden and the Bronx Zoo. If you're planning a visit to either during your travels in the Bronx, your bus driver can simply wait for you there while you grab some drinks.
The Bronx Brewery
Located on the Bronx's south side, The Bronx Brewery prides itself on being a community hub in a bustling borough and partners with local organizations to support the neighborhood's artists and environment.
As for the brews, this brewery takes a straightforward approach. Rather than expanding its lineup too broadly, BXB focuses on perfecting its 8 core beers—which include pilsners, pale ales, and a few IPA variations—making it a crowd favorite among its faithful followers.
The brewery offers regular private tours in non-pandemic times, as well as limited indoor seating. The main draw to this brewery, however, is the space in the back, called "The Backyard." There, patrons find lots of picnic-style tables to choose from and fun murals to look at while sipping their drinks and sampling bites from the brewery's in-house empanada stand.
Address: 856 E 136th St, The Bronx, NY 10454
Charter Bus Parking: The Bronx Brewery doesn't have a designated parking lot, but your driver should be able to drop your group off near the entrance and find street parking nearby.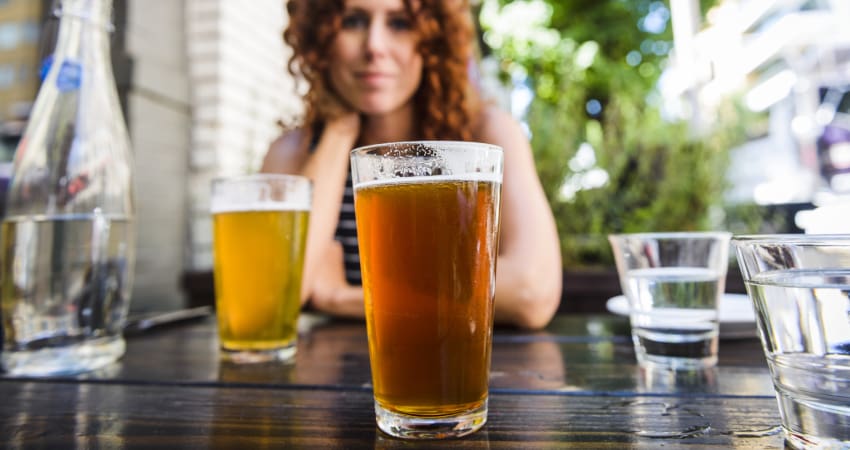 Breweries Near the Bronx
If your group is willing to venture out from the Bronx, you'll find even more craft breweries available for tours and tastings within a few minutes' drive. Let a pro driver handle the driving and parking, so no one has to sweat the logistics of getting in or out of the borough. Instead, everyone can make the most of your visit to these breweries near the Bronx:
Broken Bow Brewery
Family-owned and operated, this Tuckahoe brewery boasts friendly service and a relaxed atmosphere where your group is sure to feel right at home. Sip award-winning ales like the Old Split-Foot Belgian Golden—a "devilish" brew of clove, honey, and warm spices—from the comfort of the breezy patio area. Besides the beer, Broken Bow offers a rotation of food trucks that serve BBQ, pizza, and dumplings in the beer garden outside.
Address: 173 Marbledale Rd, Tuckahoe, NY 10707
Charter Bus Parking: If you stop by on a slow day, a minibus shuttle may be able to park in the Brewery's private lot. Otherwise, your driver will need to find adequate street parking near one of the town's many green spaces.
Diner Brew Co.
Don't let the excess of chrome and the checkerboard floor fool you—this place may look like a diner, but it's actually the premier brewery of New Rochelle. Here, your group can sample beers and ciders made with only New York ingredients, from seasonal one-offs like the Irish-inspired Shillelagh Stout to fan favorites like La Petite Pomme Crab Apple Cider.
Address: 40 Division St, New Rochelle, NY 10801
Charter Bus Parking: This brewery's downtown location makes parking oversized vehicles on crowded streets tricky. Have your bus driver drop everyone off along Division Street and wait in the nearby shopping center parking lot for your group's festivities to wrap up.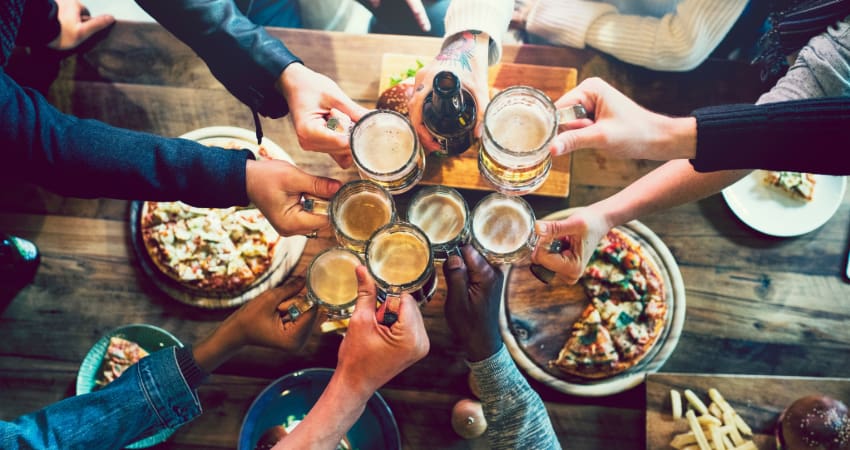 Taprooms and Beer Gardens
While these haunts don't concoct their own brews, they're still fun places to relax and try local beers with your drinking buds:
Bronx Alehouse
Comfort food and beer go together like PB and J. So if your group of beer lovers is craving pub-style eats like burgers and wings, this casual saloon is a great place to dig in. This taproom offers an industrial-chic private room for parties and get-togethers and enough outdoor dining space for 40 people to sample a selection of craft beers from throughout NYC and the East Coast.
Address: 216 W 238th St, The Bronx, NY 10463
Charter Bus Parking: Your bus driver will likely have the best luck finding a parking spot near Riverdale Park, a few blocks east of the alehouse.
Bricks & Hops
Featuring a colorful storefront and an airy, shady patio out back, this beer garden is a refreshing place to unwind after a long day in the Bronx. Bricks & Hops is temporarily closed due to the pandemic, but look forward to happy hour specials, fried finger foods, and (of course) local craft beers once it reopens its doors.
Address: 65 Bruckner Blvd, The Bronx, NY 10454
Charter Bus Parking: This taphouse is a few blocks away from The Bronx Brewery, so the parking situation is the same—which is to say, scarce. Plan to unload your bus rental near Bruckner Boulevard, and your driver can find street parking while you enjoy the brews.
Tour the Bronx's Best Breweries with Ease
Once you've finalized the details of your next brewery trip in the Bronx, give New York Charter Bus Company a call at 917-388-9602. From one-stop shuttle services for a private event to tour shuttles that'll take everyone from brewery to brewery, we'll arrange the perfect bus rental for your group's size and itinerary. Even if you're visiting breweries in Brooklyn or Manhattan, we've got you covered. Call today for a free, no-obligation quote!
Do you need to rent a charter bus?