Why You Should Book a Corporate Shuttle for Your Company in NY
According to a study conducted by Geotab in 2019, New Yorkers spend an average of 43 minutes commuting to work every morning. After wasting almost an hour standing in a packed subway car or sitting in bumper-to-bumper traffic, it's no wonder that your employees often arrive at the office tired and frustrated.
With a private shuttle service, you can relieve a huge amount of stress for your employees, appeal to new recruits, and keep your team safe. New York Charter Bus Company has come up with a few reasons you should consider booking a corporate shuttle. Check out our list below, and if you decide a shuttle service is right for your business, give us a call at 917-388-9602.
A shuttle is safer than public transportation.
If you live in New York, there's a good chance many of your employees can't drive or don't own a car. Even employees who do have a car may opt not to use it on a daily basis because driving is stressful and bad for the environment.
But your employees may also not feel safe taking public transportation during the COVID-19 pandemic. When your employees can't work from home, a private charter bus offers a cleaner, more sanitary way to get them to the workplace.
With a private shuttle, your employees will only be exposed to the people they already work with, and you can decide whether masks are required and whether you want the driver to take their temperatures. The shuttle will also be regularly cleaned and sanitized.
Shuttle service helps your employees relax.
Driving takes a lot of time and requires your employees' full concentration, especially in NYC's traffic. Reading or working on the subway is easier, but during morning rush hour you and your coworkers may not be able to grab a seat. It's a bit tricky to work while standing, holding onto the rail, and being pressed against the person next to you.
When you book a shuttle, you and all of your colleagues can get picked up at a location near your homes and settle into plush, reclining seats. If you requested free WiFi and power outlets, you can spend the drive checking your email, charging your phone, and listening to podcasts.
Oh, and you know that sinking feeling in your stomach when you realize you got in the train car that has the broken AC? We'll make sure the heating and cooling on the bus works, so you never have to deal with that awful sensation.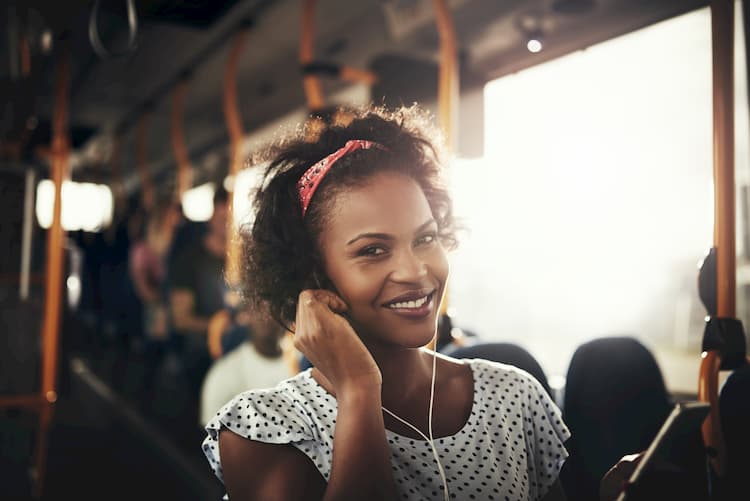 A shuttle is a perk that makes your company stand out.
New York has one of the most competitive job markets in the world. If you want to lure top talent, health insurance or a 401k isn't going to cut it. A shuttle service is a great feature that goes beyond the standard perks and can dramatically improve your employees' quality of life. Knowing they won't have to deal with multiple trains and buses or drive themselves every day can convince people to give your company and New York City a shot.
A shuttle is also helpful if you have a large number of employees who live in Queens or the Bronx but work in Manhattan. These long commutes are especially challenging for people with disabilities, since only around 25% of NYC's subway stations are fully accessible, and many of those don't lie in the outer boroughs.
When you call New York Charter Bus Company, you can request an ADA-accessible bus with a wheelchair ramp, wheelchair seating, handrails along the stairs, and wider aisles. Your employees will know that you care about accommodating them and will have an easier, more comfortable commute to work than they would on the subway.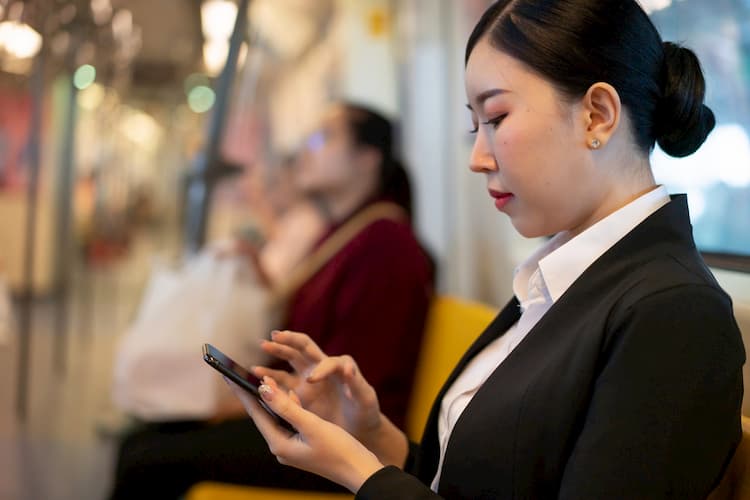 Shuttles aren't just for your daily commute.
We've talked a lot about how shuttles make it easier to get back and forth from work, and that's true. But a shuttle can also help you and your coworkers go places other than work. Attending a  medical convention at the Javits Center or SCBWI's annual book conference at Hyatt Grand Central? Your shuttle can take you from your hotel or your homes to the site of the convention and then back at the end of the night.
And what about happy hours? They may not be realistic possibilities now, but if you opt to still use a shuttle service after the pandemic has ended, you can ask your charter bus driver to treat your group to a night at one of New York's bars (or bars/arcades. Or bars/axe-throwing places.) Want to daydream about going to bars again? Here are a few of our favorites:
Barcade
Barcade started in Williamsburg, though you can now find it in St. Mark's Place and Chelsea too. No matter which of the locations you choose to visit, you'll experience craft beer, a huge selection of arcade games, and a rotating menu of fun bar food (if you get lucky, you may even see Tetris tater tots on the menu!)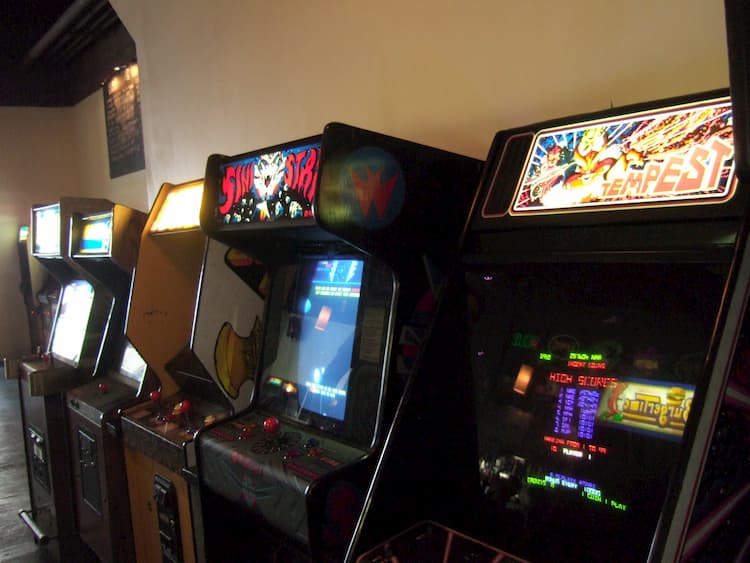 Image credit: Flickr
And you won't have to worry about drinking a few ciders while you play Ms. Pac-Man and suddenly discovering you can't drive home. The shuttle can take your entire group back to their homes or back to a meeting area near the subway so no one has to drive after you get done drinking. Though none of the Barcade locations offer much parking, your shuttle can also drop you off and pick you up when your night is over.
Address: 388 Union Ave, Brooklyn, NY 11211
Marie's Crisis Cafe
If you work with a bunch of fellow Broadway lovers, Marie's Crisis Cafe is the place for you. Gather up your colleagues, ask your bus to drop you off in Greenwich Village, and spend the night singing show tunes at the top of your lungs. The piano player takes requests, and you can order fun cocktails while you bond with your coworkers. When you're finished performing, your shuttle will pick you up and take you home.
Address: 59 Grove St, New York, NY 10014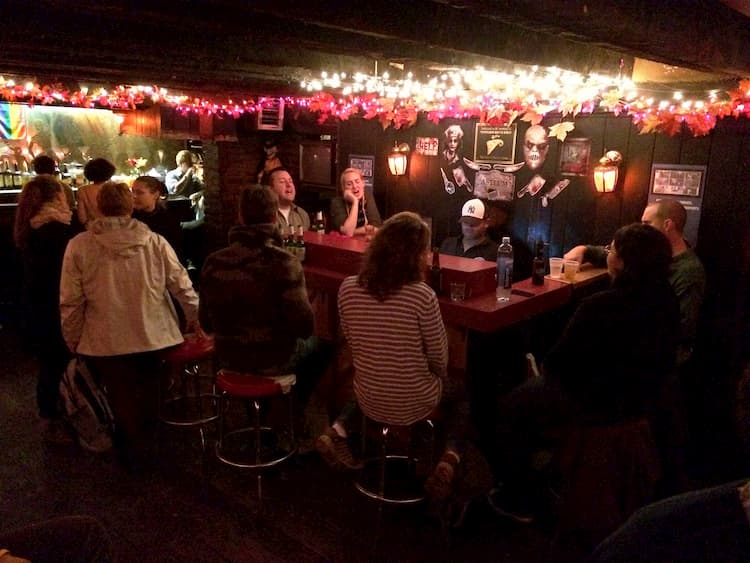 Image credit: Flickr 
Kick Axe Throwing
That's right—New York City has a bar where you can throw axes. If you and your coworkers need to let go of stress, there's no better way to do it than to throw mini hatchets at wooden targets. The professional staff members will make sure everyone stays safe while you sip drinks and show off your aiming skills. Once you're done throwing, your driver will keep you just as safe on the way home.
Address: 622 Degraw St, Brooklyn, NY 11217
Book a shuttle for your business in NYC.
When you reserve a private shuttle service, your colleagues won't have to worry about whether public transit is safe or battle New York traffic in their personal vehicles. You can provide a thoroughly cleaned charter bus on a temporary or permanent basis to take your team straight from their homes or a designated meeting place to the office.
Even once the subway is safe again, a shuttle offers a relaxing, comfortable way to get to work each day or to conventions and happy hours. If you decide a shuttle is right for your business, call New York Charter Bus Company at 917-388-9602. We'll find a bus that has the amenities you want and follows the route you specify.
Do you need to rent a charter bus?