The Best Beaches in NYC for Large Groups
If your sports team, after-school group, or Greek organization needs a break from New York City's heat, you'll find plenty of beaches in and around the five boroughs. You can visit the iconic Coney Island or check out a lesser-known gem like Jacob Riis Park for your day of swimming, sunbathing, and surfing.
All of the beaches on this list are accessible by NY public transportation. But if you're coming from out-of-state or traveling with a large group, especially a group of kids, spending several hours switching between trains and buses may not be the most appealing idea. New York Charter Bus Company has you covered. We've provided charter buses in NYC for years, and we can take your group to the beach in air-conditioned comfort. Just give us a call at 917-388-9602 to start planning your next trip to one of these awesome beaches.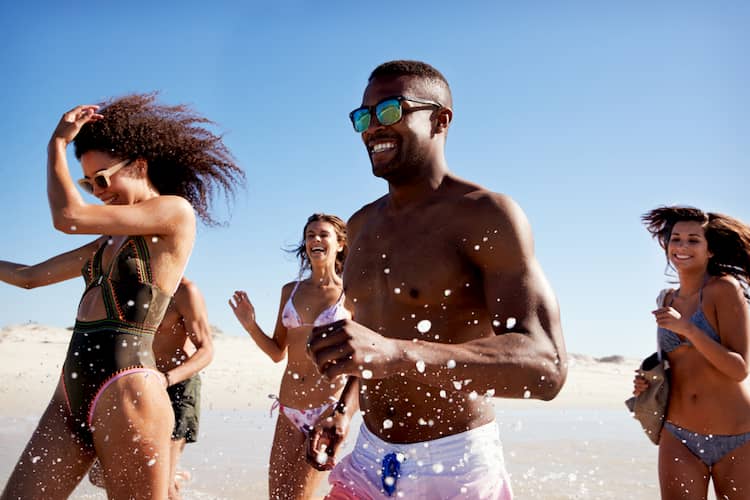 Coney Island
It's hard to find a more iconic summer hotspot than this Brooklyn beach. Although you can swim or go for a walk along the sand here, the main attractions are everything that surrounds the beach: Luna Park, with its carnival games and iconic roller coasters; the New York Aquarium; and the boardwalk, home to the original Nathan's Famous Hot Dogs.
Your charter bus can drop you off at the entrance to Luna Park or the aquarium before heading to one of these commercial parking lots:
West 17th Street at MCU Park
West 12th Street between Mermaid and Surf
West 15th Street between Boardwalk and Surf
Neptune Avenue between West 12th and Stillwell Avenue
After your group braves a ride on the Cyclone and goes for a walk through the waves, your bus will return to pick you up.
Address: 1000 Surf Ave, Brooklyn, NY 11224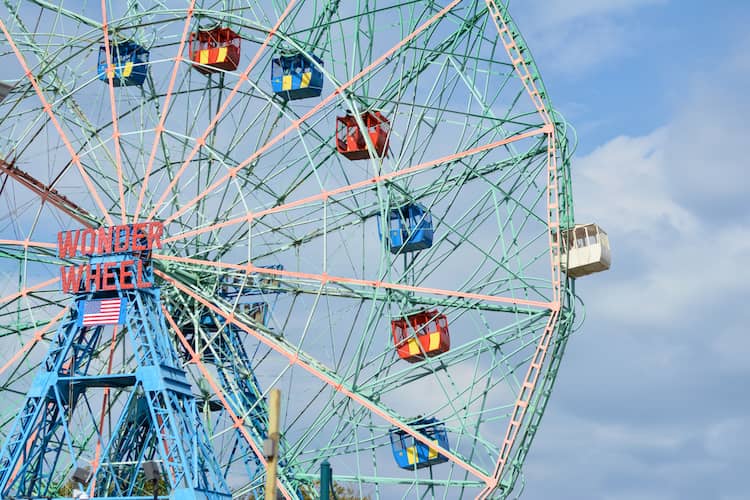 Brighton Beach
Located next to Coney Island, Brighton Beach offers a laid-back experience for groups who'd rather relax than go on rides. The spacious beach and boardwalk don't usually draw huge crowds, so there's plenty of room for you to spread out and sunbathe. You can also savor delicious blinis and pierogies during your beach day–Brighton Beach is known for its authentic Russian and Eastern European restaurants.
Brooklyn is generally more flexible about charter bus parking than Manhattan, so there's a good chance your driver will be able to find a spot in one of the beach's municipal lots. Don't want to ride along while they look for a space? Your driver will be happy to drop off your group at one of the entrances to the beach and come back to pick you up in a few hours.
Address: 313 Brightwater Ct, Brooklyn, NY 11235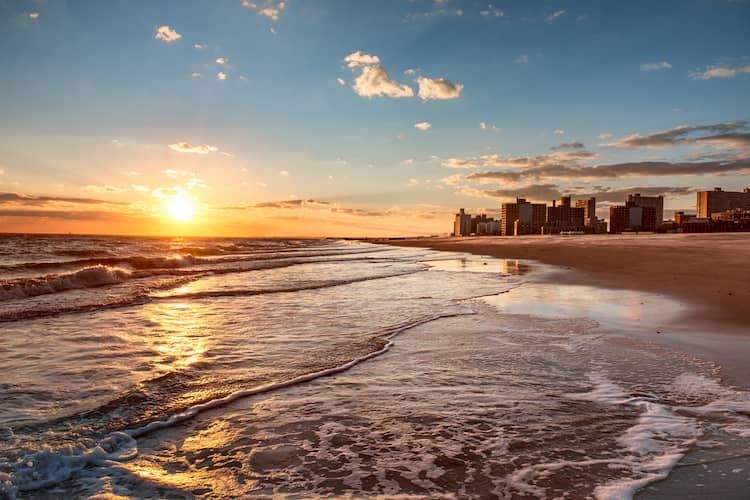 Rockaway Beach
If you're planning a Greek life outing or traveling with an outdoor club, try this beach in Queens that's popular with college students and twenty-somethings. High waves make Rockaway one of the few New York beaches where you can go surfing, and the boardwalk is lined with great restaurants and bars that go beyond the typical beach fare of burgers and hot dogs.
When you're done swimming, throw on a cover-up and grab fish tacos at Tacoway Beach or a frozen pina colada at Connolly's. Your bus driver will be your DD, so you're free to have fun. Rockaway Beach even has parking lots—and some of them are free! Yes, free parking, in NYC. No wonder the Ramones sang about this place. (Okay, they probably didn't care about the parking so much. It's still a super-fun place to go.)
Address: 8601 Shore Front Pkwy, Rockaway Beach, NY 11693
Jacob Riis Park
Queens specializes in hidden-gem beaches. In addition to Rockaway, there's Jacob Riis Park, aka "The People's Beach." This mile-long beach is a big hit with locals thanks to its clean, spacious sand, and it also boasts a fascinating history—from 1917 to 1930, it served as a naval air station. In 1930 the base was demolished and replaced with a park, and in 1932 the beach acquired its signature Art Deco boathouse, which still stands to this day.
Over the decades, Jacob Riis Park has also gained a golf center, playgrounds, and basketball and volleyball courts. And since 2015, it's been home to the Riis Park Beach Bazaar, where you'll find restaurants like Rockaway Clam Bar, The Meatup Grill, and Ample Hills Creamery (home of the best ice cream in New York). For bonus points, Jacob Riis has its own huge parking lot that will probably have room for your bus. Queens beaches for the win.
Address: 157 Rockaway Beach Blvd, Rockaway Park, NY 11694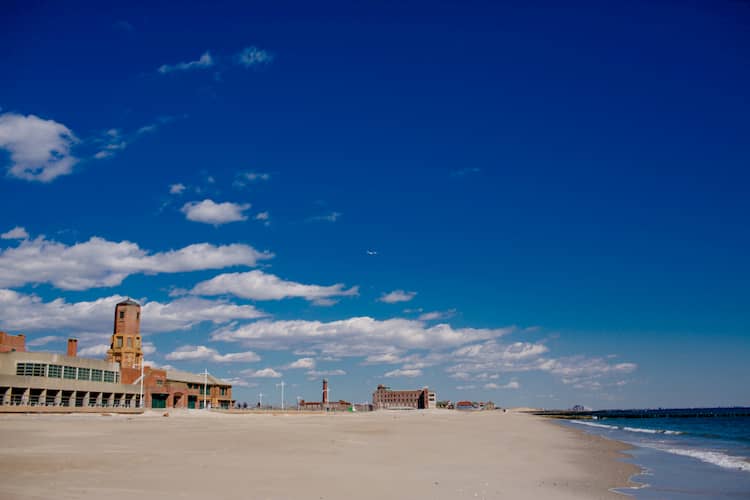 Orchard Beach
Now that we've covered Brooklyn and Queens, it's time to move on to The Bronx. Orchard Beach, once nicknamed "the Riviera of New York City," is a man-made beach in Pelham Bay Park that overlooks the Long Island Sound. Designed by Robert Moses and built by the Works Progress Administration, Orchard Beach is the only public beach in the Bronx and still has its beautiful Central Pavilion and hexagonal boardwalk from the 1930s.
In addition to the sand and water, Orchard Beach draws in locals with its basketball, volleyball and handball courts, snack bars, and playgrounds. This beach has one major downside for locals, though–you can't get there by train. You can take a public bus, but if you're with a large group, you'll be much more comfortable on a private, air-conditioned charter bus that can take you straight to the beach without stops along the way. And just like Jacob Riis Park, Orchard Beach has its own parking lot!
Address: Park Dr, The Bronx, NY 10464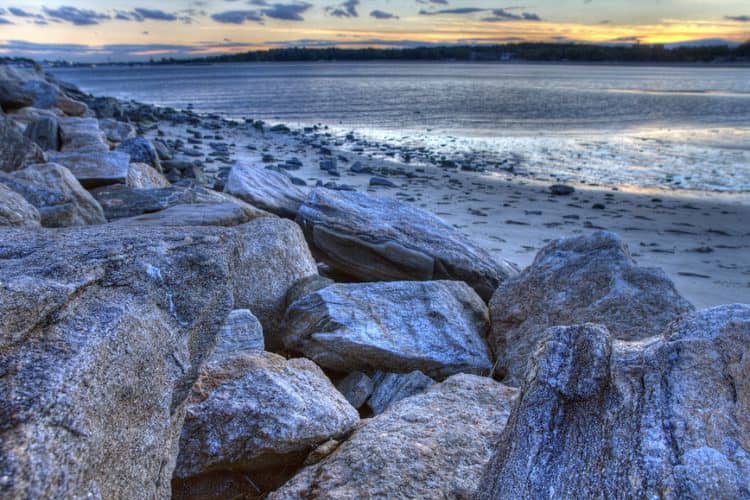 Staten Island's Beaches
Staten Island actually has two public beaches connected by a boardwalk, but they border one another, so it's easy to walk from one to the next. South Beach and Midland Beach have calm water that makes them popular with families, and the Franklin D. Roosevelt Beach Boardwalk provides a place to bike or run.
South Beach features kayak rentals, a beautiful view of the Verrazano-Narrows Bridge, and a carved fountain called The Fountain of Dolphins. Midland Beach, on the other hand, offers a playground, tennis and shuffleboard courts, and a sea turtle fountain that sprays water for kids to run through. Unfortunately, neither of these beaches has a designated parking lot, but Staten Island has many paid lots your charter bus can take advantage of.
Address: Franklin D Roosevelt Boardwalk, Staten Island, NY 10305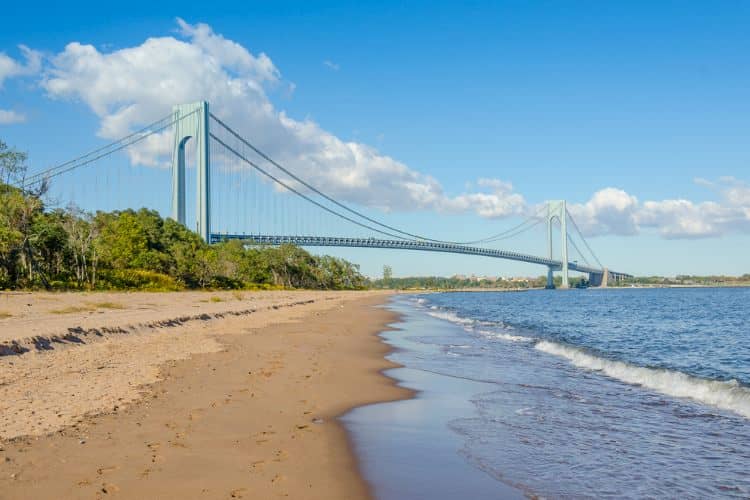 Long Beach
If you're willing to venture outside the five boroughs, you can find quieter, more peaceful beaches by going farther east on Long Island. New York City's subway doesn't reach quite that far, but a charter bus can easily take your group to Long Beach, where you'll find 5 miles of sand ideal for beach volleyball and Frisbee. Long Beach is also a great surfing spot, and its boardwalk has plenty of cool, laidback restaurants and bars.
There are municipal lots here, but your driver will probably want to drop you off at the beach before going to search for a parking spot. When you're drawing up your budget, keep in mind that Long Beach does charge admission—you'll need to pay $12 for every adult and child over the age of 13. But that money goes toward keeping the beach clean, so if you have space in your budget or are traveling mostly with children younger than 13, the fees may be worth it.
Address: 100 W Broadway, Long Beach, NY 11561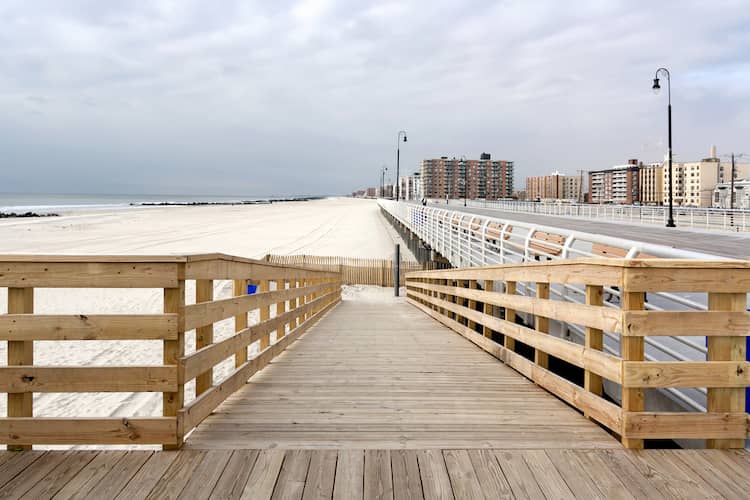 Book a Charter Bus for Your Next Beach Trip
Escape the heat of the city's concrete sidewalks with a trip to an NYC-area beach this summer. Whether you're traveling with your sorority sisters or a group of kids from a summer daycare program, New York Charter Bus Company can help you keep everyone together and safe. Load your folding chairs, snacks, and umbrellas onto a charter bus, and we'll drop you off steps away from the sand. Call us at 917-388-9602 to start planning your next New York beach trip.
Do you need to rent a charter bus?