NYC's Top Hidden Gems for Group Trips: Brooklyn and Queens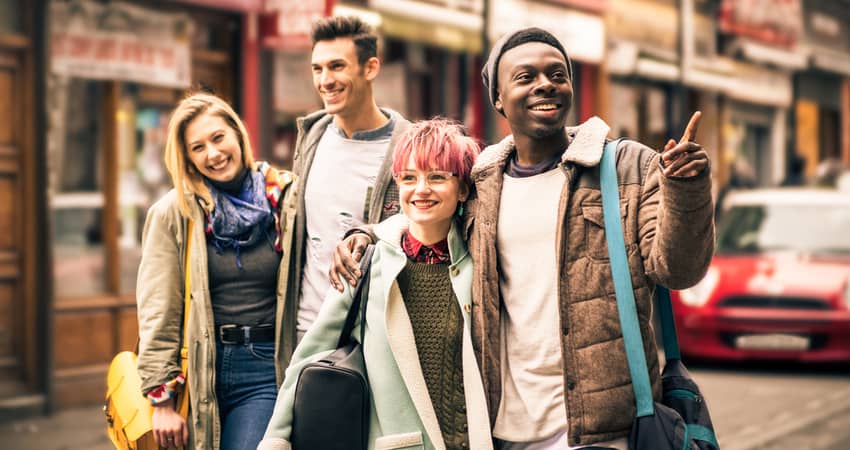 After rounding out your tour of hidden gems in Manhattan, head on over to Brooklyn and Queens to continue your trip. Queens has a diverse population and many cultural centers, while Brooklyn is the place to be to explore a unique, thriving arts scene. Whether you're planning a night out in Brooklyn for a massive bachelorette party bash or you're an educator planning a school field trip in residential Queens, call New York Charter Bus Company at917-388-9602 for all your transportation needs. With access to a wide variety of charter buses and minibuses, you're sure to find a comfortable ride for any type of trip.
Queens

Flushing Meadows Corona Park
Great for: Outdoor enthusiasts, school groups, and history buffs
Address: Kennedy Circle, Queens, New York, 11368
Okay, Flushing Meadows Corona Park isn't really a "hidden gem." It's a massive Queens greenspace that's pretty hard to miss if you're in the area. What is an offbeat gem is the structural remnants of two World's Fairs within the park. From futuristic spaceship-like pavilions to the skeletons of deconstructed tents, this park has some pretty cool historic remnants to explore. Flushing Meadows Park was constructed for the 1939 World's Fair and subsequently hosted the 1964 fair as well. The fair themes of Building The World of Tomorrow and Peace Through Understanding left behind these recognizable structures:
The Unisphere: a massive stainless steel globe sculpture surrounded by a fountain and splash area
New York State Pavilion observatory towers: a set of UFO-like towers that were used as observation decks
New York State Pavilion: also called the Tent of Tomorrow, this pavilion served as the main exhibition space during the 1964 fair
Theaterama: the fair's cinema that is now home to the Queens Theatre
Flushing Meadows Carousel: the largest carousel in Queens; one of few carousels on the U.S. National Register of Historic Places
Your group can map out the top sites you want to see in the park and take your time exploring each one.
Group travel tip: Be sure to pop into the Queens Museum right next door to the Unisphere before you leave the park. The museum has a wonderful collection of fine art, including Tiffany lamps and a scale-model panorama of NYC built for the 1964 World's Fair.
Charter bus tip: Since the park also houses Citi Field, the area has a variety of parking options for charter buses and other vehicles of all sizes. Just be sure you're not planning a visit on a Mets game day. Or if you're a Mets fan club headed to Citi Field for a big game, a sporting event charter bus rental is an easy way to get to the park! You can even some time exploring Flushing Meadows before the game begins.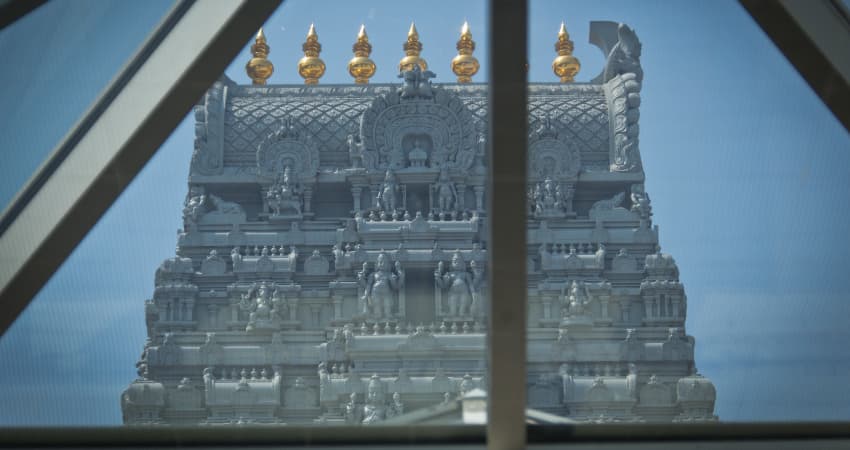 The Ganesh Temple of Queens
Great for: religious groups, food and culture enthusiasts, and architecture lovers
Address: 45-57 Bowne St, Flushing, NY 11355
Phone: (718) 460-8484
Home to the Hindu Temple Society of North America, this intricate temple in Flushing is quite the testament to the beauty of NYC's diverse population. Built by dedicated South Indian craftsmen with imported materials from India, the Ganesh Temple of Queens was the first traditional Hindu temple constructed in the United States. It may seem out of place towering among the residential homes and buildings of Flushing, but this temple has served as a major place of worship for NYC's Hindu population since 1970.
The temple holds daily worship services for devotees of the Hindu faith but also hosts a variety of other activities open to the public. Depending on when you plan to visit, your group can take a yoga and meditation class, participate in annual festival celebrations like Holi, and grab delicious authentic South Indian food in the Temple Canteen. The canteen is inexpensive and vegan- and vegetarian-friendly, and all proceeds go back to the temple. They also happen to have some of the best dosas in the city (the food even has Anthony Bourdain's seal of approval.)
Group travel tip: Please be sure to check the temple's dress code and policies to ensure your group is respectful during your visit. Long pants and tops with sleeves are a safe choice for all guests. Also, be aware you'll need to remove your shoes before entering the temple. Shoes can be left on if you're only visiting the Temple Canteen through the Holly Street basement entrance.
Charter bus tip: New York Charter Bus Company can also organize group transportation for large festivals and events happening at centers of worship like the Ganesh Temple. Just let your reservation expert know that you'll be needing large-scale transportation and they'll help get your coach bus services sorted.
Brooklyn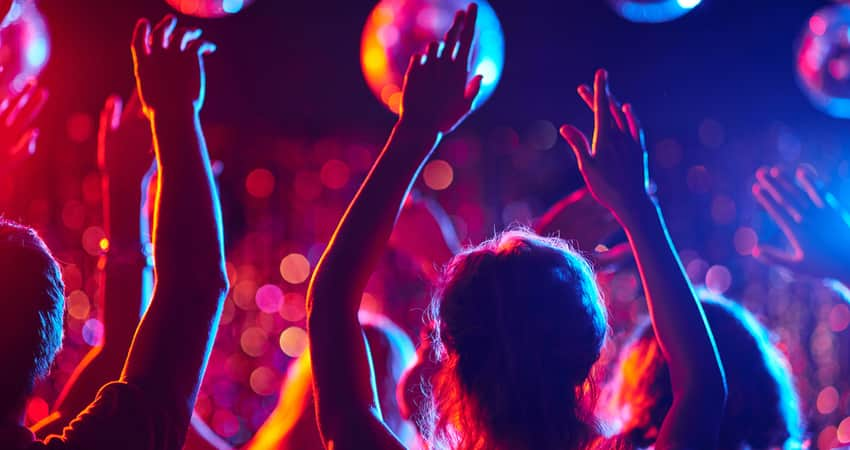 House of YES
Great for: bachelor/bachelorette parties and adult birthday celebrations
Address: 2 Wyckoff Ave, Brooklyn, NY 11237
Phone: (646) 838-4937
House of YES is where your group wants to be if you're looking for a weird and wild time (in the best way possible, I promise.) This Bushwick hotspot is equal parts an underground dance party, a nightclub, a circus, a music venue, and a liberating community space. House of YES is all about being unapologetically you and is a big part of the thriving LGBTQ+ community of Brooklyn. Dress to express, not to impress (but hey — if you want to impress, go for it!) On any given dance party night you'll find guests decked out in fabulous costume attire, as well as drag queens, aerialists, circus performers, and burlesque dancers putting on the show of a lifetime.
Unless noted for a special event, all patrons must be 21+ to enter House of YES. So if you're traveling for a fun evening out with friends, be sure to grab a themed costume or your best outfit and head over to Bushwick. Every person in your group will need a ticket to enter, and it's highly recommended you grab yours online in advance.
Group travel tip: Visiting House of YES is a fun experience at any time, but it's especially lively during Pride Month. Groups visiting NYC during Pride Month should definitely spend part of their evening here.
Charter bus tip: If you're traveling to House of YES with a large group, hailing rideshares can be a hassle and keeping everyone together on public transportation is easier said than done after a few drinks. Renting a charter bus for your big party group will ensure you have a DD to and from your fun evening.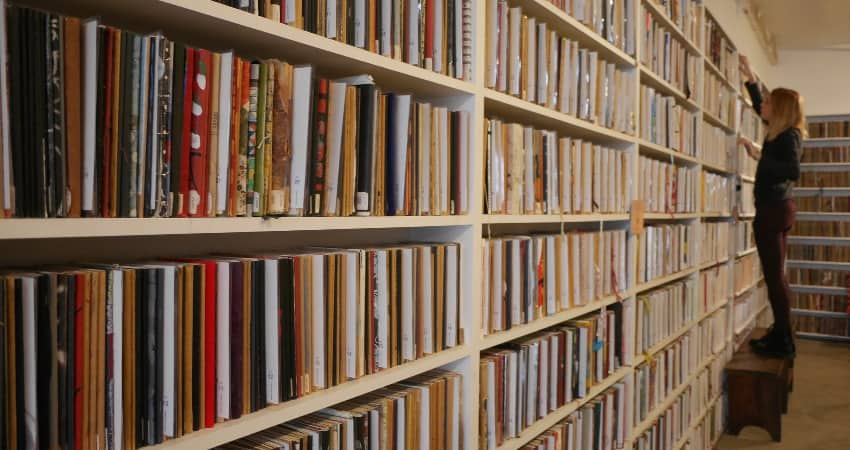 Brooklyn Art Library
Great for: school field trips, small business team-building, groups of history buffs, and art lovers
Address: 528 Frost Street, Brooklyn, NY 11211
Phone: (718) 388-7941
The Brooklyn Art Library is a nonprofit art education organization with a one-of-a-kind collection of more than 41,000 sketchbooks from artists across over 130 countries. The library's largest endeavor, the Sketchbook Project, began in 2006 and allows patrons to order sketchbooks, fill them with illustrated themes or terms, and return them to be added to the collection. Sketchbooks contents can vary from offbeat themes like "Things Found on Restaurant Napkins," to simple terms like "photography" and " beaches." Check out their digital library to get an idea of the many illustrations available for viewing.
As tempting as it may be, try not to pull the sketchbooks directly off the shelves. The library has all of its inventory organized by a meticulous barcode system to make organization as easy as possible. If there's a sketchbook that tickles your fancy, request it from the library's digital archive and system of tablets for an associate to locate it for you. Visiting and browsing the sketchbooks is completely free, but if you'd like to participate in the project you'll have to pay a fee. Don't worry though: all of your money goes back into running this Williamsburg nonprofit.
Group travel tip: Groups are welcome to visit and participate in the project, especially school classes. The library offers a 20% discount for 5 or more sketchbooks. Groups can simply browse the collection or sit down, get inspired, fill a few sketchbooks, and have them added to the largest collection of its kind.
Charter bus tip: As with many parts of this neighborhood, most parking is available on the street or in garages. If your group is planning to travel by coach bus, consider renting a compact model of minibus for easy travel around paced roads. Also be sure to organize drop-off, pick-up, and parking with your driver well in advance.
Rent Your NYC Charter Bus Today
Whether it's your fifth or fiftieth time visiting NYC, there will always be new things to explore. The best way to explore all the city has to offer is with a group! Focus on building your perfect itinerary while New York Charter Bus Company takes care of how you'll get there. Call 917-388-9602 24/7 for a price quote and to rent your bus around New York City.
Do you need to rent a charter bus?