Explore NYC's LGBTQ+ Hotspots with a Group
New York City is known for being a melting pot in several ways. It's a mish-mash of people from all backgrounds, cultures, communities, and walks of life. It's one of the most historically significant cities in the LGBTQ+ rights movement that started in the 60s. And, over the years, the Big Apple's LGBTQ+ community has grown to become one of the biggest and brightest in the world (I'm talking about the largest-Pride-Month-celebration-in-the-world-level vibrant, here).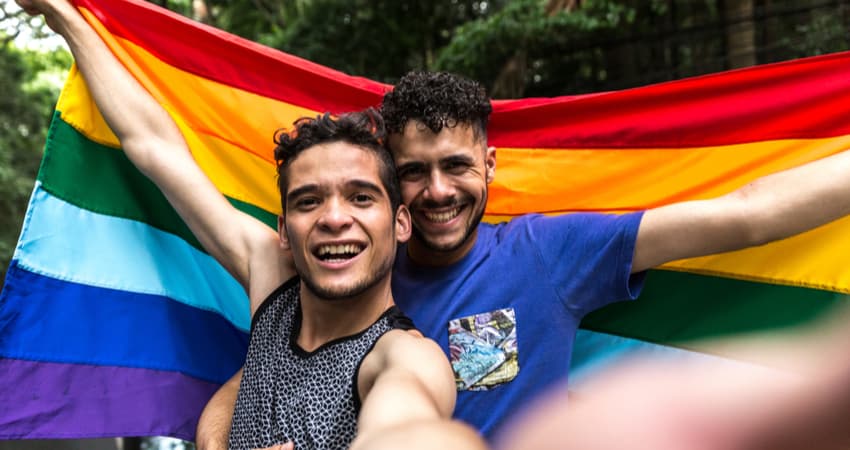 Whether you're in town for Pride or you're just on vacation with a big group of friends, NYC is one of the best places to learn about, appreciate, and explore the queer community. If you need a ride for your group to travel comfortably through NYC, call New York Charter Bus Company at 917-388-9602. Rent a modern motorcoach or a compact minibus (perfect for narrow NYC streets!) with a professional driver to shuttle your group around town at your own leisure. No waiting to hail taxis and rideshares or running to catch the train and bus. With a charter bus rental, you'll be traveling on your own time, at all times.
Need help building an itinerary for your group? I've compiled some of NYC's queer-friendly and group-friendly events and establishments to add to your list. (There are quite a few, but I've picked a handful of popular local faves.)
Major LQBTQ+ Events in NYC
NYC Pride
June
As you probably already know, Pride Month in NYC is a huge deal (like 5 million people lining Manhattan roads huge). The month-long roster of activities includes the historic Pride march, a street festival, a rally, and several other events that promote social justice and community togetherness. NYC Pride's biggest events usually take place in the last two weeks of June, with several smaller parades and festivities happening throughout the month.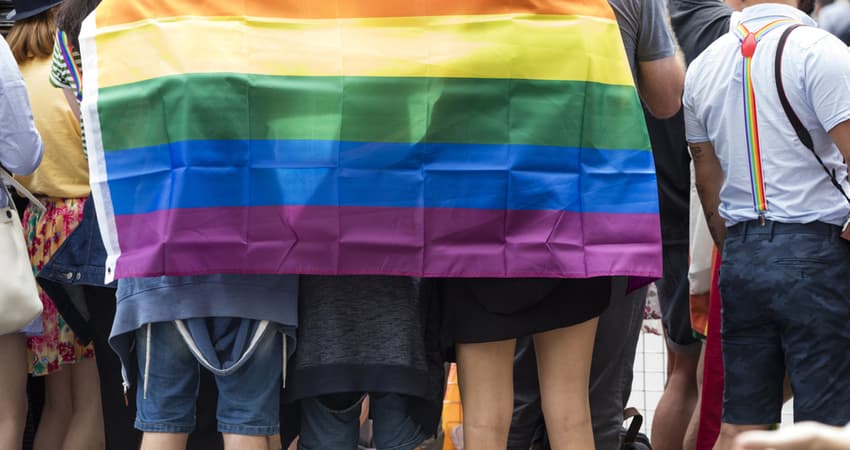 Pride Month in NYC is a powerful experience, and groups should consider traveling to the city in June to be a part of the movement. Nearly all Pride events are perfect for groups, though you may need to secure tickets or RSVP for any special parties or events organized by private businesses.
Traveling around the city with a big group at any time can be hectic. When you're traveling during Pride with millions of other attendees, expect things to be even busier. If you're an out-of-town group that's unfamiliar with NYC's public transportation system, rent a minibus for your travels instead. Loading everyone on a private minibus with a professional driver is bound to be easier than corralling a dozen or two people on an already-packed train or bus.
Eateries and Cafes
One of the best ways to explore the NYC LGBTQ+ community is to support queer-owned businesses. And what better way to do it than grubbing down on tasty food? Check out some of these group-friendly eateries in NYC's top gayborhoods.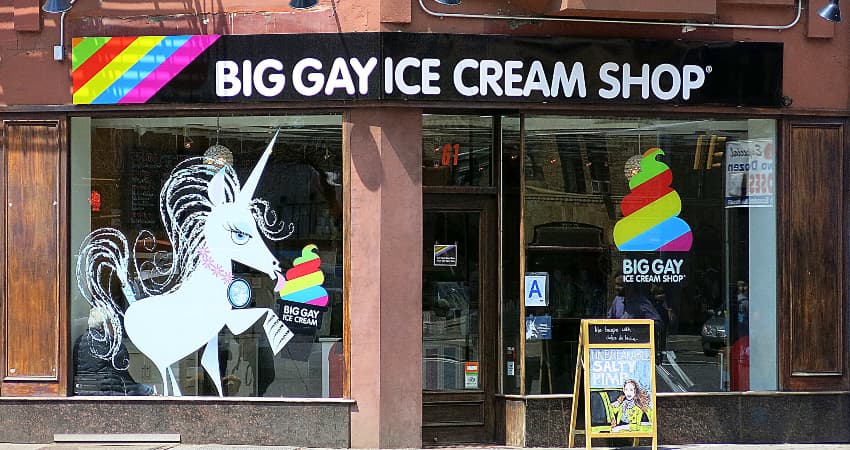 Image courtesy of Spencer Means on Flickr.
For Visitors with a Sweet Tooth
Big Gay Ice Cream Shop
Who said you can't have dessert before dinner? Big Gay Ice Cream Shop is a local favorite for soft-serve ice cream. Originally a food truck operation, the business now has five locations across NYC serving unique (and humorously-named) concoctions like the Salty Pimp, a sweet and salty dulce de leche cone. Your group can grab a cone at their East Village location and take a stroll around the neighborhood (Washington Square Park is just a few blocks away)., or hop on your charter bus and continue seeing the city.
Address: 61 Grove St, New York, NY 10014
Phone: (212) 533-9333
For Mexican Cuisine Lovers
Fonda
If you're looking for savory Mexican cuisine and delectable tequila cocktails, you have to check out Fonda. The queer- and POC-owned restaurant was started by chef Roberto Santibañez in 2009 and now has locations in the East Village, Chelsea, and Park Slope in Brooklyn. Fonda uses all-natural heirloom corn to support independent Mexican farmers. Your group will have delicious food while supporting a great cause. All three locations are great for group dining: just be sure to make a reservation.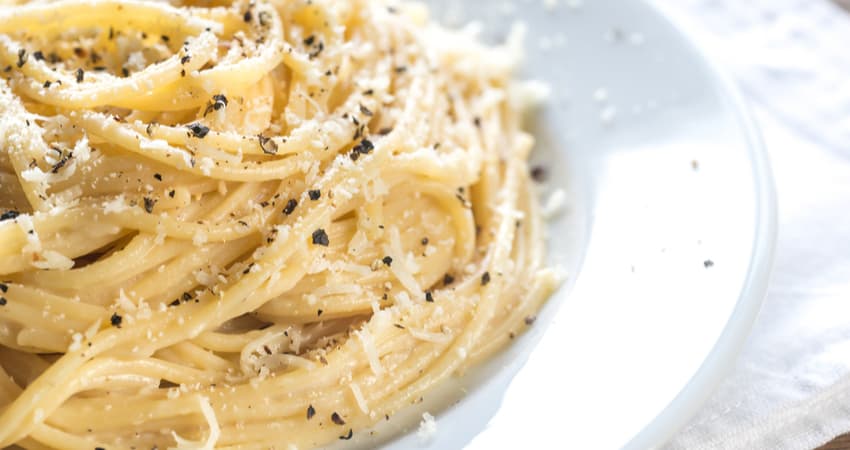 For Upscale Dining Aficionados
Via Carota
You can never go wrong with pasta, especially at West Village's Via Carota. Jody Williams and Rita Sodi opened Via Carota in 2014 and quickly became one of the West Village's best eateries. The self-taught chefs modeled the restaurant after a rustic 17th-century Florence villa serving traditional (and scrumptious) Italian fare like cacio e pepe and wild boar ragu. Via Carota unfortunately does not take reservations, but their food and ambiance is well worth the wait. If your group is on a long waiting list, have your charter bus driver shuttle you to a nearby bar for a drink or small bites as you wait.
Address: 51 Grove Street, New York City
Phone:  (212) 255-1962
For Adventurous Eaters
Kopitiam
Okay, Malaysian and Singaporean food isn't necessarily "adventurous" for some. But if you're not familiar with the flavorful cuisine, Kopitiam is the place to become acquainted. Chef Kyo Pang created Kopitiam to keep her family's traditional recipes alive and to share them with the community. Not only is Kopitian woman-, queer- and POC-owned, but the restaurant also focuses on providing financially accessible meals as well as employment opportunities for the elderly and for high school students. Kopitiam is a counter-service establishment but can accommodate groups.
Address: 151 E Broadway, New York, NY 10002
Phone: (646) 609-3785
Historic Locations
As a major battleground in the LGBTQ+ rights movement, New York City is one of the best places to educate your group about history. The NYC LGBT Historic Sites Project is an amazing resource that provides visitors with information about the city's many residences, public spaces, monuments, and businesses that hold an important place in the community.
There's a long list of historic sites for your group to visit, but if you're taking a short trip, it'll be impossible to see them all. If you're looking for nightlife spots, don't worry. I'll be getting to those soon!
While building your NYC itinerary, consider adding these historic locations to your group trip: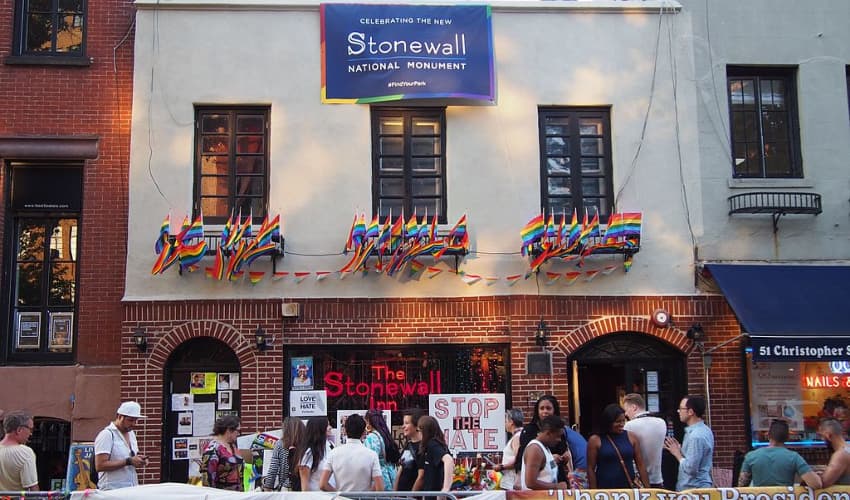 Image courtesy of Wikimedia Commons.
Stonewall Inn and National Monument
The Stonewall Inn is one of the country's most important locations in LGBTQ+ history. It was the site of the 1969 Stonewall riots that helped kick off the era's gay liberation movement. The bar still stands as a working establishment that serves drinks and small bites and plays great dance music until 4 a.m. every night. Visitors do need to be 21 to enter the bar, but guests of all ages are welcome to visit Stonewall National Monument, which includes nearby Christopher Park and part of Christopher Street.
Address: 53 Christopher St, New York, NY 10014
Phone: (212) 488-2705
Alice Austen House
NYC is home to several historic residences of prolific figures in the LGBTQ+ community. Manhattan's residences see the most visitors, but many out-of-towners may overlook Staten Island's gems. Hop on your charter bus and shuttle over to SI for a short break from the hustle and bustle of Manhattan.
Staten Island may seem a bit out of the way for many tourists, but it's well worth a trip to visit the Alice Austen House. This historic home and museum once belonged to one of the country's earliest female photographers, Alice Austen, and her lifelong partner, Gertrude Amelia Tate. Her work became well-known for documenting the lives of Staten Island's upper-middle class, the lower class in Manhattan's Lower East Side, and immigrants living throughout the city. The museum houses around 300 of Austen's photographs and offers school group visits, LGBTQ-themed youth programs, and photography-focused education resources.
Address: 2 Hylan Blvd, Staten Island, NY 10305
Phone: (718) 816-4506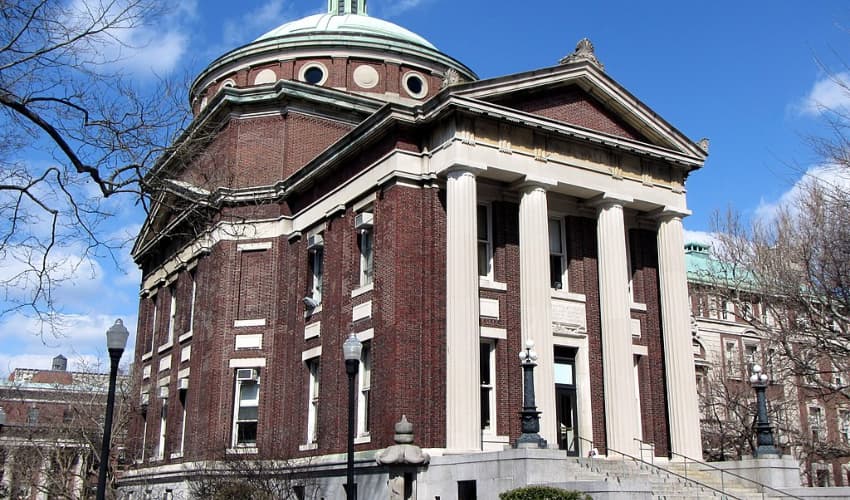 Image courtesy of Wikimedia Commons.
Earl Hall at Columbia University
Even if you're not a group of university hopefuls, taking a self-guided tour of the beautiful Columbia University campus is a wonderful way to appreciate history. In 1966, with support from the university chaplain, the Student Homophile League became the first gay student organization in the country (possibly even the world). By 1970, the organization became Gay People at Columbia, promoting activism and offering a safe space for students in historic Earl Hall. The organization held Friday night dances that hit peak popularity in the 1980s, giving queer students a relaxed space for evening socializing.
Address: 2980 Broadway, New York, NY 10027
Queer Nightlife in NYC
New York is truly the city that never sleeps, and there are plenty of bars for you to dance the night away at (seriously, spend enough time in NYC's gayborhoods and you'll stumble across several local clubs and bars). Wherever you choose to go, you can rest assured your transportation will be taken care of with NYC Charter Bus Company. You'll have a personal motorcoach and a built-in DD for your night out on the town.
I've already touched on the historic Stonewall Inn, but let's take a look at a few other places to experience NYC's queer nightlife. Your go-to spot will obviously depend on the type of partier you are (not everyone is a club kid–I get that). So I've included a little bit of something for everyone.
Flaming Saddles Saloon
Hell's Kitchen
Best for: a wild time
Really, I mean a wild time. Flaming Saddles Saloon is a country-Western-themed gay bar that has tabletop-dancing bartenders à la Coyote Ugly. Along with standard bar drinks, you'll find offbeat bar bites like their "world famous Frito pie." Grab your cowboy hat and boots, because it's time to head down to the honky-tonk.
Address: 793 W 53rd St, New York, NY 10019
Phone: (212) 713-0481
Cubbyhole
West Village
Best for: feeling like family
This lesbian bar opened in West Village during the 1980s and has been a fun, inclusive haven for queer visitors ever since. Cubbyhole's eclectic decor and friendly crowd offers a bright, warm alternative to some of NYC's dimmer and more sultry locations. Grab a few drinks, crank up the jukebox, and enjoy one of West Village's coziest spots.
Address: 281 W 12th St, New York, NY 10014
Phone: (212) 243-9041
Pieces
West Village
Best for: a good show
If you're looking for one of the city's best drag shows, look no further than Pieces. Drag performers take the stage every night and guests can enjoy their own time in the spotlight during Karaoke Tuesdays. Pieces is probably the most theatrical dive bar you'll ever visit, so get ready for a show.
Address: 8 Christopher St, New York, NY 10014
Phone: (212) 929-9291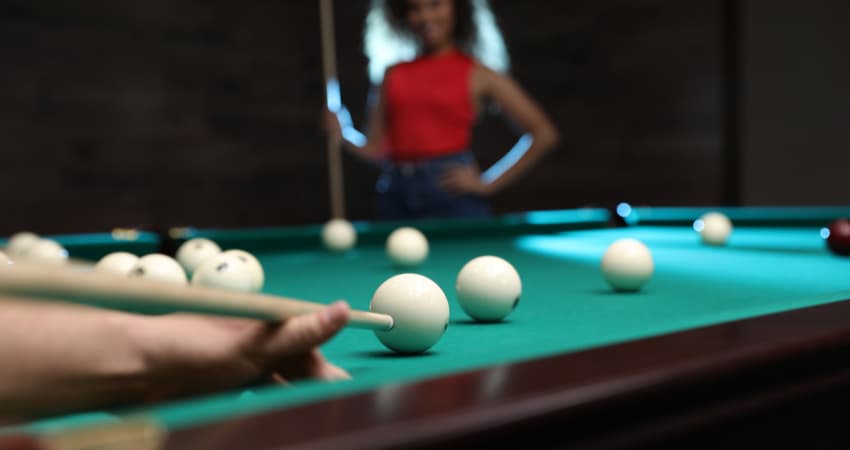 Ginger's Bar
Park Slope, Brooklyn
Best for: a casual drinking atmosphere
Step away from Manhattan's crowded bars and head over to Brooklyn to check out Ginger's. Known for its comfortable and neighborly feel, this queer bar is a great place to sip a few drinks and enjoy time with your group. Hop on your private bus and head to Ginger's popular happy hour to shoot some pool and soak in the (hopefully) nice weather in their quaint backyard area.
Address: 363 5th Ave, Brooklyn, NY 11215
Ready for an NYC Adventure?
From its bustling nightlife scene to its strong queer-owned business presence and impactful history in the LGBTQ+ rights movement, New York City is truly a queer mecca. Choose New York Charter Bus Company for your group transportation during your next Pride trip or group vacation in the Big Apple. If you have any burning questions, check out our helpful bus pricing guide and NYC bus rental tips. Or, give us a call anytime at 917-388-9602 to get a personalized quote for your trip!
Do you need to rent a charter bus?