NYC's Top Hidden Gems for Group Trips: The Manhattan Spots
One of the many beautiful things about New York City is that there are always new things to see, do, and experience—no matter how many times you've visited. If you're traveling with a large group, you may need to do some extra planning to build the best itinerary of NYC hidden gems.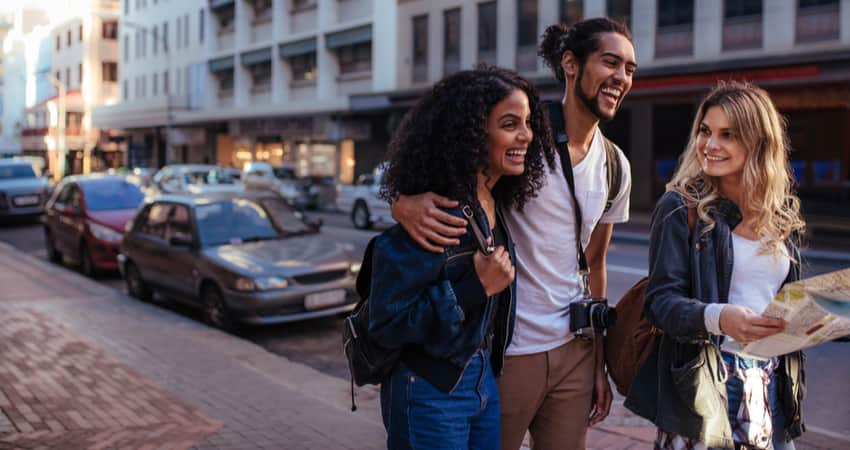 Group Transportation to NYC's Coolest Lesser-Known Spots
Once you have your itinerary built out, consider how you'll get your group from stop to stop. The NYC public transportation system is amazing but can be a bit of a pain for large groups to traverse, especially if you're doing a great deal of traveling outside of Manhattan. Train and bus options are still widely available in boroughs like Brooklyn and Queens but not as available as they are in Manhattan. To avoid the hassle of corralling over a dozen people on and off a train or public bus, rent a coach bus with New York Charter Bus Company.
Book a bus suited to your group's size and exact travel needs. No shuffling around the train to find a comfortable spot or doing a quick headcount to ensure everyone got off at the same stop. You'll have a dedicated bus and professional driver for your entire private trip to a few of NYC's coolest lesser-known destinations. When you give the New York Charter Bus Company offices a call, you can even request a bus with WiFi and power outlets to stay connected while stuck in traffic, TVs with DVD players to pass the time with entertainment, and reclining seats for some shut-eye after a long day out in the city. Call 917-388-9602 to get the rental process rolling with a personalized price quote for your bus.
Now let's take a look at a few locations to add to your itinerary: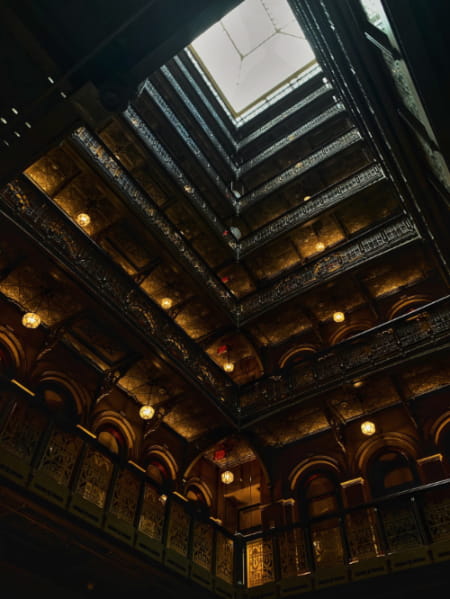 5 Beekman Street
Great for: groups of architecture lovers and special celebrations like birthdays and wedding events
Address: 5 Beekman St., New York, NY 10038
This historic building in Manhattan's Financial District may seem inconspicuous among the area's many landmarks, but if you take a closer look, you'll be pleasantly surprised. The nine-story Victorian-style building was constructed in 1882 and is one of the city's few historic structures with a full-height atrium and skylight. After serving as a theater and a space for small business offices, the building's doors were shuttered for decades due to safety hazards and economic downturn. Thankfully, the historic building saw newfound interest in the 2010s and has since been restored to its full glory as a luxury hotel and condos.
So if 5 Beekman Street is a hotel, how will your group be able to see it? You can always splurge to stay at The Beekman Hotel, but 5-star accommodations may be out of reach for some. Instead, grab a table at one of the hotel's restaurants or bars. Temple Court and Augustine have decadent cuisine to satiate any pallet and can accommodate private events like wedding receptions or swanky company dinners. If you want to sit and have a drink beneath the breathtaking skylight, try to grab a table at Temple Court's Bar Room.
Charter bus tip: Parking in Manhattan is already a hassle. Parking in Lower Manhattan—forget about it. Traveling by minibus is an efficient way for large groups to travel around NYC. Although Lower Manhattan has strict road restrictions for oversized vehicles, a minibus can still simplify the way your group travels to The Beekman. Check out the Ultimate Guide to Charter Buses in New York City to learn more!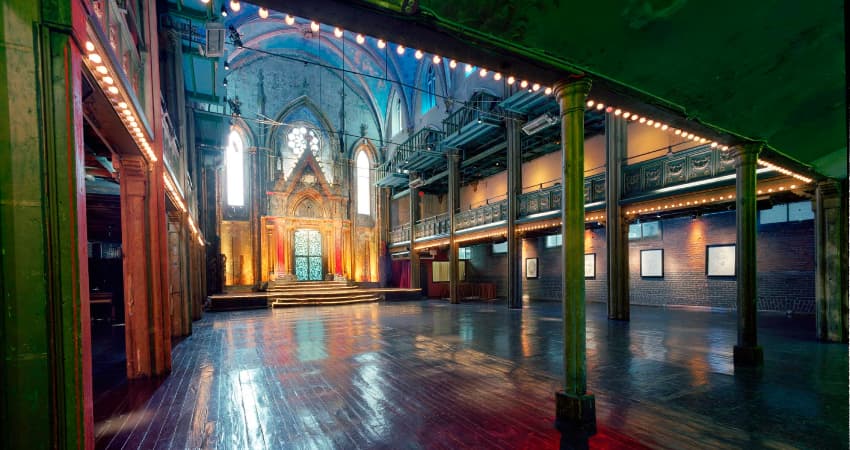 Angel Orensanz Foundation
Great for: groups of art enthusiasts and religious groups
Address: 172 Norfolk St, New York, NY 10002
Phone: (212) 253-0452
Is it a performance space? An art gallery? A synagogue? I'd say it's a little bit of everything. The Angel Orensanz Foundation has a rich history and will interest all types of groups. It was established as a synagogue in 1849 and has since gone through several congregations. Today, the vibrantly-painted Gothic Revival-style building stands as the oldest surviving synagogue in the city. It now serves as an art space (named for founder and sculptor, Angel Orensanz) and as the part-time home of Shul of New York, a Reform Judaism group.
The foundation hosts events in conjunction with museums like the MoMA, local clubs, and cultural societies. Groups of art lovers should check the foundation's website or social media for upcoming events. You can also schedule a visit by calling (212) 253-0452. If you're traveling with a religious organization, Shul of New York hosts services on a rotating basis between the Angel Orensanz Foundation and other spaces of worship. Private events like wedding services, concerts, and holiday events can also be booked with the foundation.
Group travel tip: The Angel Orensanz Foundation is close to other unique spaces like the Museum at Eldridge Street (another historic synagogue), the International Center of Photography Museum, and the Tenement Museum. Plan a day of museum hopping after stopping by the foundation.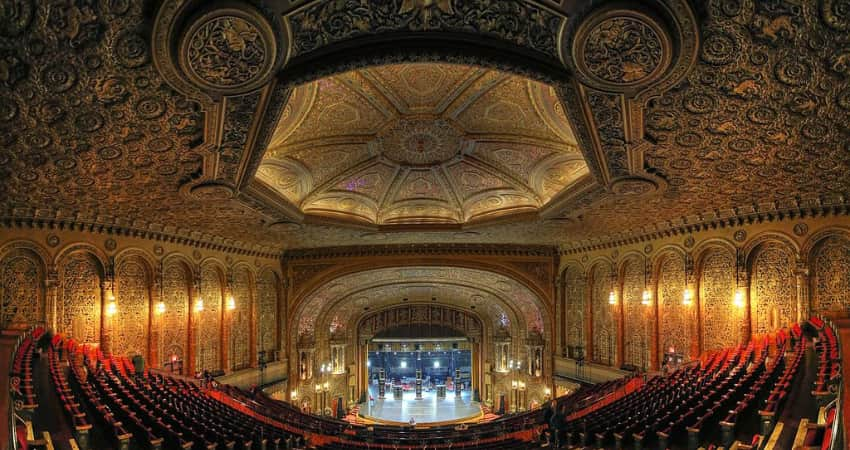 United Palace Theatre
Great for: youth group trips, religious groups, and architecture and art lovers
Address: 4140 Broadway, New York, NY 10033
Phone: (212) 568-6700
You probably get it at this point—Manhattan has a lot of breathtaking historic buildings. I promise we'll move on to the other boroughs shortly, but let's take a minute to appreciate the United Palace Theatre. During the movie palace heyday of 1930, the ornate theatre was one of the most lavish structures of its kind. The Jazz Age theatre hosted debuts for films, vaudeville performances and concerts and has also served as a religious center. Today, the theater primarily serves as a church and spiritual arts space but also hosts movies, plays, concerts, and private events.
Historical tours of the theatre are offered one or two times a month and tickets can be purchased through the palace's website. Tours do cap at around 30 guests, so it's highly recommended you sign up for their mailing list to know when tour registration opens.
Charter bus tip: Although the Washington Heights neighborhood has more street parking than many other areas in Manhattan, large events at United Palace mean parking can still get a little tight. Parking for personal vehicles can be purchased online for the specific event you're attending, or you can opt to rent a minibus for your group. A small shuttle will consolidate everyone into one place, limiting how many cars you'll have to park.
Start Trip Planning with a Manhattan Coach Bus
If you're sticking to traveling in Manhattan, New York City Charter Bus Company can easily plan your transportation. Are you planning a group trip to visit hidden gems in Brooklyn or Queens? Your transportation will still be covered! Call 917-388-9602  to rent your charter bus around Manhattan and beyond.
Do you need to rent a charter bus?