NYC for History Buffs: a 3-Day Group Bus Tour (Day 3)
Your 3-day New York City history tour may be winding down, but that doesn't mean you'll want to miss any of the sights and experiences Day 3 has in store for you and your tour group! Today we'll pass through the ever-trendy Greenwich Village, some major sites in Lower Manhattan, and wrap things up across the bridge in Brooklyn.
Just tuning in and want to know what you missed on Day 1 and Day 2? Check out our Uptown and Midtown guide and Ellis Island and the Lower East Side guide respectively to learn how to make the most of your reflective journey through Manhattan's past.

Day 3: Greenwich Village, Lower Manhattan, and Brooklyn
Morning
10 a.m. Stroll through Washington Square Park
Welcome to Washington Square Park: one of the longest-standing facets of New York City history.
Above: the unmistakable Washington Square Arch, a dog park, a dozen or so locals refining their bocce ball techniques, perhaps two old hippies blasting Grateful Dead from a park bench.
Below: over 20,000 graves, the footprint of a Civil War militia training ground, the remnants of half-freed Dutch slaves' farmland.
Needless to say, there's a lot going on here.
Don't let this square's layered history overwhelm you, though. Take some time to stroll this stretch of greenspace and consider this morning a walk in the park—literally. Whether your group wants to school each other on the public chess boards, inspect the grand arch erected for the centennial of George Washington's inauguration, or splash around in the fountain, we recommend embracing the laidback Village attitude and taking it all in.
Washington Square Park
Public park and site of many historical events. Formerly a potter's field (public cemetery) during the New York yellow fever outbreak, Washington Military Parade Ground from 1826-1850, and heart of the NYC bohemian movement of the 1960s. Now known for frequent avant-garde artists, live performances, and protests. Self-guided tours, walking tours, and ghost tours available from various vendors. Park hours: sunrise – 1 a.m. Washington Square N, New York, NY 10012. (212) 639-9675. https://www.nycgovparks.org/parks/washington-square-park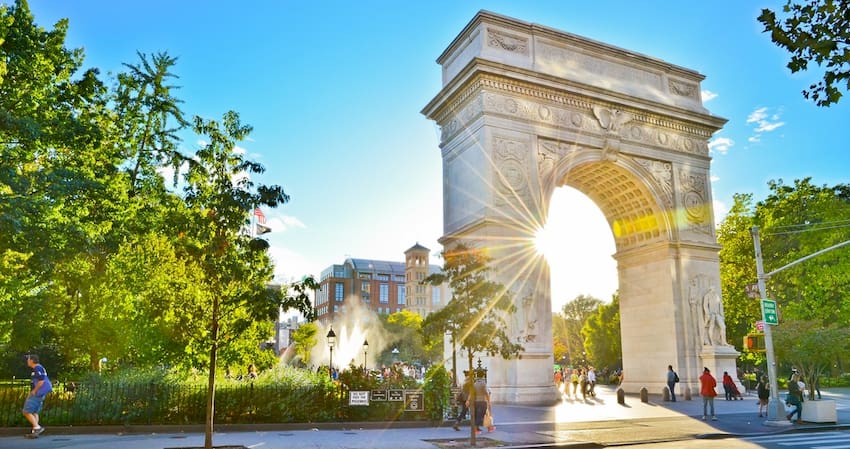 11 a.m. Visit the Landmark Stonewall Inn and Christopher Park
While you're in the Village, your group would be remiss to miss out on one of the cornerstones of the neighborhood's history: the Stonewall National Monument and the Stonewall Inn.
Believe it or not, before the Stonewall Inn became a brick-and-mortar icon of the United State's gay rights revolution, it was owned and operated by the Mafia in the 1960s. Even while mafios ran the place, the dive bar became a favorite gathering space for local members of the LGBT community, and was one of the only bars in the area that let same-sex couples dance together.
While the building has played many different roles since the riots of June and July 1969—a bagel sandwich shop, a Chinese restaurant, a shoe store—it was reopened as a gay bar in 1992 and upholds its proud heritage… sans the Mafia ties.
The bar won't be open until 2 p.m.—it is a bar, after all—but through the front window your group will be able to take in the old-school dark wood, framed police raid flyer that hung outside the door during the riots, and tasteful rainbow accent decor.
Be sure to swing by Christopher Park across the street and check out the stark white statues lounging on a park bench. This installation, George Segal's 1992 Gay Liberation, marks the first national monument specifically commemorated to honor LGBT history.
Stone Wall Inn
Vintage gay bar National Historic Landmark. Site of the 1969 Stonewall Riots and catalyst of the gay rights movement. Features regular drag performances, merchandise, and its own craft brews on tap. 2 p.m. – 4 a.m. 53 Christopher St, New York, NY 10014. (212) 488-2705. https://thestonewallinnnyc.com/

Afternoon
12 p.m. Lunch in Greenwich Village
If your group wants to dine in the Village, be prepared for a lot of Italian options filling your "restaurants near me" search results. Keep in mind that we're planning to chow down on hearty, can't-miss classic Italian later this evening; so if your group would rather skip the double carbo-load, feel free to check out any of these other lunch venues:
Mamoun's Falafel
Traditional Middle Eastern chain with fresh pita baked on-site. Falafel, kebabs, shawarma, and more. Halal and vegetarian-friendly. Cash only. $. 119 Macdougal St, New York, NY 10012. https://mamouns.com/
Cuba
Old Havana meets New York. Intimate, easy, and casual. Empanadas, ropa vieja, vaca frita, and arroz con pollo. Live music and hand-rolled cigars. $$. 222 Thompson St, New York, NY 10012. (212) 420-7878. http://www.cubanyc.com/
Villanelle
New American fare with organic farmers market ingredients. Modern, woodsy and cozy. Wheelchair accessible. Roasted chicken with cavatelli, crispy grilled octopus, and turkey burgers. $$$. 15 E 12th St, New York, NY 10003. (212) 989-2474. http://www.villanellenyc.com/

1:30 p.m. Reflect at the 9/11 Memorial and Museum
After a morning of trekking through the Village and a filling lunch, your group may require a little R&R before carrying on. Don't worry—there's no shame in catching a power nap in the 25 minutes it will likely take for your private charter bus to reach your next destination.
Comparatively a more recent addition to New York City history, the 9/11 Memorial and its adjacent museum grant visitors the chance to—literally—reflect on those lost in the 9/11 terror attacks, the history of the World Trade Center, and its revival as a NYC icon.
The 9/11 Memorial, twin 1-acre reflecting pools sitting on the original site of the Twin Towers, includes the names of the nearly 3,000 victims of the September 11, 2001, terrorist attacks on the World Trade Center and the Pentagon. The site itself is made of bronze panels and the country's largest man-made waterfalls, and the surrounding plaza includes a grove of nearly 400 North American swamp white oak trees.
Once your group has toured the plaza, head inside the museum to explore the history, rebuilding process, and behind-the-scenes design of the site. Through a series of exhibits—containing more than 500 hours of video, 23,000 images, and 10,000 artifacts— you'll be faced with the stories of those affected by the attacks.
If your group opts for a self-guided tour of the site, you'll want to set aside 2 or 3 hours to see everything. Discounted group rates for the museum are available when booked in advance. Before you call in, be sure to have all your information handy, like your group's headcount, your desired date and time of the visit, and your transportation plans, so the museum staff can offer your driver preferred metered parking rates.
9/11 Memorial and Museum
Memorial in remembrance of 9/11 and an adjoined museum about the site's history. Memorial is free to the public. Hours: 7:30 a.m. – 9 p.m. Museum admission: $20 – $46 for adults, with additional tour packages available. Hours: 9 a.m. – 8 p.m. 180 Greenwich St, New York, NY 10007. (212) 266-5200. https://www.911memorial.org/

4 p.m. Tour the Grounds of Green-Wood Cemetery
Afterwards, it's time to load up and roll out across the river to Brooklyn's very own Green-Wood Cemetery: one of the largest collections of 19th- and 20th-century mausoleums in the world.
Even if your group isn't normally drawn to macabre attractions, this stop is sure to tick every box on your history buffs' must-see list.
Revolutionary War history?
Check! Before it became the cemetery we know and love, the grounds of Green-Wood played host to the Battle of Brooklyn (a.k.a. the Battle of Long Island). Depending on the time of year, your group may be able to hop on a trolley tour dedicated to showcasing sites related to the Revolution, or stumble upon the commemorative parade and reenactment festivities in August!
Catacombs?
You better believe they have catacombs. Although the crypts are normally closed to the public, if you play your cards right, your group can catch a rare tour of the 30 vaults or even a concert among the deceased residents interred within. Originally dug out as a small gravel mine, the space was converted into rows of well-lit and easily accessible catacombs during the cholera outbreak of the Victorian era, when many feared being buried alive while in a coma.
An illegal colony of birds?
… Okay, to say this is a major historical draw would be a stretch. But when your tour group notices the grounds' large colony of Argentinian monk parakeets at the front gate, you're bound to have questions. While no one can say for sure how they came to roost nearly 4,000 miles from their home continent—some speculate they're descendants of released (contraband) pets, some blame the Mafia—these little birds aren't going anywhere anytime soon. Look up whenever you see Gothic Revival-style architecture and you can't miss them.
Groups of 25-60 can book their own private 2 hour tour of Green-Wood Cemetery if they call in advance. Smaller groups can either hop on a regularly scheduled trolley tour or stroll the cemetery at their leisure.
Green-Wood Cemetery
Battlefield for the Battle of Brooklyn turned sprawling 478-acre cemetery. Founded in 1838. One of the largest collections of 19th- and 20th-century mausoleums in the world. Gothic Revival architecture throughout, including the massive front gate and on-site chapel. 500 25th St, Brooklyn, NY 11232. (718) 768-7300.

Evening
7 p.m. Dinner at Bamonte's
As one of the city's oldest continuously operating haunts, Bamonte's is the perfect spot to host your end-of-tour celebration dinner! Despite Williamsburg's ever-shifting rapid development around it, this gem is a pocket of old-world charm, where everything is Italian comfort food and nothing hurts.
Of course, when you dish out some of the city's finest family-style Italian food for over a century, you won't go unnoticed—which means this place fills up fast. Plan to call ahead for a reservation, no matter how big or small your group is.
Bamonte's
Old-school red-sauce Italian cuisine. Founded in 1900. Tuxedoed waiters and bouffants abound. Extensive and authentic Central Italy wine list. Fan-favorites include the baked clams, the chicken francese, and the pork chops with peppers—sweet or hot. $$. 32 Withers St, Brooklyn, NY 11211. (718) 384-8831.

9 p.m. Walk across the Brooklyn Bridge
Sadly, all good things must come to an end, including your New York City history tour. What better way to bid the city farewell than atop the Brooklyn Bridge?
Depending on the time of year, your group should be able to catch the sunset as you cross over back to Manhattan. The Brooklyn Bridge is open to the public 24/7 and is well-lit at all hours, so feel free to take your time and take in the sights.
Although the bridge itself is a relic—built from 1869-1883 and cost $15 million, the life of its creator, and its chief architect's physical mobility—the glimmering Manhattan skyline visible from the bridge's pedestrian walkway may very well may steal the show. Be on the lookout for landmarks such as the Statue of Liberty off to the southeast, The New York Times' 1904 Manhattan office, and the beloved Chrysler Building.
As your group stands in awe—above the lanes of long-gone trolleys and cable cars, above the roadway below that once supported the weight of P.T Barnum's 21 elephants in 1884—don't feel the need to rush on over to the other side. Oversized vehicles are not permitted to cross the Brooklyn Bridge, so it might take your driver a minute to drive back to the meetup point on the Manhattan side. Besides, with so many breath-taking views and memories to reflect upon from your whirlwind weekend, why don't you take your time and savor the moment?
Brooklyn Bridge
Hybrid cable-stayed/suspension bridge design in neo-Gothic design that connects Manhattan and Brooklyn. Guided and self-guided walking tours available from multiple local tour companies. Manhattan pedestrian entrance: across the street from City Hall Park's northeast corner, along Centre Street. Brooklyn pedestrian entrance: intersection of Boerum Place and Tillary Street. https://www1.nyc.gov/html/dot/html/infrastructure/brooklyn-bridge.shtml

Safe and Reliable Private Trips in New York City
Don't let the woes of navigating public transit keep your group of history buffs down! When you reserve your ride through New York City Charter Bus Company, we'll handle all the travel logistics from beginning to end. From handling the parking situations while you explore each site to arriving at least 10 minutes early to each and every destination for optimum travel efficiency, your private driver has your NYC travel plans on lock. Call 917-388-9602 today, and our 24/7 will be more than happy to assemble the perfect fleet for your own, not-soon-to-be-forgotten New York City history tour!
Do you need to rent a charter bus?