NYC for History Buffs: a 3-Day Group Bus Tour (Day 1)
With over 350 years of history behind it, New York City definitely has more than a few stories to tell. In fact, there are so many monuments, memorials, points of interests, and stalwart symbols of the city's rich history, even life-long New Yorkers rarely get the chance to see and experience it all.
But you can't blame us for trying.
Come with New York Charter Bus Company, and we'll explore the rich and diverse history of New York City top to bottom—from West Harlem to Brooklyn, from colonial times to recent decades passed—with your closest friends, family, and even acquaintances.
In fact, the more, the merrier! With a personalized private bus at your disposal, your band of history buffs can hit all the city's highlights, secrets, and stories, all with the comfort of a plush, reclining seat waiting for you after each stop.
In this 3-part guide, we'll outline our favorite and most recommended stops for history enthusiasts with 3 days to explore the city.
Our first stop: Uptown and Midtown.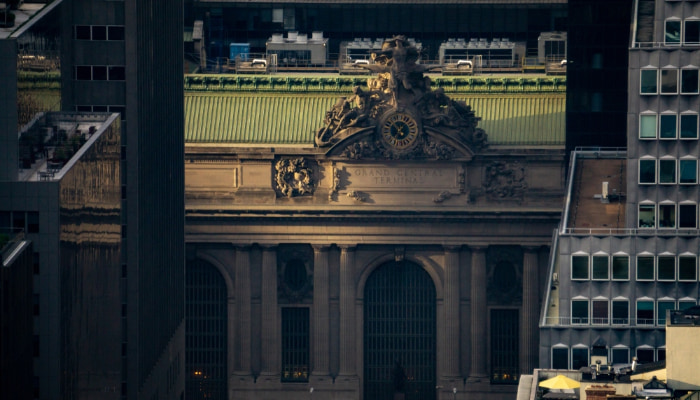 Getting Around
Before you and your group embark on your tour of the Big Apple, there's some housekeeping matters that are best handled well in advance.
While zipping through the NYC subway system may seem like a no-brainer for locals, frequent visitors, and lone travelers, those traveling with little experience of the city need to get creative.
Don't let your group of 10+ get bogged down or lost between transfers and stations. Instead, let a custom private transportation service seamlessly take everyone from destination to destination, all according to a schedule you create.
For ease of use and your group's comfort, you should reserve through New York Charter Bus Company. Not only do we have years of experience providing personalized NYC tour experiences for thousands of passengers, we also have a vast network of motorcoaches to make it all happen.
When you call 917-388-9602 to set up your reservation, your rep can help you decide what kind of vehicle best suits your group:
18- to 25-Passenger Minibus
Heading out with a small or medium group? This ride grants efficient, short-distance travels and a compact frame that makes NYC traffic seem like a breeze. Inside, your passengers can take advantage of the comfy reclining seats, overhead luggage racks, TV monitors, WiFi, and more. 
56-Passenger Charter Bus
For longer hauls (2+ hours) with larger groups, this full-sized motorcoach is probably your best bet. Enjoy any of this model's premium amenities while on the road, including power outlets, WiFi, spacious luggage bays and overhead bins, panoramic windows, TVs with DVD players, and more.
Before You Leave
One last thing: if you're coming into New York City from farther than 2 hours away, you really should plan to arrive the night before your itinerary begins.
Of course, if you're traveling with a pack of early-risers who don't mind a long day, then by all means schedule an early pick-up from a nearby city on Day 1. As long as you're ready to get going by no later than 10 a.m.—when your first tour is scheduled to begin—your group should stay on course, no problem.
Day 1: Uptown and Midtown
Morning
Good morning! Today, you'll be crossing a sizable stretch of Manhattan: from West Harlem down to West 77th, over to Murray Hill, and back up to Madison Avenue. Never fear, though. Your private driver is dedicated to keeping your group on schedule and will have a copy of your itinerary, so they'll make all of these pickups and dropoffs run like clockwork.
Pro tip: We highly recommend starting your adventure on a Friday, since many of the stops on Day 1 are only open to group tours on weekdays.
Let's get started!
10 a.m. Tour Alexander Hamilton's West Harlem Home
We're kicking off your New York City history tour by kicking it back to the city's founding. Not unlike the specific hip-hop musical brought Alexander Hamilton into the limelight, the Hamilton Grange National Monument seeks to educate and paint this founding father in a relatable and approachable way through guided tours of his fully restored 1802 home. Here, your group can receive a free, ranger-led tour throughout his two-story Federal-style house, from the elegant dining space and lime green study to the surrounding grounds and gardens.
Due to the delicate nature and limited capacity of the home's historically preserved upper floor, groups of 10 or more need to fill out a permit at least 2 weeks in advance. It may be wise to split up your group across multiple tour guides if you're unable to secure a singular private group tour.
Hamilton Grange National Monument
Former estate of Alexander Hamilton, the first United States Secretary of the Treasury. Facilitated and upkeep by U.S. National Parks Service. Free guided tours at 10 a.m., 11 a.m., and 2 p.m., and self-guided tours available from 12-1 p.m. and 3-4 p.m. 414 W 141st St, New York, NY 10031. (646) 548-2310. https://www.nps.gov/hagr/planyourvisit/hours.htm
12 p.m. Lunch
After your group has had its fill of Hamilton Grange, everyone is sure to be hungry. Luckily, you've got some time to kill before your next tour, so feel free to explore the culture and good eats of West Harlem at your leisure. This neighborhood is a bit hillier than most, so there's no shame in saving your feet the walk by hopping back in your private charter bus. Let your driver whisk your group to lunch at any of these trendy Harlem eateries:
Tsion Cafe
Cheery and light Ethiopian cafe. Comfort food and patio seating. Vegetarian-friendly. Menu highlights include Malawach pancakes, fried sambusa, and fresh-brewed coffee. $$. 763 St Nicholas Ave, New York, NY 10031. (212) 234-2070.  http://tsioncafe.com/
Fumo Pizza-Bar-Pasta
Bright yet sophisticated Italian food. Custom pizzas, happy hour specials, and weekend brunch menu. Popular lunch items include spicy calamari, parma pizza, and rigatoni salsiccia. $$. 1600 Amsterdam Ave, New York, NY 10031. (646) 692-6675. https://www.fumorestaurant.com.
The Grange
Locally-sourced, farm-to-table comfort food and shabby-chic, rustic hospitality. Lunch specials include a sirloin and brisket burger, pork belly sandwich, and braised lamb polenta agnolotti. $$. 1635 Amsterdam Ave, New York, NY 10031. (212) 491-1635. https://thegrangebarnyc.com/
Afternoon
2 p.m. Guided Tour Through the New-York Historical Society Museum
Whether you're looking for a crash-course on the city's history, a refresher lesson on a particular time period, or an in-depth geek-out session over niche subjects from Tiffany lampshades to 19th-century skull reading, this place has a guided group tour for it.
The New-York Historical Society prides itself in personalized, unscripted group tours. However, keep in mind that groups cannot exceed 10 people, so if you're traveling in larger numbers be sure to request multiple guides and coordinate groupings before you get there.
For the sake of this city-wide historical tour, we especially recommend the permanent installation Objects Tell Stories. This exhibit features highly-curated groupings of artifacts—from a collection of ship models to rubble recovered from the Twin Towers after 9/11— and showcases the relationships artifacts carry, even across centuries and decades. It's a highly reflective hall that gives visitors a broad overview of the city's history: a great way to start your history-minded romp through New York City.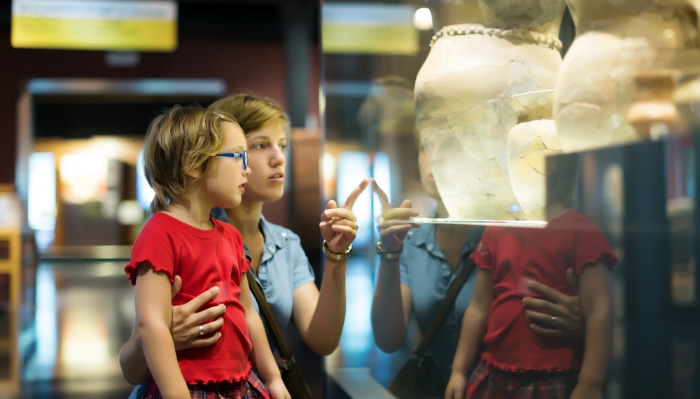 New-York Historical Society Museum and Library
The oldest museum in the city, founded in 1804. An on-site and online collection of art, artifacts, objects, and documents. Permanent exhibits and rotating seasonal installations. 60-minute guided group tours on exhibitions of your choice. Exclusive before- and after-hours tours, group space rentals, and catered meals available upon request. $17-25 per adult. 170 Central Park West, New York, NY 10024. (212) 873-3400. https://www.nyhistory.org/visit/group-tours/adult-groups      
4 p.m. Audio Tour of Grand Central Terminal
You'll probably recognize this iconic midtown train station as soon as you lay eyes on the Tiffany glass clock face on the 42nd Street exterior facade. And surely, given its countless cameos in NYC-based shows and films, you're already familiar with the gilded clock above the information desk, the celestial mural in the Main Concourse, and iconic architecture.
For an insider's perspective on one of the most pivotal additions to the New York City landscape—in terms of how locals and commuters navigate the city, anyway—offers an audio tour that explores the Terminal, top to bottom. While the tour grants insight into the architectural highlights, the real draw is the in-depth stories about little-known secrets, anecdotes, and archival material of the Terminal. The self-guided audio tour can last anywhere between 30 minutes and an hour long, depending on your group's most comfortable pace.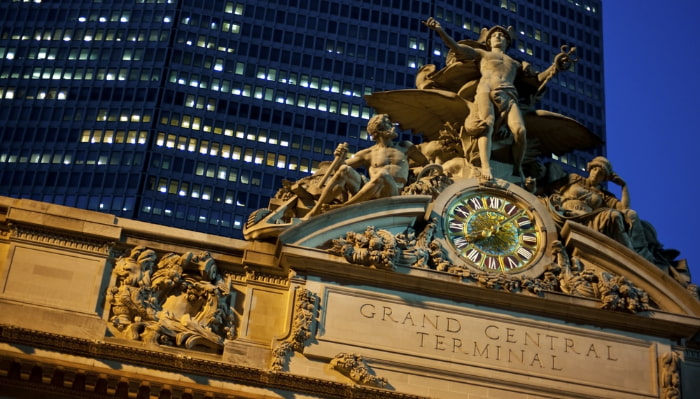 A commuter rail terminal dating back to 1903. Features 44 rail lines, a connection to the New York City subway, and Beaux-Arts style. Retail and technology shopping, convenience stores, restaurants, coffeeshops, and bars. Audio tours: $12 per adult. Docent-guided tours: $20-$30 per adult. 89 E 42nd Street, New York, NY 10017. Group guided tour inquiries: (212) 464-8255. https://www.grandcentralterminal.com/tours/
Evening
5 p.m. Dinner
Enjoy an early dinner as your first day in NYC winds down. Grand Central Terminal's restaurants not only cater to a wide variety of palates, but also offer dining discounts for most groups of 10 or more! We recommend unwinding at any of these group-friendly spots around Grand Central's dining concourse:
Wok Chi Kitchen
Feel-good Chinese take-out with stir-fry classics, clean ingredients, fresh dim sum, and desserts. Free spring rolls for groups of 10 or more who order stir fry, when ordered in advance. $. (732) 955-1881. https://www.wokchi.com/
La Chula
Authentic Mexico City-style fare. Saudero tacos (braised flank steak), fresh and healthy Aguachile (shrimp and octopus in a spicy cucumber citrus sauce), and churro sundaes. 15% off for groups of 10 or more, when reserved in advance. $$. (518) 496-5183. https://www.lachulanyc.com/
Grand Central Oyster Bar and Restaurant
The oldest restaurant in Grand Central. Features 25 types of fish, up to 30 varieties of oysters, and other seafood specialties. Clam chowder, fish and chips, and a happy hour menu. Reservations are recommended. $$$. (212) 490-6650. https://www.oysterbarny.com/
7 p.m. Quiet Contemplation at Saint Patrick's Cathedral
After dinner, you and your fellow history buffs should at least consider heading back to the hotel, especially with the busy day ahead of you tomorrow.
But if your group is feeling up to it, we recommend stopping by here before turning in for the night: historic St. Patrick's Cathedral. This cathedral has been a sanctuary and communion space since 1879, recognizable by its striking Neo-Gothic architecture and deep, rich ties to the New York Catholic community.
The cathedral houses many points of intrigue, including a purposefully hidden stain glass window behind organ, 19 bells—each named after a saint—and 300 nature-themed architectural bosses that adorn the cathedral's ceiling. Each of them has a unique design: some feature flowers, some showcase leaves and grapes, and one even bears a hidden owl carving.
Your group can search for it while you rest your feet among the newly restored pews, or pay your respects to the altar of Lady Guadalupe, Patroness of the Americas, as so many locals have for over the last century. Depending on the weather conditions and time of year, at this time your group might even catch the last of the dying sunset illuminating the multi-story stained glass windows—not original to the cathedral, but still dating back to the 1930s.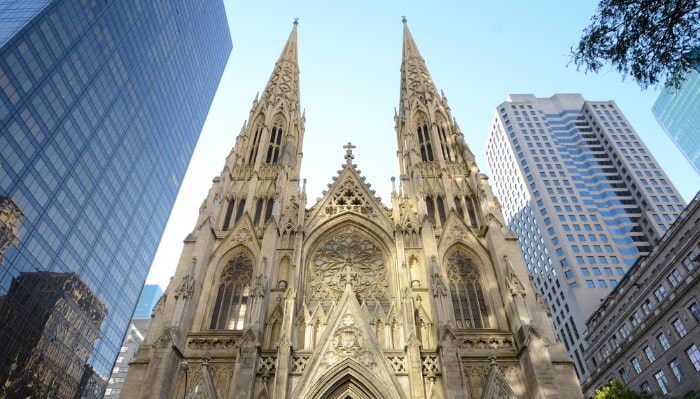 Saint Patrick's Cathedral
Towering Neo-Gothic Roman Catholic church. Twin spires and a storied history. Daily masses and an active congregation. Gift shop and group tours available. Tour cost: on a donation basis—$5 is generally accepted. 5th Ave, New York, NY 10022. (212) 753-2261. https://saintpatrickscathedral.org/tours
Simplify Your NYC History Tour with a Transportation Rental
What are you waiting for? Your personalized New York City history tour awaits!
Our team is always ready and available to answer your questions, weigh the pros and cons of different bus models, and assist you throughout the rental process. We'll work around the clock to ensure your NYC tour is stress-free and comfortable, even if you decide to make last-minute changes to your itinerary. Call 917-388-9602 to learn more, and we'll be happy to offer a no-obligation, free quote!
Do you need to rent a charter bus?