Group Travel Guide to New York's Airports
Flying is different for everyone. For some travelers, it's exhilarating and fun. For others, it's an absolute drag.
When traveling to New York, many would generally consider air travel to be… less than exhilarating. JFK, LaGuardia, and Newark are similar to Cerberus—taking on one head isn't necessarily easier than the other.
The airports servicing New York are some of the busiest in the country, making them quite a feat within themselves to handle. Getting to and from the airport after taking on dozens of terminals is a whole separate beast. This is especially the case when you're traveling with a large group for a trip such as an academic class trip or a business conference.
Never fret, New York Charter Bus Company has you covered on group travel to and around New York's airports.
This nifty guide will help you choose the best airport for your specific trip, the best group transportation options to and from the airport, and even in-airport restaurants to indulge in during layovers or delays.
So buckle up and get ready for take off, passengers. We promise this ride won't be too bumpy!
Group Travel to JFK Airport
JFK sits as the king of New York's airports. The international airport is located in southern Queens off of Jamaica Bay. JFK is consistently ranked in the top 10 busiest US airports every year, welcoming over 60 million passengers annually.
JFK boasts one of the largest selections of amenities and dining options of the 3 airports. It also has the largest number of destinations and flight options among the area's airports.
Should I fly into JFK?
Well, this answer depends on where your final destination will be. If you're a school group coming into town to tour the area's many colleges or you're a business group heading to Wall Street, JFK might be right for you. If you're lodging in Manhattan, Queens, or Brooklyn, JFK is the most easily accessible airport.
JFK and LaGuardia both offer relatively easy access to Manhattan and its laundry list of attractions and business centers. But JFK is the only airport directly connected to the New York subway system.
Taking the subway to and from JFK may be efficient for small groups that have all the time in the world. Groups traveling with over a dozen members and heavy suitcases may not have this luxury, though.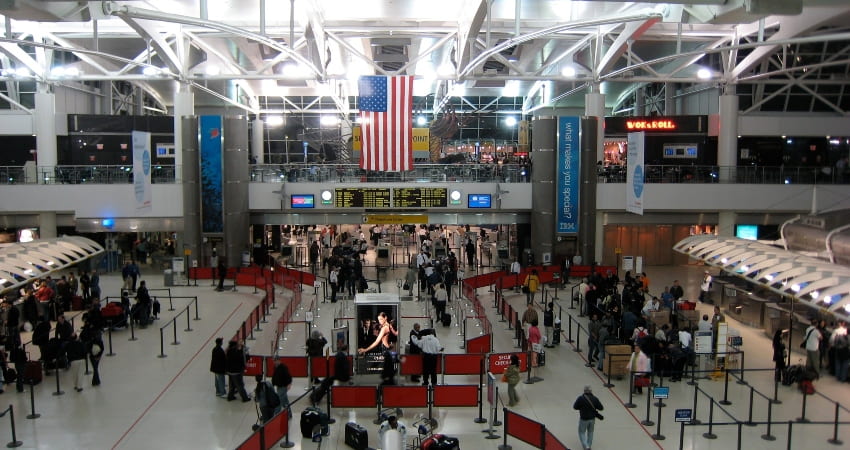 Group Transportation from JFK Airport
If you're a large group traveling into JFK, a personal minibus shuttle is one of the easiest and most efficient ways to get into the city. Taking a rideshare or taxi service can be a hassle if you have more than 5 or 6 passengers and taking the subway with a gaggle of people could be a disaster if someone gets lost. Chartering a bus from JFK Airport will ensure you have a designated ride for your entire group throughout your New York trip.
Small groups and individuals can take the AirTrain from JFK for $5 per passenger. This connects to the subway system at the A train via Howard Beach Station and the E train via Jamaica Station. The subway transfer will cost an additional $2.75.
Depending on your destination and New York's traffic, getting to Lower Manhattan will take about 1 to 1.5 hours on the subway. With typical traffic, driving offers a comparable travel timeframe.
What can groups do at JFK?
Compared to airports like Newark, JFK has a pretty good track record for flight cancellations and delays. This isn't saying much since Newark has one of the worst histories in terms of flight efficiency, but we digress.
That being said, if you're unfortunate enough to have a long delay at JFK, at least you'll have plenty of dining spots, depending on the terminal that is. The food may not be the creme de la creme, but you'll have options.
If your group is stuck in JFK for much longer than intended, grab some barbecue at Blue Smoke on the Road or burgers and cheese fries at Shake Shack in Terminal 4, both post-security.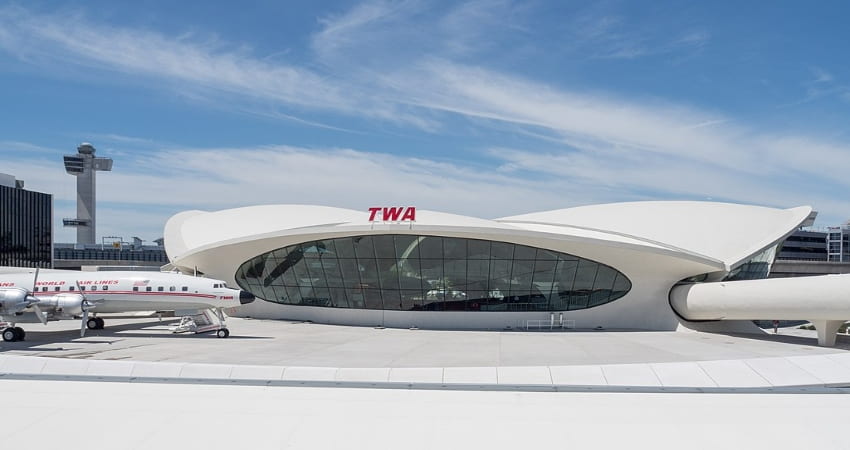 Is your group looking for a classier eatery to burn some time? Head over to Vino Volo Wine Room in Terminal 8 for a large selection of wine and light bites.
On the hunt for some airport sushi? Probably not. But if you happen to have a craving hit while in JFK, head over to Deep Blue Sushi in Terminal 5. Don't worry, they have more than just sushi, and they have plenty of space to accommodate medium-sized groups.
TWA Hotel is located across from Terminal 5 and is another great option for groups looking to kill some time at JFK. The airport hotel is a one-of-a-kind location, boasting retro architecture and prime views of the planes taking off through the comfort of soundproof glass. Make a reservation at one of the hotel's several dining spaces, including The Sunken Lounge, The Pool Bar, and "Connie", a restored 1958 Lockheed Constellation plane now-turned cocktail lounge.
Group Travel to LaGuardia Airport (LGA)
LaGuardia Airport is similar to the likable but sometimes forgettable younger sibling of the coolest kid at school.
Often overshadowed by JFK, LaGuardia is New York's domestic airport, serving most major cities in the US and part of Canada. LaGuardia is located off the Flushing Bay in East Elmhurst, a northern neighborhood of Queens.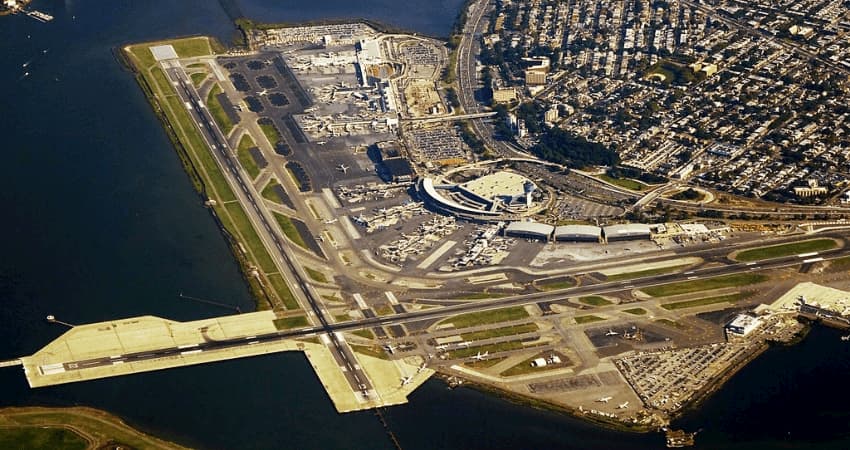 Should I fly into LaGuardia?
If you're flying domestically, LGA might just be right for you. Depending on the time of year and destination, you can sometimes snag a flight to LGA cheaper than JFK. It may not be cheaper than Newark, but LGA is significantly more convenient, at least for those heading into any borough other than Staten Island.
On a map, LGA is closer to Manhattan than JFK but unfortunately isn't connected to the subway system. For this reason, its proximity to New York's main attractions but lack of a subway system makes it feel just as far as JFK to some travelers. If you aren't planning to take public transit, choose LaGuardia as your go-to airport.
Group Transportation from LaGuardia
Like most busy airports, LaGuardia is going through never-ending construction and growing pains to improve the traveler experience. Even though the construction nightmare makes LaGuardia traffic rough, hailing a taxi or rideshare at LaGuardia is the quickest travel option at 30-40 minutes for single passengers or small groups traveling into Manhattan. During peak travel season, large groups looking to hail multiple vehicles won't have it as easy.
Popular travel times like summer and holidays may make it harder for large groups to hail multiple large taxis or rideshares. Renting a Manhattan charter bus will simplify the entire trip for your large travel group. You'll have large luggage bays for all your storage needs and best of all, a professional driver to take care of driving through the construction zones.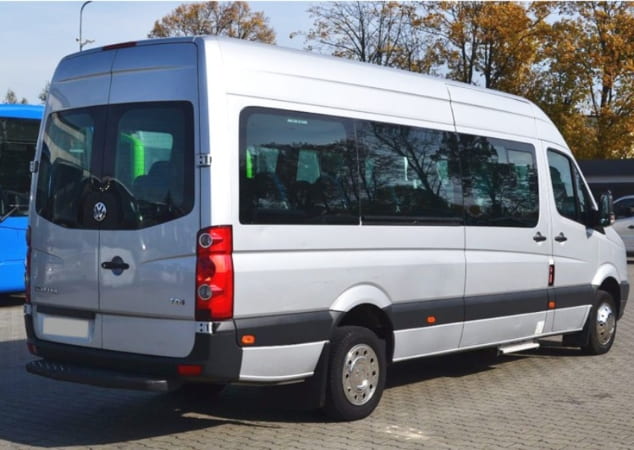 Having a private charter bus customized for your group trip from LaGuardia will make your airport transfer much smoother than waiting around for taxi vans or UberXLs.
Taking public transportation from LaGuardia is still an option sans subway. It'll take around 1 to 1.5 hours and you'll have to hop on a city bus, which can be a toss up on occupancy for travel groups. If you're dead set on taking public transport from LaGuardia into Manhattan, take the Q70 SBS to the Jackson Heights – Roosevelt Avenue subway station. Depending on your final Manhattan destination, you can hop on the E, F, M, and R trains from here. A ticket for the Q70 SBS is $2.75 and the subway transfer will be free.
What can groups do at LaGuardia?
LaGuardia doesn't boast as many dining and leisure options as JFK, but beggars can't be choosers when the airfare is reasonable, right?
If your group so happens to be stuck in LaGuardia during a long layover or flight delay, terminals B and C have the largest number of eateries. Keep in mind, large groups may find most dining spaces in LaGuardia to be a little cramped unless you head over to the Terminal B center food court or Terminal D food court.
Kingside and La Chula in Terminal B are tight on space but are among some of the best new dining options in the airport's largest terminal. Prime Tavern in Terminal D can get pricey, like most airport dining, but they have plentiful seating and some of the better food in LaGuardia.
Group Travel to Newark Liberty International Airport (EWR)
Well, here we are: Newark.
Travelers are often divided on Newark's place in the New York travel-sphere. A few people swear by flying into Newark due to the relatively cheap airfare. Others believe that dreams and planes go to die at EWR.
With only 68% of flights leaving on time and 3% of flights being canceled, flying into Newark can be nerve-racking. Especially if you're headed over to Brooklyn, the Bronx, or really anywhere relevant.
Should I fly into Newark?
Are you going to Jersey City or Staten Island? Then, sure.
Are you going anywhere other than Jersey or Staten Island? Then, maybe not.
Newark airfare is generally cheaper than both JFK and LaGuardia but often comes with additional road tolls and travel time. If the price is right and you have all the time in the world, traveling into Newark may be worth it for large groups in need of economical airfare options. Just expect to spend at least an additional $15-25 in tolls one way if traveling to Manhattan.
Group Transportation from Newark
Realistically, Newark really isn't all that far from New York City. But Jersey to New York traffic isn't always reasonable. Without any major traffic, it's possible for travelers to hail a taxi or rideshare and arrive in Manhattan within 35 to 45 minutes. Emphasis on "possible", not always probable. Add three to four vehicles to your large group's caravan and a traffic disaster could be inevitable.
Call New York Charter Bus Company to rent a personalized minibus to get you into the city. Your professional driver will handle the dreaded traffic over the Holland Tunnel so you won't have to. Believe us, you don't want to.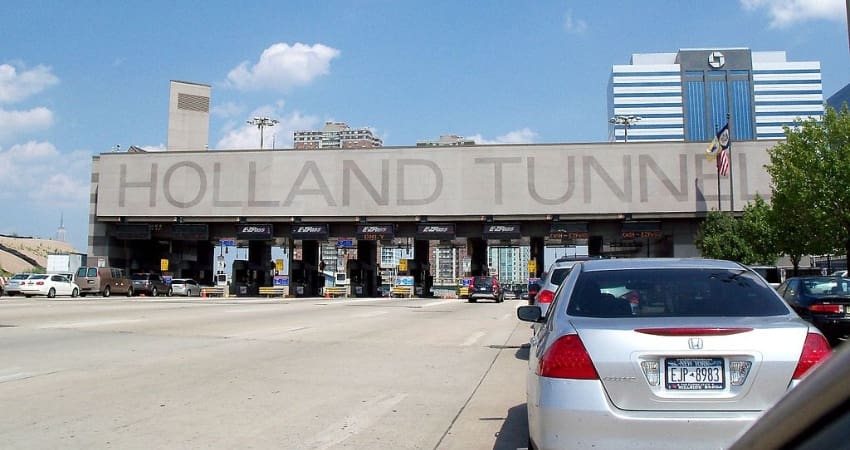 Taking public transportation from Newark isn't for the faint of heart. Expect at least a minimum of two to three transfers before making it to your destination in Manhattan. Take the Newark Airtrain to the Newark Liberty International Airport Train Station. From there, hop on either the North Jersey Coast Line or Northeast Corridor trains. This'll spit you out at Pennsylvania Station in Midtown Manhattan where you can take orange, red, and blue line trains. The AirTrain and NJ Transit train ride will be $13 while hopping on the NY subway will cost an additional $2.75.
What can groups do at EWR?
Let's face it, if you're flying into EWR, food and entertainment probably aren't your main priorities. The airport has three terminals and a more limited range of things to do while waiting on your plane.
Grab a lobster roll at Phillips Seafood in Terminal A, a few brews at Belgian Beer Cafe in Terminal B or All-American diner fare at Garden State Diner in Terminal C. Like many airport restaurants, these eateries don't have the most shining cuisine but they're among the better dining spots in EWR. If your travel group is feeling a bit cramped at EWR"s dining locations, grab your food to go and hang out at your gate.
Make Your Airport Transfer Easy
Whether you're flying into JFK with a first class group of business travelers or you're a big spring break group headed into EWR, airport transfers will be smooth sailing with New York Charter Bus Company.
Forget about towing luggage onto NY and NJ public transit. Don't stress about the city buses or trains having enough space for your group. Leave the hassle of taxi and rideshare hailing out of the travel equation. Call us 24/7 at 917-388-9602 to find a compact minibus perfect for the narrow, traffic-filled roads in New York City.
Do you need to rent a charter bus?