The Best Group Activities to Celebrate Fall in NYC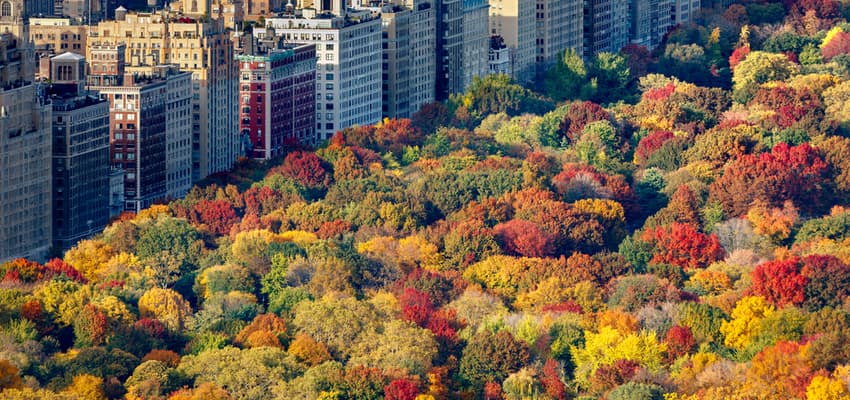 Fall is one of the best times to explore NYC, offering a much-needed break from the sweltering heat and crowds of tourists on summer vacation.
This time of year gives locals a few sweet weeks of crisp, autumnal air and comfortable temperatures before a harsh winter comes knocking on the door. It also gives out-of-town visitors an opportunity to explore the city without hordes of fellow visitors crowding the sidewalks.
If you're excited for fall and want to celebrate the season in NYC, organize a big family trip, a team-bonding event or an outing with friends! New York Charter Bus Company will take care of the group transportation so you can focus on the fall festivities on your plate.
Need a little help finding the best way to spend fall? We've got you covered!
Endless Holiday Events
Some may crown winter as the best season for holiday activities. Christmas and New Year's are great and all, but what about Halloween? Thanksgiving? We'll take fall holidays over winter any day.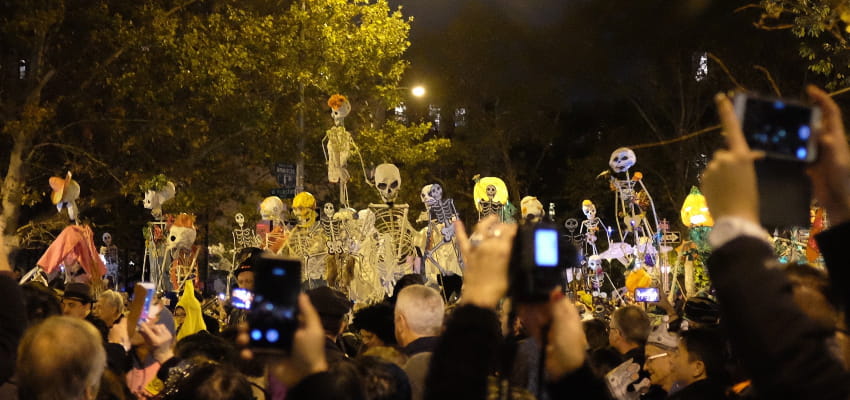 Hop in a Holiday Parade
The Greenwich Village Halloween Parade is the largest celebration of its kind, welcoming more than 50,000 participants and even more spectators. The 1.4-mile parade route starts at Sixth Ave and Canal St, featuring hundreds of spooktacular puppets and floats.
If Halloween festivities aren't quite your cup of tea, the Macy's Thanksgiving Day Parade is a more than sufficient alternative for fall parade-goers. The historic parade is the largest and second-oldest Thanksgiving celebration in the country.
Celebrate Oktoberfest
Sure, Oktoberfest is more of a festival in the United States and less of a full-fledged holiday but the German tradition has sparked numerous celebrations across NYC. There are various Oktoberfest celebrations in NYC throughout late September and early October, with the Steuben Parade of NYC's Central Park event being among the most popular. Chow down on roast meats and pretzels, indulge in tasty brews, and dance the day away to traditional German folk music.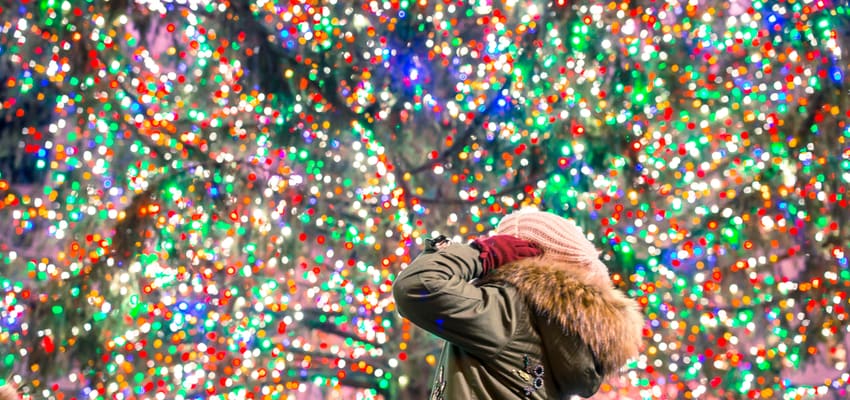 Take Part in Holiday Traditions
The Rockefeller Center Christmas Tree Lighting Ceremony is one of the biggest seasonal events in NYC. Is it a Christmas event? Yep. But is it technically during fall? Yep. Yes, the tree lighting is part of a winter tradition, but the event usually takes place a couple days after Thanksgiving. Stand together with thousands of other visitors and marvel at the lighting of the center's more than 65-foot spruce.
Explore the Outdoors
With auburn and golden oceans floating in the concrete jungle, fall foliage in New York is a sight to behold. Spend a day appreciating the great outdoors before The Big Apple freezes over for the winter.
Visit the Botanical Gardens
The NY Botanical Garden in the Bronx is the most popular garden in the city, but each borough has its own pristinely-manicured gardens. If you're near Prospect Park in Brooklyn, head to the Brooklyn Botanic Gardens or the Queens Botanical Gardens in Flushing. Each garden has its own appeal during the fall. If you stop by the Brooklyn gardens be sure to visit the Japanese Garden to see the crimson maples. Visiting the Bronx garden instead? Go during a Fall Forest Weekend to get the ultimate autumnal experience.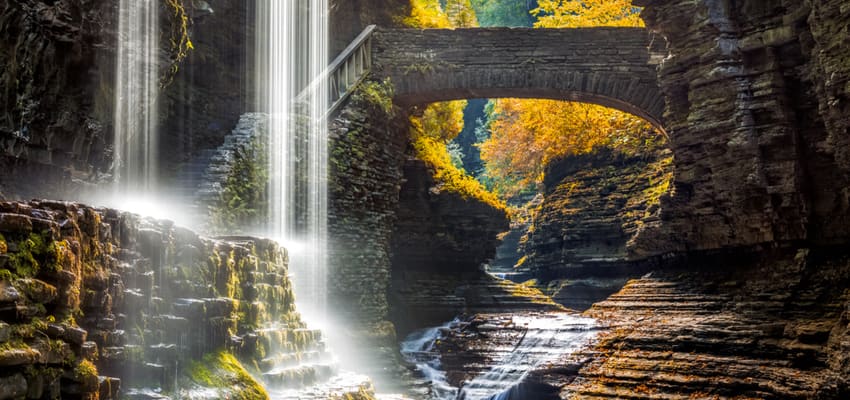 Consider a Weekend Trip
The city itself has plenty to do during fall, but sometimes you need a breath of fresh air far away from the millions of people. Visitors and locals alike may often forget the state of New York has some of the most beautiful state and national parks in the region. If you're tired of Central Park or Flushing Meadows, take a weekend trip to locations like Watkins Glen State Park or Letchworth State Park. In fall, there's plenty of hiking trails with waterfall views and bright, beautiful foliage to appreciate.
Attend a Harvest Festival
Summer festivals are huge in NYC but fall sees its fair share of festivals in The Big Apple too. There are plenty of fall and winter cultural festivals but what about events to celebrate the season? That's where events like the Queens County Fair, Halloween Harvest at Luna Park, and The Great Jack O'Lantern Blaze step in. Get ready for pumpkins, hayrides, scarecrows, and all things fall with one of these family-friendly outdoor events.
Say Goodbye to Baseball
Sorry, Yankees fans. Fall marks the end of professional baseball season. But if you're in town outside of the season, you can still tour Yankee Stadium. It may not be as exciting as a pre-game tour, but you'll still learn about the team's long history.
If actually attending a New York sporting event is on your fall to-do list, you can still get your sports fix with football, basketball, and ice hockey. Groups of 10 or more can receive discount pricing on tickets to Brooklyn Nets games at Barclay Center, while Knicks fans in a group of 12 or more can unlock special pricing and experiences to games at Madison Square Garden.
Football fans in a group of 10 or more can book group experiences at MetLife Stadium to cheer on the Jets. Unfortunately, getting group tickets to Giants games is more difficult but you can still attend a game without a group discount. Tickets may get steep but it's well worth it to see the NFL's most-decorated team in action.
Dive into NYC Museums
Visiting NYC's many museums is a wonderful group activity any time of year but fall brings a lovely (and free) event, Museum Day! Every September, select Smithsonian-affiliated institutions host a day of free admission.
Participating museums allow free access to two visitors per Museum Day ticket. All you have to do is sign up via the Smithsonian's website to receive a Museum Ticket in your email. Once Museum Day rolls around in fall, you'll have access to over a dozen museums in NYC, all for free. Learn about maritime history at the Intrepid Sea, Air & Space Museum, marvel at Gothic Revival architecture and art in The Cathedral of St. John the Divine, or learn about Jewish heritage and history at The Jewish Museum.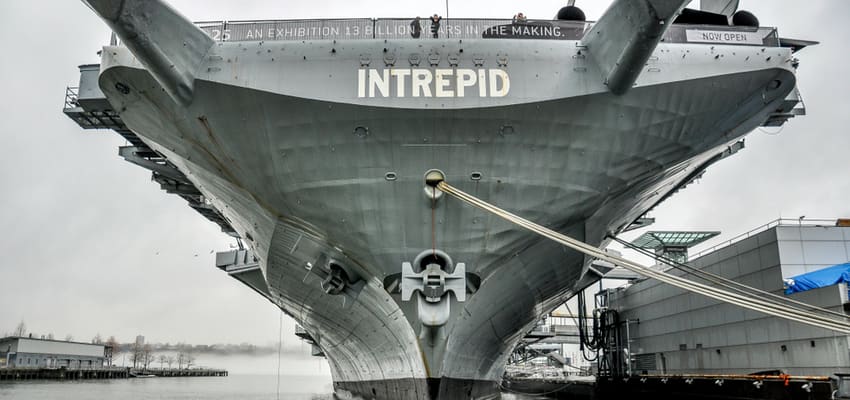 Additional Free Museum Options
Beyond Museum Day in late-September, there are several museums in the city that are free every day. Temperatures in NYC start to drop significantly in late fall, which makes museum-hopping an educational yet entertaining way to spend a day indoors. Institutions like the American Folk Art Museum and The Bronx Museum of the Arts are free every day. Other institutions like The Noguchi Museum and The Brooklyn Children's Museum are free during specified days of the week.
Reserve Your NYC Charter Bus Today
Exploring the Big Apple in fall is better spent with a group! Whether you're traveling with your family and friends, colleagues, or a community organization, New York Charter Bus Company has all of your transportation needs covered for this fall. We're here 24/7 at 917-388-9602 to help you find a motorcoach to fall in The Big Apple.
Do you need to rent a charter bus?