10 Fun Things to Do For Group Events and Team Building in New York City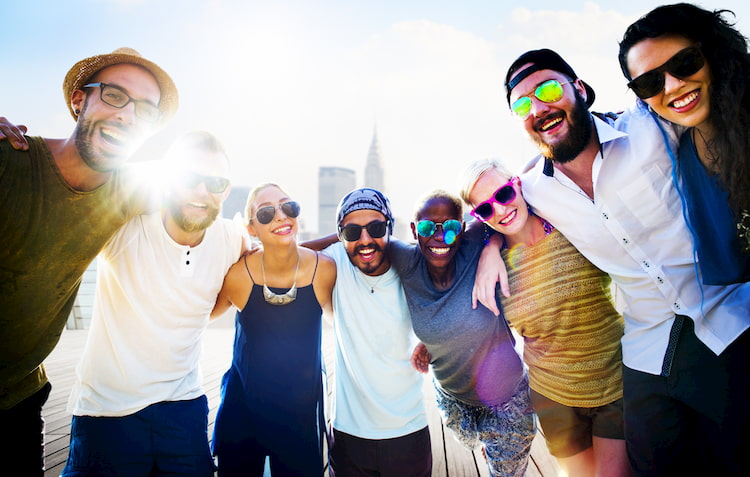 If you've found your way here, we have a hunch it's because you were a.) voluntold to find a "cool" location for your team's annual group event, or b.) given the task to pick a team building activity that doesn't suck. That's a lot of pressure. You've just been saddled with deciding the fun-fate of anywhere from 5 to 500 people, right? But these "mandatory fun" events don't have to be awkward trust falls or renting the party room at a local bowling alley—especially when you have all of New York City to explore.
Remember, when you have to hit the streets of NYC for an obligatory group event or team building activity, you're all in this together. New York City Charter Bus Company can hook you up with the perfect bus transportation to fit your whole work family. Check out our round-up of fun places to go for your group event in New York City and let us help you plan the team-building event your team never knew they wanted.
1. See a show on Broadway
It's quintessential. It's classic. You can't go wrong seeing a live show or musical on Broadway. Plus, there's always a discount when you buy group tickets. The most popular performances, like Frozen and The Lion King, ask for a minimum of 20 tickets, but you can get away with 10 to  15 tickets for shows like Chicago or Wicked and still lock in that sweet group rate. Whatever your group size, consider renting a bus and let a professional driver navigate Times Square instead.
2. Party at Threes Brewing brewery
There's no better time to bond with the same people you see and work with every day than when they're halfway to tipsy on a weekday. Host a private group event at Threes Brewing in Gowanus or Greenpoint and enjoy a fully coordinated experience around some wicked tasty brews. Bringing the whole company out? Event space in Gowanus can accommodate up to 150 thirsty folks (80 seated) and feed them all with sliders and charcuterie from The Meat Hook at Threes, on site.
3. Build a robot in Brooklyn
Nothing puts team cohesion to the test like making sense of robot circuitry together. Shuttle everyone to Brooklyn Robot Foundry for a couple of hours of puzzle solving and engineering little robo-friends to bring back to the office. They can accommodate anywhere from 5 to 30 folks, and you will build as many robots as team members. Wanna save a few bucks? You can bring your own food and drinks! Keep it fresh on the journey in the storage bins of your charter or minibus rental.
4. Explore a museum with Museum Hack
Ready to rile up your office nerds and history buffs? Get the fine folks at Museum Hack to walk you through The Met or the ANHM in a quirky, customized team-building tour. Your guide creates a route and talking points geared toward your company's industry. Work in health care? Get ready to learn about ancient health practices through preserved art, history and science exhibits. If your team is feeling feisty and feminine, you can rally the girls for a Women in Leadership tour of all the fiercest females at The Met.
5. Throw axes in Brooklyn
There is nothing cooler to do with your team than throw woodchoppers at wall targets. Reserve a range or two (8-12 peeps per space) at Kick Axe Brooklyn, throw on some flannel and closed-toe shoes, and get ready to release some pent up aggression! Just hit all of your sales goals for the quarter? Celebrate with a few pizzas, beers and tossable sharp objects. Parking here is extremely limited, so save yourself the trouble and consider renting a minibus instead.
6. Rent the Rare Book Room at Strand bookstore
Readers and writers and anyone with an eye for antiquity will love an event at NYC's landmark Strand Bookstore. Located on the corner of 12th and Broadway, the Rare Book Room (old book smell naturally included) holds hundreds of literary gems like first editions of American classics Gone With the Wind and Catch-22. A high-level meeting or power lunch among some of the nation's most influential literature is bound to be a productive one.
7. Make lunch at Pizza School NYC
Head to the Lower East Side at lunchtime to trick your teammates into bonding while they learn to toss dough like a pro. Pizza School NYC offers workshops and experiences for up to 24 guests at their kitchen. Your team will enjoy a boozy reception and sample tasty inspiration before trying their hand at working together to create their very own pies.
8. Beat your boss at ping pong at SPIN
Ping pong is the new bowling. Rent the private room at SPIN (fitted with a bar and DJ booth) and go head-to-head in a little friendly competition with your peers. Want even less work to do? Have them cater. SPIN's food and beverage packages are packed with fan favorites for every diet from grass-fed beef sliders and tuna poké to falafel and vegan sausage and peppers.
9. Taste and pair wine at Brooklyn Winery
Did you know you could blend wine drinking and team building into one helluva good time? At Brooklyn Winery, you and your team will have a lot of fun playing "wine games" like Trivial Wine Pursuit and True Wine Detective—a blind wine tasting paired with a clue-finding mission to identify which wine is which. You'll want a reliable designated driver for this event, so consider our professional bus drivers for the job.
10. Puzzle solve at Escape Room Madness
Get ready to learn a whole lot about how your team functions under pressure. Nothing brings out the strengths and weaknesses of a group like being locked in a room with a time limit for getting out. Escape Room Madness is the largest escape room facility in NYC and has six rooms for up to 60 escapees to try their hand at solving some intense situations.
Reserve Your Private NYC Charter Bus
You've decided where to go? Great! Now let us help you get there. Renting a charter bus to cart your crew around New York City is an easy way to keep everyone together and on time. We'll quickly and seamlessly get you through the busiest parts of the city, whether your event is on Broadway or in the heart of Brooklyn. NYC Charter Bus Company has access to a fleet of different buses and shuttles with a variety of amenities like air-conditioning, free WiFi and power outlets. Whatever your work family needs to be comfortable for the journey, chances are we've got it. Call us today at 917-388-9602 to speak with a reservation specialist and get an immediate, free quote for your team building trip.
Do you need to rent a charter bus?