Plan a Fun Group Day Trip from NYC
As the most densely populated place in the U.S., New York City can easily start to feel crowded. Between the millions of locals and annual tourists, a day trip outside of the city can be a much-needed break for those a little burned out from the everyday hustle and bustle. If you want to take a day trip from NYC, why not make it a group occasion? Plan a friends trip, a day out with your big family, an off-site day with your company, or even a trip with your youth group, scout troop, or community organization.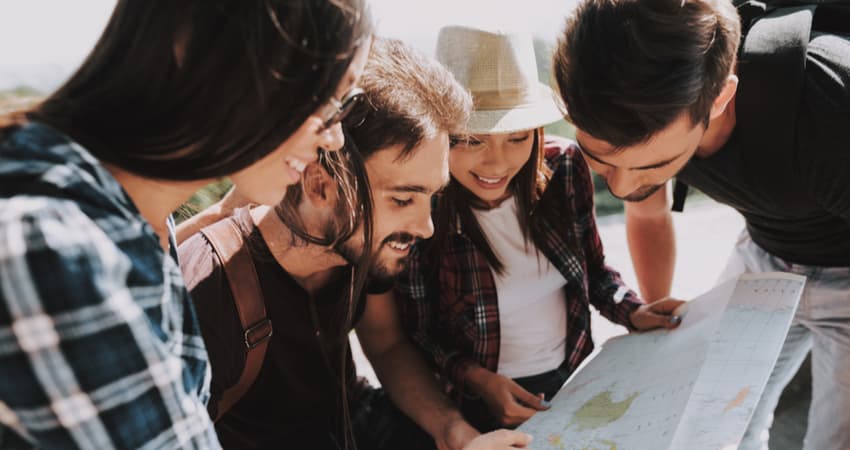 Let's Start with Group Transportation
Need a few ideas on where to go with your group and how to get there? That's where NYC Charter Bus Company comes in. Buses and trains are great ways to get around for individuals or small groups but can be difficult for a large number of travelers. And chances are that if you're traveling from NYC, you may not have spacious enough personal vehicles to accommodate everyone.
Traveling with a group should be a fun and memorable event, not riddled with the hassles of transporting a dozen or two people out of the city. Rent a motorcoach from NYC to easily transport everyone to your day trip destination of choice. Pick a minibus equipped with WiFi to stay up to date on social media, TVs and DVD players to pass the time, and reclining seats to stay comfortable.
Need a larger vehicle? No problem! We'll find you a full-sized charter bus with onboard restrooms and more than enough space for your group. Once all of your travel information is locked down, call NYC Charter Bus Company at (917) 388-9602 to explore all of your rental options and to get a free quote.
Now let's get into the good stuff.
Where should I go for a group day trip from NYC?
Well, that depends. You can find just about anything you'd ever want in New York City, no matter your interests. So think about day trip locations that'll give you and your group an experience you may not be able to get in the Big Apple.
When you plan your trip with NYC Charter Bus Company, you'll have the freedom to explore on your own time, free of strict pre-determined tour schedules. Put as many stops on your itinerary as you'd like: your driver will take care of the driving and navigation.
Day Trip for History and Art Lovers: NYC → Philadelphia
Travel time from Manhattan: 2 hours 
If you've already visited many of New York's museums and don't want to make the 4.5 hour drive to cities like Boston, Philly is a relatively short drive and filled with numerous historic and cultural attractions. Sure, there are several smaller cities near NYC with plenty of history worth exploring, but none are quite as big as Philadelphia. Not to mention, visiting Philly will also give your group a good excuse to grub out on authentic cheesesteaks and soft pretzels. But let's not get sidetracked by delicious Philly eats.
Check out a few of these art and history spots during your group visit to the City of Brotherly Love: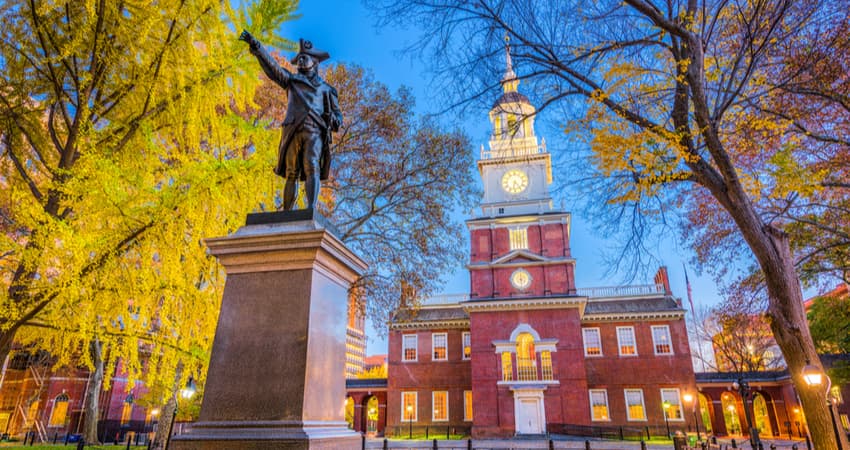 Independence National Historical Park
Address: 599 Market St, Philadelphia, PA 19106
Phone: (215) 965-2305
This national park commemorates some of the most important parts of United States history. The famous 55-acre park houses Independence Hall (where the Declaration of Independence and the U.S. Constitution were signed), the Liberty Bell, the National Constitution Center, Benjamin Franklin's grave site, and several other politically historic locations like Congress Hall. Seeing every site in Independence National Historical Park can easily take up 2 or 3 days, so we'd recommend prioritizing a few.
Day-of admission to most park sites is free. From March through December, you can reserve up to 70 tickets to Independence Hall for a small fee of $1 per person. Your charter bus can drop your group off at the Independence Transportation Center before parking at the nearby Callowhill Bus Center for $20.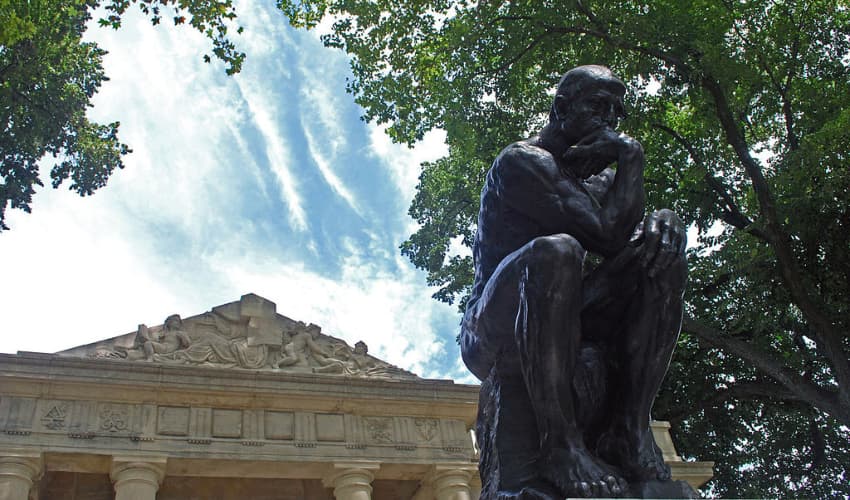 Image courtesy of Wikimedia Commons.
Philadelphia Museum of Art and Rodin Museum
Address: 2151-2600 Benjamin Franklin Parkway, Philadelphia, PA 19130
Phone: (215) 763-8100
Right along with NYC's art museums, the Philadelphia Museum of Art is considered one of the best in the country.  The museum is home to a wide collection of works from Asia, the Americas, and Europe. You'll find everything from masterpieces by van Gogh to replicas of Japanese tea houses and period rooms that take guests through history with authentic furnishings and architecture, though one of the most popular parts of the museum isn't actually a work of art. The museum's main steps are famous for being featured in the 1976 film, Rocky. Be sure to stop for a photo op along the "Rocky Steps" and relive Sylvester Stallone's iconic training scene.
The Philadelphia Museum of Art is magnificent, but the real unique gem is right next door: The Rodin Museum! The Rodin Museum's collection of around 150 sculptures is small but mighty. Philadelphia was actually the first city in the U.S. to exhibit works by famed French artist Auguste Rodin in 1876. He wasn't so famous at the time, but local philanthropist Jules E. Mastbaum saw great value in his work, amassing the largest private collection of Rodin's sculptures outside of France. Today, the museum is run by the Philadelphia Museum of Art and houses bronze castings of the The Thinker (one of many versions throughout the world), The Gates of Hell,  Adam, and The Burghers of Calais and full-scale replicas of marble works like The Kiss (sculpted by Henri Gréber).
General admission grants access to both museums at $25 for adults, $23 for seniors (65+), $14 for students, and no cost for youths (18 and under). Guided tours can be arranged for groups of 15 or more. Pricing is dependent on which museum you choose to tour and whether you'd like to join a public tour or have a personal tour guide
General admission is free for your bus driver (only for groups of 15–30 people). Your group will be directed to be dropped off at Philadelphia Museum of Art's north entrance. Short-term bus parking is available along Sedgley Avenue, right behind the museum, or your driver can return to the Callowhill Bus Center (daily parking rates include in and out privileges.)

Eastern State Penitentiary
Address: 2027 Fairmount Ave, Philadelphia, PA 19130
Phone: (215) 236-3300
Visiting an old penitentiary may seem a little offbeat, but Eastern State Penitentiary (ESP) is one of Philadelphia's busiest historic locations. It's also a wonderful example of architecture playing a major role in function. The penitentiary was purposely designed in the Gothic Revival style to intimidate criminals.
At the time of its establishment in 1829, ESP was the country's largest, most expensive, and most infamous prison. ESP actually became a standard model for penitentiary structures, influencing the design of more than 300 prisons around the world. The prison was once home to criminals like Al Capone and Willie Sutton but is now a busy museum and U.S. National Historic Landmark.
Groups of 15 or more can take advantage of discounted admission. Admission is $11 for adults, $10 for seniors, and $8 for students and kids (7-12), and a complimentary ticket is provided for every 15 paying visitors. There are also a variety of group tour options you can explore for an additional fee. ESP is only a 15-minute walk from the art museum. Your group can stretch your legs or choose to have your charter bus driver drop everyone off before returning to park at Callowhill Bus Center or along Sedgley Avenue.
If you've already done an NYC Halloween trip to Bane Haunted House in Hell's Kitchen or even trekked up to Salem, consider making the spooky trip to ESP. The museum's Halloween event, "Terror Behind the Walls," converts the penitentiary into the city's biggest haunted house. Be warned: it's not for the faint of heart!

Day Trip for Wine and Food Enthusiasts: NYC → Long Island Wine Country (North Fork)
Travel time from Manhattan: Varies, usually around 2 hours
Can't afford a cross-country trip to tour wineries in Sonoma and Napa Valley? Hop on over to Long Island's North Fork wine country. Along with the Finger Lakes region in upstate New York, North Fork is one of the biggest wine-producing areas on the East Coast. It's also just a hop, skip, and jump away from The Hamptons if you'd like to dip your toes in the sand during a summer trip.
There are around 55 wineries in the North Fork region, and a few companies offer guided tours to several locations. Many tour companies operate on predetermined tour package schedules, which can be stressful if your group wants to spend more time in one location. Travel on your own time with a private bus instead of being on a tour operator's schedule. Sip, stroll, and ride between wineries at your own leisure with New York Charter Bus Company. Reserve a minibus for your winery-hopping bachelorette party or next social gathering. You'll have a built-in DD all day long!
When you start building your personalized itinerary, you'll have plenty of wineries to choose from. Consider adding one of these North Fork locations to your list:
Sparkling Pointe Vineyards & Winery
Address: 39750 County Rd 48, Southold, NY 11971
Phone: (631) 765-0200
Sparkling Pointe is located on the easternmost side of North Fork wine country and is a popular first stop. As the winery's name may suggest, this is one of the best places in North Fork to go for sparkling wines. Group reservations are required for 6 or more visitors, and no more than 20 guests are allowed at a time. If your group is more than 20 people, you'll need to inquire about private event rental space.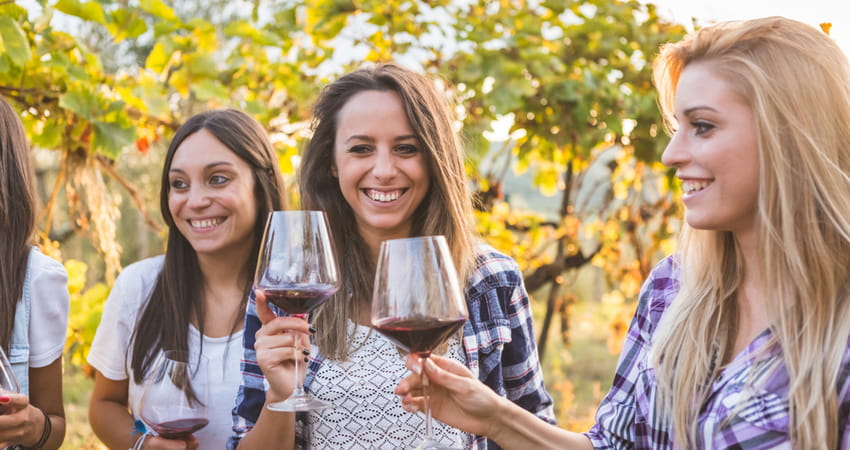 Osprey's Dominion Vineyards
Address: 44075 Main Rd, Peconic, NY 11958
Phone: (631) 765-6188
If you're looking for good wine in a casual atmosphere, Osprey's Dominion is a great location for your group. Osprey's Dominion has quality wine, a beautiful outdoor seating area, live music, and food trucks. Groups arriving by charter bus will need to call ahead to secure a reservation. During the busy seasons of spring and summer, groups of 12 or more should contact the winery to inquire about availability.
Bedell Cellars
Address: 36225 NY-25, Cutchogue, NY 11935
Phone: (631) 734-7537
Bedell Cellars is known for its delicious red and white wines, stunning grounds, and great vineyard views from its patio. Groups of up to 10 guests are welcome to walk in, but larger groups will need to inquire about private event reservations. Tours are available by appointment and includes a tasting flight of Bedell Cellars' top wines.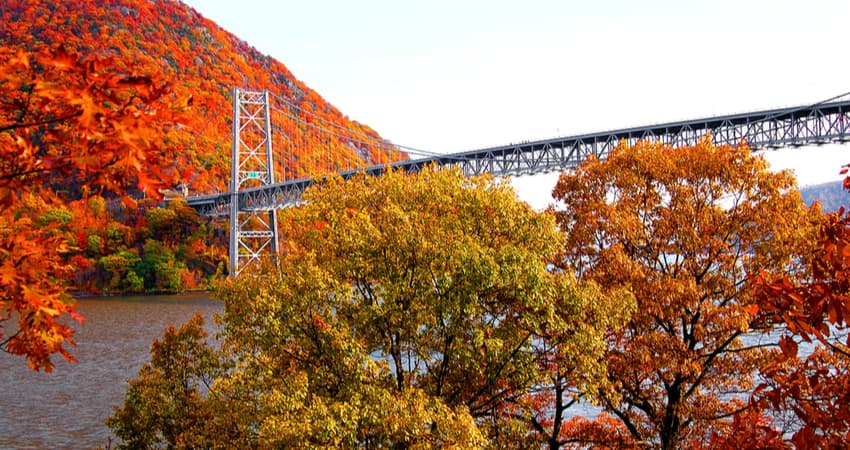 Day Trip for Outdoor Enthusiasts: NYC → Lower Hudson Valley
Travel time from Manhattan: Varies, usually 1.5 – 2.5 hours
NYC has some great outdoor spaces where you can spend a summer day in the sun or a fall afternoon in the crisp air among the transitioning foliage. One drawback of exploring the Big Apple's green spaces is that they can become quite crowded. You can always visit spots like Fire Island or Long Island's Jones Beach State Park, but expect these to be equally crowded in the summer. Opt for a change of scenery by planning a group trip to the Lower Hudson Valley. Parks in the Lower Hudson offer fewer crowds but also aren't a multi-hour trek upstate the way popular locations like Niagra Falls State Park are.
No matter where you plan to go in the Lower Hudson, New York Charter Bus Company will make sure you're traveling in ultimate comfort. Pack up your bikes, hiking gear, or special event equipment, and enjoy the views from your coach's panoramic windows.
Bear Mountain State Park
Address: Route 9W North, Bear Mountain, NY 10911
Phone: (845) 786-2701
Bear Mountain State Park is a wonderful location for everyone from avid hikers to groups traveling with small children. The park has miles of hiking and biking options, including 6 miles of the Appalachian Trail and waterfront trails along Hessian Lake and the Hudson River. Enjoy an afternoon hiking, having a big group picnic, or kayaking and paddle boating out on the water.
If you're with a group of little ones, Bear Mountain has a carousel, playgrounds, seasonal ice skating and the Trailside Museums & Zoo. The museums include a hereptology house, a natural history museum, a geology museum, and exhibits on local Native American history. Animal exhibits at the zoo have native wildlife like bears, foxes, coyotes, and porcupines. Request a group tour for your scout troop or youth organization to learn about the park's furry and scaly residents.
Not sure when to visit Bear Mountain? Fall is one of the best times to appreciate the park's natural beauty when the foliage is changing. While organizing your group outing, be sure to complete necessary recreational space rental forms and bus permit applications for your charter bus. Bus applications must be submitted at least two weeks in advance.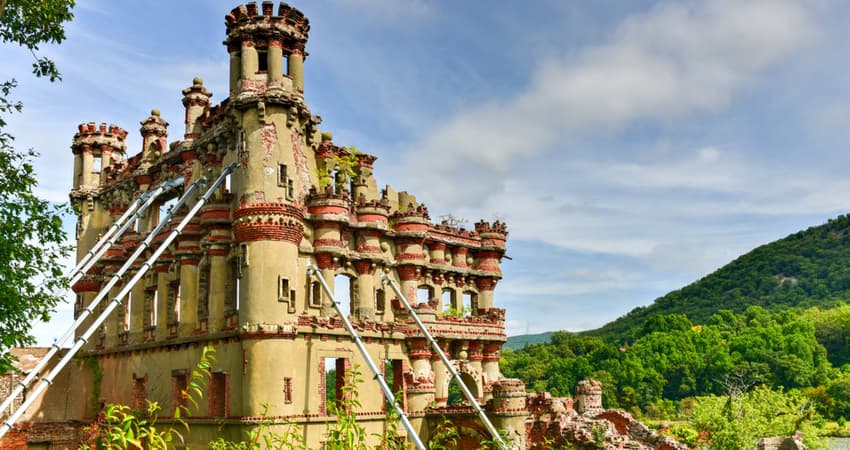 Hudson Highlands State Park Preserve
Address: 3011 Route 9D, Cold Spring, NY 10516
Phone:  (845) 265-3175
The Hudson Highlands are made up of more than 6,000 acres of hiking, hunting, and fishing areas overlooking the scenic Hudson River. Much of the highlands is considered undeveloped (at least compared to busier parks), but the views from the park's many trails are well worth a visit. Experienced hikers looking for a strenuous hike won't be disappointed by the 4.6-mile Breakneck Ridge Trail on the eastern side of the park. It's the most popular but most difficult trail in the park. Beginners don't need to worry, though: there are over a dozen other trails throughout the park, including a 5.1-mile stretch of the Appalachian Trail and the 1.8-mile Cornish Estate Trail that goes through the ruins of the Stern-Cornish mansion.
This state park is also home to a unique piece of Hudson Valley history, Bannerman Castle! The castle is located on Pollepel Island, just a short ferry ride off of the park's coast. The structure was built in 1901 by Francis Bannerman VI, an Irishman who started a military equipment surplus business after the Civil War. His castle served as primary storage for his business until his death in 1918. Due to structural and safety concerns, you unfortunately won't be able to enter the castle, but it's an amazing history lesson to add to your visit.
Entering the park is free, but organized tours of Bannerman Castle do require paid reservations. Hudson Highlands is massive and has several parking areas and trailheads. Be sure to organize a designated pick-up/drop-off time and location with your bus driver before beginning your day.

Storm King Wave Field by Maya Lin. Image courtesy of Kenneth Casper on Flickr.
Storm King Art Center
Address: 1 Museum Rd, New Windsor, NY 12553
Phone: (845) 534-3115
Unlike previous locations, the Storm King Art Center isn't only a park–it's more of an outdoor museum. The Storm King Art Center is one of the largest sculpture parks in the world and is the best day-trip spot for outdoor enthusiasts who may be a little exhausted from trails. The 500-acre park is made up of sprawling fields with around 100 sculptures from renowned artists. Works range in size, medium, and design, representing more than 80 years of sculpture. Key pieces include abstract monumental sculptures by Alexander Calder and Maya Lin's 11-acre nature installation called Storm King Wavefield.
You can choose to either walk the entirety of the park or hop on a 30-minute tram tour that loops through the area. Put on your comfiest shoes and expect a two- or three-hour walk if you choose to hoof it. Large groups can reserve a private tram for an additional fee while touring the park.
Groups of 12 or more qualify for discounted admission and will need to reserve their visit at least two weeks in advance. Group admission does vary depending on the type of group you're organizing (school, adult nonprofit, business, etc.) Just be sure to thoroughly read the center's group visit policies. Planning to visit in fall or spring? Make your group reservation a few months in advance, since this is when the center is busiest.
Take a Break from the Big Apple
NYC Charter Bus Company is here to make your next group adventure an easy one. Wherever you choose to spend the day, your transportation will be covered with a comfortable charter bus rental.
If you're planning a multi-day or long-distance trip instead, we'll be happy to organize your transportation. Call (917) 388-9602 anytime to get a personalized charter bus quote. Happy traveling!
Do you need to rent a charter bus?